'Ungrateful' Mom-To-Be Slammed for Rejecting Handmade Baby Shower Gift
The internet has slammed an expectant mom after she rejected a handmade gift at her baby shower.
The Reddit user u/364goalsss shared the story on the popular r/AmITheA**hole forum where it quickly gained attention with thousands of comments and upvotes.
In the post, the Redditor explained: "Due to financial challenges I am currently broke right now. This coincided with my sister-in-law's baby shower. It's the first baby born to any of my siblings so it's a big to do. I had money set aside but had to use it to cover some unexpected expenses that came up with my car. By the time I got things sorted and got around to the registry, the smaller items were gone and all that was left were the big-ticket ones of $100+ which honestly I can't afford."
But the Redditor had an idea. With a talent for knitting, he picked up his yarn stash and knitted up a baby blanket for his new niece.
"I did pick up some smaller items too," he explained: "Pacifiers, some of those little texture books."
But when it came to giving the gift, it was not well received.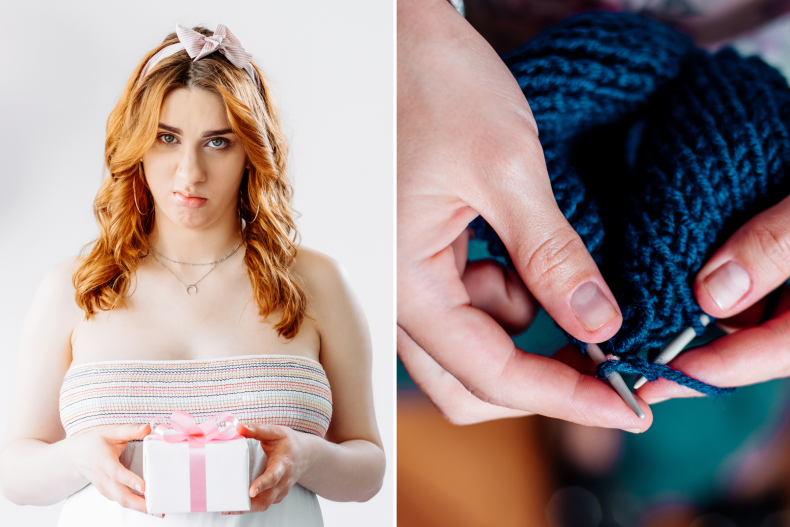 "I swung by my brother's place and gave the blanket and small items to them," wrote the Redditor: "My sister-in-law was peeved and gave me back the blanket for being the wrong color. It was a deep navy blue yarn and I guess it's a boy's color, whatever."
A few days later, the Redditor's brother called to ask him what he was planning to get for the baby shower.
"I was just sort of like, wtf, and pointed out that I had already given them a gift and his wife gave it back," explained the Redditor: "But basically they said I went off the registry so they're still expecting something from me since I'm the uncle. Most of the small big-ticket items are now gone so I really honestly can't afford anything left on the registry. I asked about the smaller items I gave them and my brother said his wife said those didn't count, they asked for gifts off the registry, or I could make a blanket with the right colors."
After refusing to make another blanket, the man revealed that his mom also agreed with the couple, telling her son he should have got them something from the registry.
"My dad's stance is 'why are you as a grown-ass man knitting,' and sister-in-law is giving me the cold shoulder," he wrote.
Baby shower registries are big business. According to an analysis by baby registry site Babylist, the average order value of a baby registry created on its site totaled $2,100 and contained 121 items.
Reddit users were shocked by the story and overwhelmingly slammed the mom-to-be for her behavior.
"You gave a gift. They didn't want it," wrote one commenter: "Obligation and generosity on your part was met. It's rude AF to hand someone their gift back. And it's absolutely never appropriate to demand a new gift after rejecting a completely reasonable gift."
"Your mom is wrong and your SIL is an ungrateful person. Do not give in to their demands," wrote another Reddit user.
Other users were even clearer—with one reply that said: "Tell them to buy their own s*** if they're going to be ungrateful."
"It's very rude of her to ask you to either get her an expensive gift or make a new blanket," shared another user: "Blankets take time so why would you waste it on someone who won't even appreciate it?"
Newsweek has asked u/364goalsss for comment.