The eastern Mediterranean region is a geopolitical focus for many these days.
Take Greece and Israel for example.
Despite its economy being in tatters, Greece recently inked a defense deal worth a staggering $1.65 billion with Israeli defense contractor Elbit Systems for the construction and operation of an air force training center in Kalamata, Greece. Around the time of this agreement, Greece hosted its annual Iniohos multinational military exercise where Israeli fighter jets flew alongside Emirati, Greek and Cypriot aircraft—a rare public display of the United Arab Emirates' growing military cooperation with Israel. Across the Mediterranean, Cyprus hosted a high-level meeting of top diplomats from Israel, the UAE and Greece for talks they said reflected a "new strategic membership'' that stretches from the Arabian Gulf to Europe.
Military and security cooperation have come to symbolize an emerging partnership between Israel and Greece, one that has been evolving under the backdrop of Israel's rapprochement with Gulf countries in the wake of a more assertive Turkey. Cyprus and the United Arab Emirates have joined the club. Cyprus never had warm relations with Israel, primarily because of Israel's (until 2010) close defense partnership with Turkey, its perceived archenemy. The UAE only established full diplomatic relations with Israel in 2020, despite their tacit security cooperation.
But why would Greece, a country which hosted Palestinian Liberation Organization (PLO) leaders in Athens in the 1970s and 1980s and only established full diplomatic ties with Israel in 1990, now be warmly embracing it? How do Cyprus and the UAE fit in the equation?
To start, there seems to be a convergence of interests revolving around a shifting political and ideological landscape in the post-Arab Spring Middle East. The 2010 revolutions gave rise to a new dynamic in cross-Mediterranean relations where Turkey and Qatar supported pro-democratic movements and Islamist groups, while Gulf monarchies and Israel preferred maintaining the status quo. In the UAE's strategic calculus, the regional order was being redrawn (without the United States and Europe) and Abu Dhabi saw a window of opportunity for its regional ambitions.
On the other hand, Turkey—being the only country in the region that was successfully governed by an Islamic-leaning party—became the natural leader of Islamist movements in the region. After an initial honeymoon with Islamists in power, the tables turned for Turkey when the Saudis and Emiratis backed military coups that installed Abdel-Fattah el-Sissi in Egypt, Khalifa Haftar in eastern Libya, destabilized An-Nahda in Tunisia and destroyed Yemen, while on its southern border Russia revitalized the Assad regime. To Turkey's dismay, the initial success of the Arab Spring was reversed. Instead of backtracking, Ankara doubled down on its assertive foreign policy and active military involvement in regional conflicts, thereby coming into direct conflict with the other big player in the region—the United Arab Emirates.
For the UAE, Saudi Arabia and post-Morsi Egypt, Ankara and its ally Doha came to be perceived as a common nemesis. For Israel, the Arab Spring upheavals exposed the weaknesses of the proximate regional order which demanded a new security apparatus. Israel became a natural ally to the Emirati-Saudi-Egyptian camp as it already had deteriorated relations with Turkey following the 2010 Mavi Marmara Gaza aid flotilla incident. Due to its geographical proximity, history of antagonism and ongoing maritime disputes with Turkey, Greece felt it was in the crosshairs of Ankara's regional ambitions. The Athens-Ankara tensions pushed Greece closer to the UAE and Israel.
Turkey's historical issues with Greece and Cyprus, its shattered relations with Israel and its post-Arab Spring ideological rift with the UAE banded the latter states together.
Ankara's military interventions in regional countries closely coincided with the discovery of large deposits of hydrocarbons in the eastern Mediterranean. The scramble for resources resulted in each country declaring its own maritime exclusive economic zones (EEZ) which brought together Greece, Israel, Cyprus and also Egypt.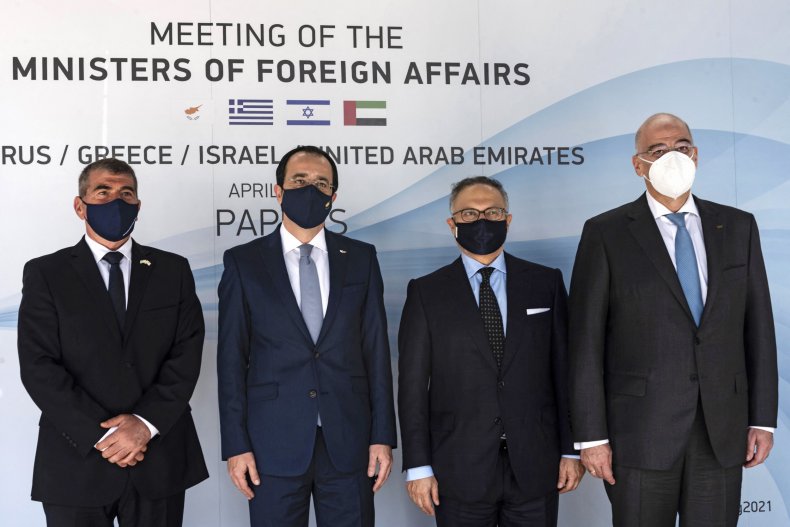 Deeming such divisions of economic zones as unfair, Turkey sent its own research vessels to drill for oil and gas, under the close protection of its navy. It then declared its own exclusive economic zones which overlapped with those of Greece and the Republic of Cyprus and signed a maritime delimitation agreement with its allies in Libya.
This led to heightened tensions, culminated early in 2020 when Cyprus, Greece and Israel signed an agreement to construct the EastMed pipeline, which aims to transfer gas from Israel and Cyprus to Greece and other EU states. Turkey was conspicuously left out of the equation. This UAE-backed project allowed them to irk Turks and strengthen their connection with EU countries. The Republic of Turkey perceived the pipeline project as an attempt to thwart it from becoming a strategic energy hub linking Caspian and Russian gas with the Balkans and the rest of Europe.
To the already existing ideological rifts, historical animosities and geopolitical and energy interests, closer military cooperation seems like a natural addition. Since 2017, UAE jets have been flying alongside Israeli ones in Iniohos, a Greek-led multinational military exercise in the Peloponnese. Greece, Cyprus and Israel also formulated their joint response to naval threats in the eastern Mediterranean primarily intended to curb Turkish, but also Russian naval presence.
Since Israel is territorially small, its fighter pilots mostly practice flying over the sea. Greek landscape becomes very useful to Israeli fighter pilots for target practice and dog fights over a terrain that closely resembles Syria and Iran. In fact, flying back and forth from Israel to Greece is roughly the same distance as flying from Israel to Iran, an opportunity for Israeli fighter pilots to practice long-distance flights. Israeli pilots also practice against the Greek army's Russian made S-300 air defense systems—also used by Iran and Syria.
To Israel—which boasts one of the most advanced defense industries in the world—Greece, Cyprus and the UAE are a lucrative market for its spyware and defense equipment and a substitute for Turkey. As for the UAE, its defense cooperation with Greece is important for two reasons—in increasing UAE investments in Greece's defense industry and in strengthening security cooperation and intelligence sharing, most notably regarding Turkey. Ankara sees all this as a common front designed to confine it to its own shores geopolitically and militarily.
Cooperation between Israel and EU member states Cyprus and Greece, no matter how politically lightweight they may be in Brussels, is likely to help Israel bolster its diplomatic clout within the European Union. Despite Israel having good bilateral relations with most European countries, the Israeli-Palestinian conflict and EU's frequent criticism of Israeli policies have become major stumbling blocks that not only erode trust but also prevent deeper cooperation. This has led Israel to foster closer ties with Hungry, the Czech Republic and Poland in addition to Greece and Cyprus, as Central European countries have been more critical toward Brussels and its dictated policies. Although their ability to contribute individually is limited, given that EU decisions are made by consensus, Israel's new EU friends can either block decisions that are critical of Israel or at least water them down. Greece recently headed member states opposed to marking products made in Jewish settlements in the West Bank.
While Israel's initial "Periphery Doctrine" and geopolitical divisions of "core" and "periphery" no longer exist, its pattern of strategic cooperation with countries sharing mutual interests continues to shape state affairs. Shifting geopolitical tables and a congruence of interests have brought together a Jewish state, a Muslim monarchy and two Orthodox Christian European Union states. It is now clear that the Abu Dhabi-Athens-Nicosia-Jerusalem arc view their partnership as a bulwark against what they perceive to be Turkish expansionism in the Mediterranean.
Turkey has little room for maneuver despite its vast coastline in the Mediterranean. From Ankara's viewpoint, making any concessions in terms of geopolitics and energy interests would be tantamount to conceding defeat. Turkish media compared the division of exclusive economic zones among its neighbors as a new Treaty of Sèvres, which effectively divided Turkey among neighboring countries, and to the Treaty of Versailles, which cemented the loss of Ottoman territories. So far as Ankara is concerned, what began as a political and economic competition has morphed into an existential struggle.
Perhaps unwittingly, Europe is increasingly being enmeshed in Middle Eastern rivalries and geopolitical strife.
Harun Karčić is a journalist and political analyst based in Sarajevo covering foreign influences in the Balkans. He tweets @HarunKarcic.
The views expressed in this article are the writer's own.