Unicorn Arrested for Protesting White Supremacy in Ongoing Farmers Market Drama
Police arrested activists dressed as a giant unicorn, Wonder Woman and Vikings after they demonstrated at a farmers market in Indiana against "white supremacy."
The Purple Shirt Brigade is an activist coalition formed this year in Bloomington that wears purple to represent their public stand against white supremacy, according to their Facebook page.
Forrest Gilmore, the protester dressed in an inflatable purple unicorn suit, was removed from the market by two police officers first, reports The Daily Beast.
Over the course of the summer, the group has been protesting Sarah Dye and Douglas Mackey of Schooner Creek Farm, which began with colorful buttons that read "Don't Buy Veggies From Nazis."
Schooner Creek Farm sell eggs and seasonal vegetables from their stall, but then Dye was outed as an active member of the white supremacist group, Identity Evropa, reports The Daily Beast.
Dye has denied being a white supremacist but described herself as an "Identitarian," a popular term with very little distinction from white supremacy beyond being adopted by white supremacists looking to sidestep accountability.
Dye's online name appeared to be "Volkmom," according to leaked chat logs.
"Any Whites who have spent time living in a neighborhood or attending a school with a non-white majority know the strife that Whites endure," Dye wrote in an Identity Evropa chat in January. "I can attest to it myself."
Hundreds of posts in Identity Evropa chat rooms and other far-right groups revealed Dye discussing her disdain for living in areas that were not majority-white.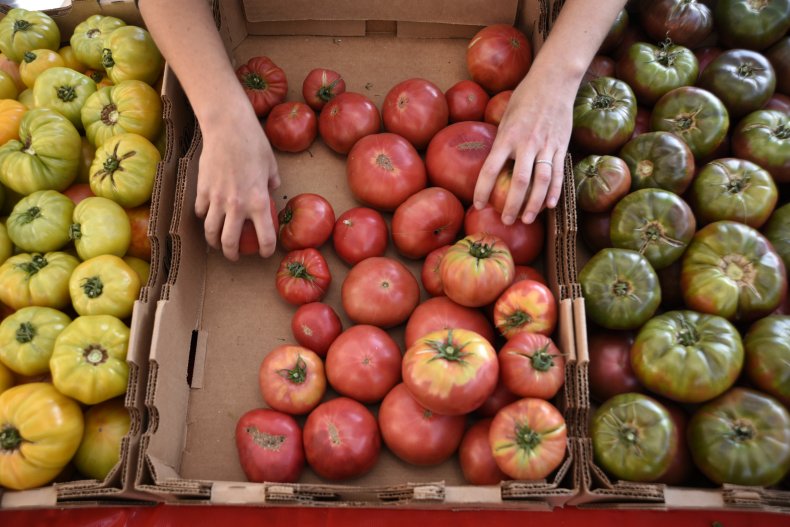 The farm stand has received support from the right. After Dye shared photos of the summer protesters, captioned "Violent Indiana ANTIFA terrorists at our farmers market booth today," one commenter asked, "Why didn't anyone just shoot them?"
The group "No Space for Hate" announced plans to protest at the market, prompting counter-protests from right-wing groups. This led to new rules implemented by the city's Parks and Recreation Department about where and how people can express themselves in the market.
The Purple Shirt Brigade accused the Parks and Recreation Department of being "consistently biased against protesters" and changing the signage rules mid-season to disadvantage protesters.
During the weekend protest, five members of the group were arrested and released after receiving a summons for disorderly conduct and trespassing. They were banned from the market for 24 hours.
They were told they would be charged with criminal trespassing at the farmer's market if they attempt something similar in the future.
"The offense was carrying signs into the market and singing too loudly," the group posted on their Facebook page. "This a blatant violation of our free speech, and we are outraged at this attack on our rights, especially given the City's stance on the free speech of white supremacists."