Unidentified Airplane Passenger Explodes in Racist, Homophobic Rant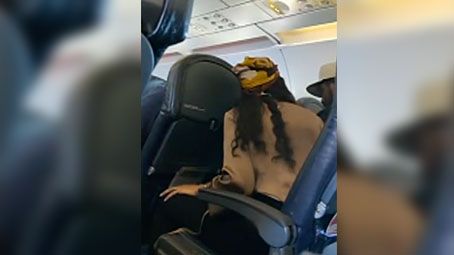 An unidentified passenger went on a racist, homophobic rant on a U.S. commercial flight Nov. 2, just after landing at Los Angeles International Airport.
In a video recorded by a fellow passenger, the woman can be seen yelling obscenities at the man sitting next to her.
Repeatedly saying, "shut the f*** up," the disruptive passenger stands up at one point of the video and yells, "do something, why you talking s***?"
The woman repeatedly comments on the passenger's appearance, saying he looks "goofy" and a "gay-looking a**."
After someone asks her to watch her language because of young children in the vicinity, she adds, "that's not my kid, I don't f***ing care, shut the f*** up."
Though it is unclear what exactly set her off, the videographer told the Mirror that her disruptive behavior began before what is seen on the footage.
"Shortly before this video was filmed she threatened a flight attendant who appeared to come up and try to calm her after other attendants had been unsuccessful," the source said. "That flight attendant called for ground control and I assume the police did end up escorting her off the flight once we landed."
Information regarding the airline and passenger have not been disclosed. It is unclear whether the woman was escorted by police and whether she would be facing any charges.
Incidents of public racism and violence have increased markedly since Donald Trump took office. The President often rallies his supporters with sexist and racist insults directed at those he feels have been insufficiently deferential to him.