We should know by now that anything that seems too good to be true likely is.
This is certainly the case with hemp, a marijuana derivative that was promised to revitalize our economy and save struggling farmers, all while producing a product that wasn't harmful to consumers. But it was not to be.
Congress passed a bill in 2018 legalizing hemp nationwide, with cheers from the hemp industry and other farming interests. Three years on, we should be seeing the benefits of this changed policy—a viable material for replacing paper, clothing materials, concrete and even steel. But alas, none of this was meant to be. We've had to face a brutal reality: there never really was a boom market for the crop.
All told, the legalization of hemp as part of the 2018 Farm Bill has resulted in two unintended consequences: a bust for already struggling farmers and the rise of new, quasi-legal psychoactive substances.
Our nation's farmers have been facing hard times for quite a while. Between 2013 and 2018, farmers witnessed a roughly 50 percent drop in farming income as the price of commodities such as corn, dairy and beef collapsed due to trade wars, disease and myriad other factors.
Then-Senate majority leader Mitch McConnell saw a remedy for this dilemma: include a provision in the Farm Bill that would legalize the cultivation of hemp. The bill codified a definition of hemp as marijuana plants containing no more than 0.3 percent THC—the main psychoactive compound found in marijuana that makes a user feel "high." In theory, this means federally legal hemp should not be able to intoxicate anyone.
However, as we will see later, this proved false as well.
The definition change in and of itself caused the first sign of trouble. For years, law enforcement only needed to detect the presence of THC in substances suspected to be marijuana—not the percentage of THC therein. After 2018, some prosecutors began requiring lab tests on marijuana to bring about possession charges, which officials in Texas have estimated would cost more than $10 million. As a result, some states are not pursuing marijuana charges until new testing procedures can be developed, while others have chosen to abandon misdemeanor marijuana charges altogether.
For this reason, while 46 states moved quickly to legalize hemp cultivation, others fought forcefully against it.
Following the passage of the 2018 Farm Bill, hemp production exploded. The amount of land devoted to licensed hemp production skyrocketed 445 percent in a year, with some 510,000 acres of hemp being cultivated in 2019. This gold rush of hemp production quickly abated once farmers began harvesting their crop and realized the only market willing to purchase it were wholesale cannabidiol, or CBD, producers. As a result of the massive glut of hemp, prices for both raw hemp and CBD tumbled. Many farmers were forced to either sell their crop at a loss or destroy it. This year, hemp production has plummeted more than 80 percent.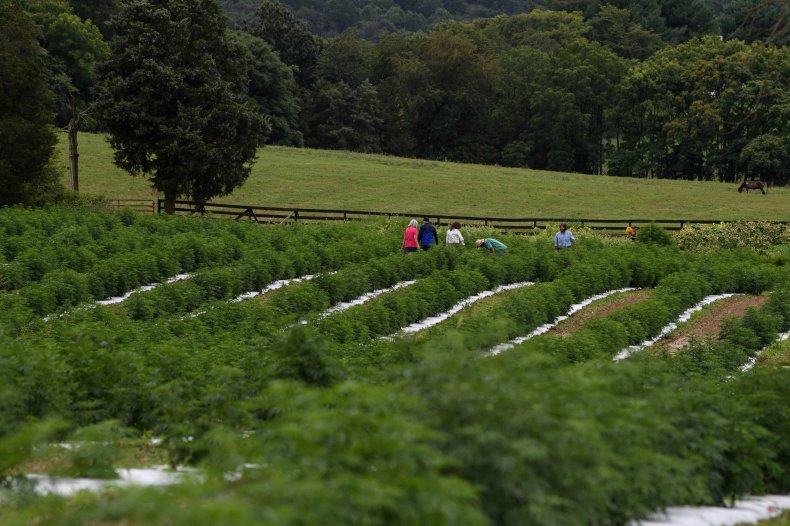 With hemp sales and production, as well as the prices for wholesale CBD, declining, the massive glut of hemp and wholesale CBD have been redirected towards the production of new, quasi-legal psychoactive compounds: Delta-8, Delta-10 and THC-O.
Delta-8 and Delta-10 are isomers of Delta-9 THC—the main psychoactive component of marijuana—meaning, on a molecular level, they are practically the same, with only slight atomic differences. The majority of these products are not extracted from a marijuana plant. Instead, producers of Delta-8 and Delta-10 convert plant-derived CBD into the new product.
THC-O, or THC-O acetate, is another compound derived from federally legal hemp that is quickly becoming popular. Recent research has found it to be roughly three times stronger than marijuana. It become known as a "psychedelic compound," as it can have hallucinatory effects. There are virtually zero safety standards for the use of THC-O and its production is incredibly dangerous, due to the use of highly volatile explosive chemicals in the process. Experts warn it can only be made in strictly controlled lab settings.
There are many unknown factors in the production of these hemp-derived products. Producers may cut corners, or unknowingly add solvents and introduce impurities into the process. Responding to the 2019 EVALI crisis, several agencies such as the Oregon Liquor Control Commission—which is tasked with regulating the state's marijuana industry—issued rules around the use of additives in vaping products this year. None of these rules carry over to the sale of hemp-derived products.
The DEA's interim final rule on hemp may provide much-needed further guidance, but for now, Delta-8, Delta-10 and THC-O appear to be federally illegal. According to the DEA's interim guidance on hemp, so-called synthetically derived versions of THC remain a controlled substance. The only issue is that there is no agreed-upon definition of what "synthetically derived" means.
It's reasonable to assume this market will largely mirror what we saw with the "synthetic marijuana" products, such as "spice" and "K2," where governments banned certain chemical combinations that were used to create the products, but producers came up with a new combination. This amounted to a dangerous game of "whack-a-mole" that we can't afford to repeat.
So, who are the victims here? It's the farmer who borrowed the money and retired other crops after being promised hemp was the new "in" moneymaker. The addicted kid now drawn to more toxic, unregulated compounds. The family struggling to put a child through treatment. The mom struck by a driver impaired on these new derivatives.
And who benefits? Well, it's those who always have–those who live and profit in the shadows. Those riding the coattails of the current marijuana wave. Those who do not regard the safety and health of Americans.
That all of this has happened so quickly should be a warning as we debate the full-scale legalization of marijuana. We all know there will be no proper regulation if marijuana is allowed in all its forms. Let's not get fooled again.
Dr. Kevin Sabet is a former senior drug policy advisor to the Obama administration and currently serves as president of Smart Approaches to Marijuana. His latest book, Smokescreen: What the Marijuana Industry Doesn't Want You to Know, was published on April 20 by Simon & Schuster and is available everywhere books are sold.
The views expressed in this article are the writer's own.