Union Members Rallying Outside VA Hospital Protest Lack of PPE, Sick Leave and Hazard Pay Offered to Staff
Union members rallied outside Salem Veteran Affairs Medical Center in Virginia early Wednesday morning to protest working conditions at the hospital.
The union—a local branch of the American Federation of Government Employees (AFGE), which represents more than 250,000 VA employees nationwide—organized the demonstration after receiving numerous reports from hospital staff concerned about inadequate personal protective equipment (PPE) as well as lack of paid sick leave and hazard compensation during the new coronavirus pandemic.
AFGE press secretary Brittany Holder told Newsweek that the protestors' specific requests to Salem VA management included a more robust supply of face masks, protective gowns and cleaning supplies, in addition to increased pay for employees or frontline workers routinely exposed to coronavirus patients. The union also petitioned for hospital staff to receive pay should they need to self-quarantine following prolonged exposure to the virus without proper PPE.
"Sometimes, when a staff member may be exposed, if they want to self-quarantine, they have to use their own personal leave," Holder explained. "They have to use their sick leave, or if they don't have enough sick leave, they're on A.W.O.L. status or leave without pay."
Photos of the rally shared to Twitter Wednesday morning showed protestors abiding by social distancing regulations, wearing masks and holding signs that urged the hospital to "Protect Veterans and VA Staff." The rallying cry, Holder said, was not specific to the VA hospital in Salem.
"We've been receiving the same stories from VAs across the country," the AFGE representative explained, noting that a similar protest took place Wednesday morning outside a VA hospital in Baltimore, Maryland, with another scheduled to take place at a VA medical center in another state on Thursday.
"These rallies outside VA medical centers are going to start popping up more frequently just because VA workers feel like they're not protected," Holder continued. "They're afraid to come to work."
On April 13, AFGE issued a joint letter to officials at the Veterans Health Administration and the Department of Veteran Affairs alongside four other federal unions, the National Federation of Federal Employees, National Association of Government Employees, National Nurses United and Service Employees International Union. The letter asked both administrations to address what it described as a nationwide shortage of PPE to VA staff, lack of paid leave, insufficient diagnostic testing and absence of coordination between hospital management and their employees' associated union chapters.
"A newfound crisis is upon this nation," the letter read. "The undersigned unions' demand VA leadership works with the National Unions to ensure that VHA once again serves as the model for how all medical providers effectively respond."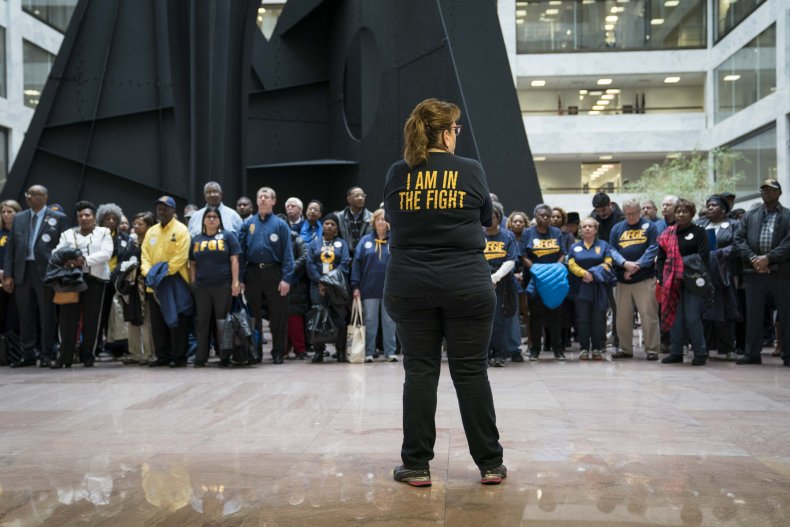 The unions have not received a response to their petition, and Holder told Newsweek she suspects they never will. AFGE also filed a health and safety complaint with the Occupational Safety and Health Administration in late March, which voiced initial grievances about a shortfall in PPE provided to employees by the Department of Veterans Affairs.
As of Wednesday morning, the department has reported 5,742 coronavirus cases among patients hospitalized at VA medical centers across the United States, with 374 resulting deaths. The Salem VA Medical Center did not reply to Newsweek's request for comment on this story by the time of publication.