Union Victory Images Emerge Amid Trump Call for New Civil War
Former President Donald Trump's sharing of a message predicting another Civil War in the U.S. came a day before posts celebrating a major anniversary for the victory of the Union army.
Trump shared the message on Truth Social, the embattled social network that he funded the creation of following his ban from Twitter. The post, from a user calling themself "MAGA King Thanos," included a screenshot of a tweet from El Salvadorian President Nayib Bukele, in which he discussed the U.S. facing troubles due to inflation, noting that "something so big and powerful can't be destroyed so quickly, unless the enemy comes from within." The user's post read, "Civil war," multiple outlets reported.
The morning after the former president seemed to support the notion of a new American Civil War, the official Twitter accounts for the National Mall in Washington, D.C., and the Appomattox Court National Park in Virginia both shared images of Union army regiments returning to D.C. in 1865. These returns, called the Grand Review, came after the surrender of the Confederate armies and the end of the Civil War.
While these posts came very soon after Trump's activity on Truth Social and gained traction on social media as a contrast to the call for a new Civil War, it is likely the timing is a coincidence. The images were posted on May 23, which marked 157 years since the start of the Grand Review in 1865.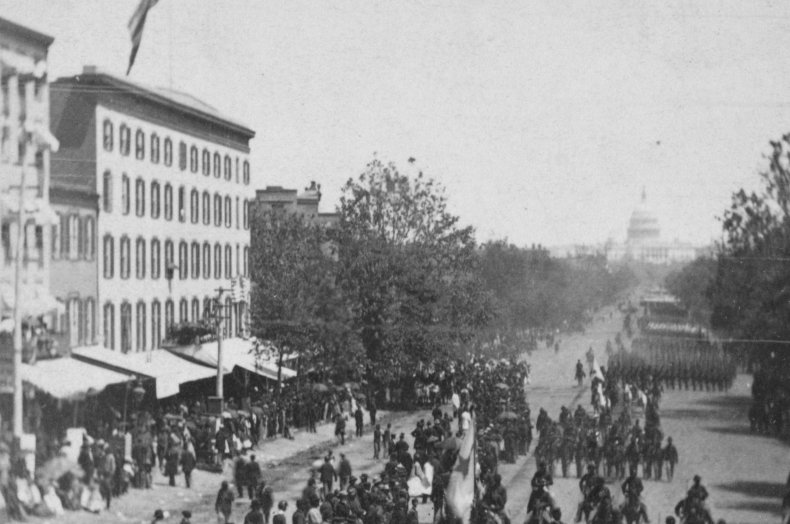 Trump's seeming call for a new Civil War did inspire a strong backlash online, with some condemning his actions as "beyond dangerous."
"The disgraced, twice-impeached former president just shared a post from another user on his social media platform calling for Civil War," the anti-Trump political group MeidasTouch tweeted. "This is beyond dangerous."
Representative Adam Kinzinger, a GOP lawmaker from Illinois and one of Trump's fiercest critics within his own party, also chimed in on the repost questioning the lack of response from other Republicans.
"Any of my fellow Republicans wanna speak out now?" Kinzinger wrote on Twitter, alongside a screenshot highlighting Trump's post. "Or are we just wanting to get through 'just one more election first...?'"
"Every American who loves this country needs to condemn Donald Trump for this. There's no room for half-measures here: every GOP elected official in America needs to be *on record* condemning Donald Trump in the strongest possible terms," Seth Abramson, a journalist and frequent Trump critic, added in his own tweet. "You don't play around with Civil War talk."
Newsweek reached out to Trump's office for comment.