Unionism, Not Amazonism | Opinion
Nearly 85 years ago, a group of United Auto Workers members gathered on an overpass just outside of the Ford Motor Company's massive plant in Dearborn, Michigan. Their demands were simple. They wanted the notoriously anti-union Henry Ford to provide employees with better wages, reasonable hours and decent working conditions.
As the organizers handed out leaflets emblazoned with the slogan, "Unionism, Not Fordism," men from Ford's Service Department (an internal security force) violently attacked them in what later became known as "The Battle of the Overpass." Ford won the battle—the union stopped distributing pamphlets—but lost the movement. Journalists on the scene captured the truth, prompting severe public and congressional backlash against Ford, and increased support for the UAW. Ultimately, Henry Ford relented and signed a contract with the union.
We have arrived at a similar moment. Another battle—less violent but no less important—took place last month at an Amazon warehouse in Bessemer, Alabama. After a long organizing campaign, the people working at the Amazon facility finally voted on the question of unionization. When the ballots were counted, it seemed that Amazon had won (although that win and the aggressive tactics they used to secure it are being disputed by the union at a hearing this week). While the Battle of Bessemer may be lost, the fight has captured the attention of the nation—and even a sitting U.S. president—and added ballast to a growing national movement to empower working people.
As the CEO of a Silicon Valley-based social change venture who spent decades investing in companies and advising corporate leaders at firms in the tech, telecom, transport and real estate sectors, I see an unambiguous message for business leaders who would seek to turn back worker power: Those who approach the 2020s like the 1930s may win a few battles, but they'll almost certainly lose the war.
Approval for labor unions is the highest it has been in half a century. Thousands of Amazon employees have reached out to the Retail, Wholesale and Department Store Union about organizing their workplaces, and there are now active organizing drives in Iowa and Staten Island. Nurses at Maine's largest hospital voted to unionized recently, and McDonald's employees across the country are going on strike this week.
And even as traditional methods of organizing workplace by workplace have become increasingly difficult because policymakers have weakened labor laws, states are experimenting with new models. People working at fast food restaurants in California are currently pushing for passage of The FAST Recovery Act, which would establish the nation's first fast food sector council—a forum for employees to influence pay and workplace standards within their own industry. And in Congress, the Protecting the Right to Organize (PRO) Act just passed the House and is gaining momentum in the Senate.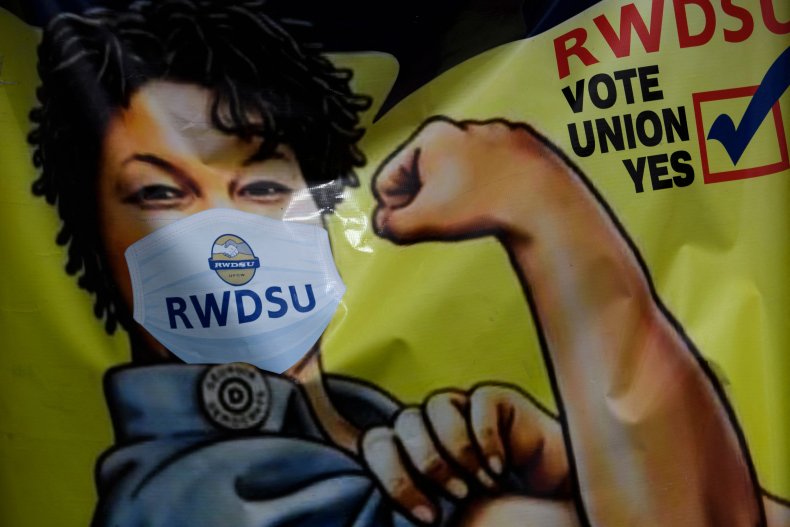 This momentum is likely due to the sharp rise in inequality and a deterioration of working conditions, with 40 percent of people in the workforce experiencing worsening job quality since the start of the pandemic. People are demanding greater agency and power in the workplace, which is exactly what a union provides, and what the Jeff Bezos and Henry Fords of the world fear most.
The American people are wising up to the fact that companies can afford to pay them more. A recent Brookings study noted that "many of America's top retail and grocery companies have raked in billions during the pandemic but shared little of that windfall with their frontline workers." What's worse, companies like Bank of America, Apple and even Domino's send their profits back to shareholders in the form of buybacks and dividends.
At Omidyar Network, we have studied how increasing the power of working people provides an essential counterweight to rising corporate dominance. In order to correct this unnecessary power imbalance, people must have meaningful mechanisms to shape their destiny at work and advocate for better policies, benefits, training and conditions, both in their workplace and in our democracy.
For half a century, CEOs have lived by the mantra that what's best for shareholders is simply best for all stakeholders. They forget that what's bad for working people is ultimately bad for business. We saw this in Bessemer. Recent polling shows that a clear majority of Americans disapprove of the tactics Amazon deployed, and more than half (55 percent) said they were less likely to buy from the company in the future after learning about their anti-union tactics. Even more (61 percent) said they support unionization efforts by Amazon employees across the country. These sentiments spell trouble for other companies looking to quash union drives, more of which are popping up every day.
If history is any guide, unionism, not Amazonism, is the winning path forward. Instead of copying the tactics of Henry Ford and Jeff Bezos and repeating the Battles of the Overpass and Bessemer, CEOs would do well to not just acknowledge that their success hinges on their employees, but to act in a way that gives them a real voice. By empowering working people, we can create a more equitable and inclusive economy in which everyone—from customers to warehouse workers to CEOs—can thrive.
Mike Kubzansky is the CEO of Omidyar Network, a social change venture that has committed more than $1 billion to innovative for-profit companies and nonprofit organizations since 2004. His career has spanned across the public, nonprofit, private sector telecommunications and consulting sectors, with stints at a variety of start-ups, the International Finance Corporation and the World Bank.
The views expressed in this article are the writer's own.