Right now, in Bessemer, Alabama, the most important labor struggle in more than half a century is unfolding as workers at an Amazon warehouse vote on whether they want to be represented by the Retail, Wholesale and Department Store Union (RWDSU).
But before the votes have even been counted, the workers seeking to bring the first union to an Amazon warehouse in the United States have already won.
In a region generally seen as unfriendly to unions, workers have left an indelible mark, and their campaign may be cited as the moment labor unions in America changed the future of work. Together, these workers—the majority of whom are Black and female—are taking a stand against the world's most powerful corporation. That's not just remarkable; it's changed everything.
As more than 5,800 workers at the Amazon warehouse finish voting via mail-in ballot by Monday, they have inspired workers throughout the United States and around the world. No union election in decades has received this much attention.
That's because this is no ordinary union election. It transcends this one workplace and even this one company. The RWDSU campaign has captured the zeitgeist—the public's concern about the overbearing power of big tech corporations in general, and of Amazon in particular; about skyrocketing levels of inequality exacerbated by the pandemic and personified by Jeff Bezos; about ongoing systemic racism in the United States, including at the workplace; about the unregulated technologies Amazon uses to monitor every movement of its workers, including the amount of time they spend in the restroom; about the failure of too many employers to prioritize the health and safety of their own employees; and, most importantly, about the lack of dignity, respect and just treatment too many Americans experience at work.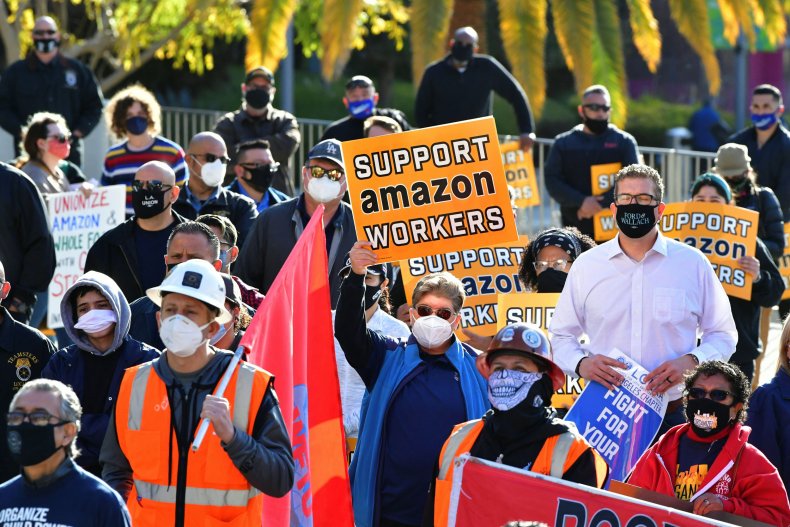 In Alabama, where many consider unions weak, workers have readily embraced the promise of having a union voice and have breathed hope and energy into the labor movement.
This struggle in Bessemer has become as much a civil rights struggle as a labor struggle. At a facility where nearly 85 percent of the workforce is Black, this campaign has reinforced the notion that economic justice is inseparable from racial justice. The Black Lives Matter movement and other civil rights activists have joined with supporters throughout the labor movement to demand that Amazon respect workers' right to organize. It is a powerful coalition that harkens back to the energy and hope of the civil rights era.
What's more, this story has revealed that a powerful corporation will stop at nothing, and will readily spend millions of dollars, to deny its workers a voice. Amazon's relentless anti-union campaign—mandatory hour-long anti-union lectures, inescapable anti-union propaganda, a failed effort to require in-person voting in the election during a pandemic crisis and other questionable tactics—has been exposed for all to see.
The nation's weak labor laws—and Amazon's unlimited wealth—massively tilt the scales in favor of the corporate behemoth in the vote at Bessemer. But, in a real sense, despite Amazon's relentless bullying and dirty tricks, workers have already shown what is possible and what needs to be fixed. The RWDSU campaign has exposed mega-corporations' brazen anti-union bullying, which is all too common across the country. The issue now has the public's attention. We must take advantage of this moment to strengthen workers' right to choose a union and restrict the ability of huge employers like Amazon to harass, mislead and spy on their workers.
The workers in Bessemer never thought they'd spark a national discussion. This is their moment, but it's not just about Amazon. This is about every employer, and the right of every worker to fair pay, safe workplaces, a voice in their workplace and the right to organize unions without illegal harassment and intimidation. It is about the inseparability of racial and economic justice. By taking the fight to the world's most powerful company in a way that previously seemed unthinkable, Amazon workers are proving that change is within the grasp of any worker, anywhere. Employees in workplaces large and small can look at the progress being made in Alabama and realize that they too can stand together with their fellow workers and demand justice. With their historic campaign, Amazon workers have already won. It's up to all of us to build upon their victory.
Stuart Appelbaum is president of the Retail, Wholesale and Department Store Union (RWDSU), which is conducting the unionization drive for the workers at the Amazon fulfillment center in Bessemer, Alabama.
The views expressed in this article are the writer's own.