Wisconsin Teacher Sparks Controversy Over 'Right-To-Work' Video Calling Mitch McConnell 'Human Skid Mark'
A Wisconsin high school marketing teacher violated district "bias" rules after showing students a comedy-infused pro-labor union video entitled, "Why the Rich Love Destroying Unions."
The parent of a Craig High School student complained anonymously to a local news outlet after a business teacher played an "outrageous" episode of Al Jazeera's witty "Newsbroke" show, which touted the labor movement while ridiculing "right-to-work" Republicans. The video encourages viewers to "listen to the immigrants and socialists among us" and reignite support for the once-powerful labor unions destroyed in part by "Reaganism and global free trade."
School District of Janesville spokesman Patrick Gasper told Newsweek that a school board policy requires teachers to inform the principal about any controversial material being presented to class. The policy also requires teachers to hold "balanced" classroom discussions, which Gasper said happened in this case because of a unions versus right-to-work debate held after the video was shown.
The video calls Senate Majority Leader Mitch McConnell a "human skid mark" and blasts anti-union Republicans like Gov. Scott Walker and Vice President Mike Pence. The comedy-infused segment shown to the students combines historical bullet points alongside comedian host Francesca Fiorentini's unabashedly pro-labor union quips.
School District of Janesville spokesman Patrick Gasper told Newsweek that Craig High School Principal Alison Bjoin sent a memo to all teachers reminding them about the district policy requiring teachers to bring potentially controversial or politically biased subject material to administrators first. The complaining parent, who asked GazetteXtra not to be identified in order to protect their child, said the video was an "outrageous" attempt to trash Republican politicians in Wisconsin -- one of 28 "right-to-work" states across the country.
The video lays out the history of the U.S. labor movement's rise and decline, citing how the 40-hour work week, children not working in coal mines and the weekend itself are all products of the leftist labor movement.
"This year the Supreme Court might hammer one of the last nails into the coffin of American unions," host Fiorentini says. "So who is killing off unions so successfully?"
"The American labor movement was made up of...immigrants, communists, socialists, anarchists and other workers who fought unfair bosses and corporations and were repressed for decades until they finally achieved their Marxist agenda of workplace safety regulations," the host adds sarcastically.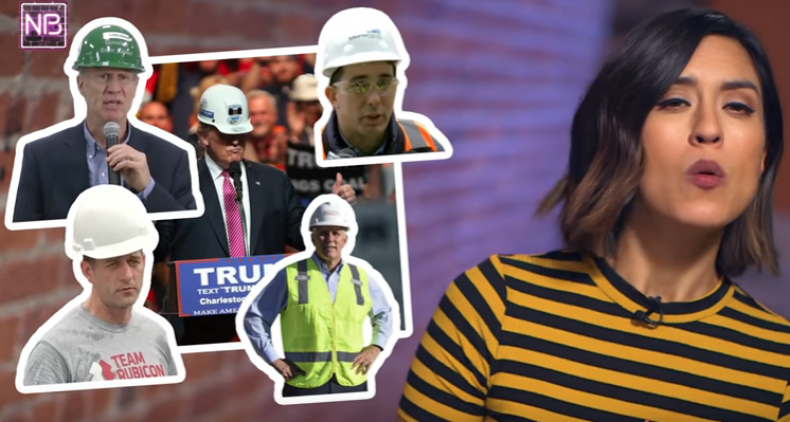 The video presents President Donald Trump alongside several union-busting Republican politicians including Vice President and former Indiana Gov. Mike Pence, Illinois Gov. Bruce Rauner, Wisconsin Gov. Scott Walker and Speaker of the House Paul Ryan. "Right-to-work" legislation is dubbed "the opposite of what it says" for preventing unions from charging compulsory fees while also reducing worker wages in those states.
The unidentified parent complained the video was "propaganda," adding, "It advocates for a political agenda, which I think is out of line. I don't think when a parent signs your child up for a marketing class that they're expecting this is what's going to be taught."
The issue hits close to home. In February, two Wisconsin labor union chapters filed a federal lawsuit to invalidate Gov. Walker's Act 10 budget bill that passed in 2011, saying the legislation "has caused and continues to cause irreparable injury to the unions."
Fiorentini repeatedly rips Trump's Supreme Court appointment, Neil Gorsuch, as "the T-1000 of terminating workers' rights" and his inability to "feel empathy" for average workers.
District spokesperson Patrick Gasper said the teacher balanced the "cost of labor" economics lesson by holding a post-video discussion weighing the pros and cons of right-to-work legislation versus unions.
The video concludes by urging Americans to embrace the labor movement in order to get on track for Trump's "Make America Great Again" slogan.
"To protect working class Americans we might have to dig deep into our collective memory and maybe listen to the immigrants and socialists among us and get back to our former badass American selves...back when maybe America was great...except for all the racism, sexism and xenophobia."