Unions Target Cathay Pacific Airline After Staff Members Fired Amid Hong Kong Protests
Hundreds of trade union members protested in Hong Kong on Wednesday to denounce Cathay Pacific Airways for firing several employees who were taking part in or supporting pro-democracy rallies that have swept the city for weeks.
"Revoke termination, stop terrorising CX staff," read a black banner in English at the protest site where at least 2,000 gathered peacefully (CX is airline code for Cathay). "Uphold our freedom of speech," another banner said.
The Hong Kong Confederation of Trade Unions (HKCTU) said that 20 Cathay employees have been dismissed or forced to resign — including pilots, cabin crew, ground staff and managers — according to the AP. It called the rally after Cathay Dragon, a Cathay group airline, fired cabin crew union head Rebecca Sy last week.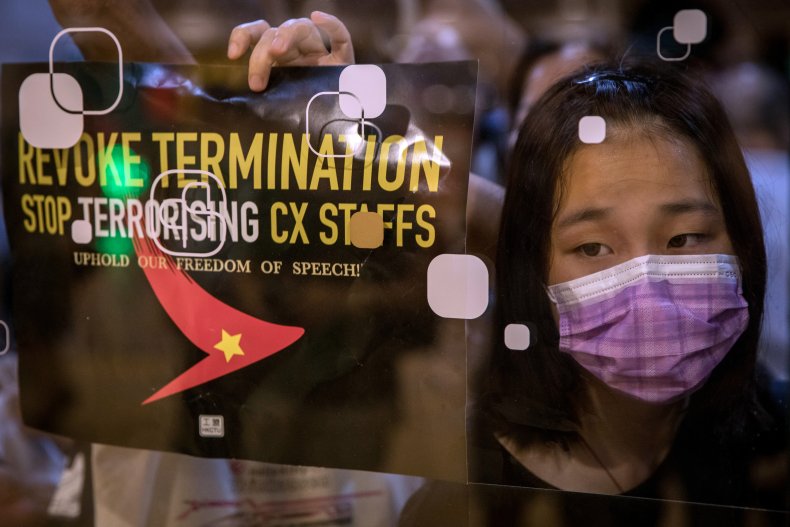 Sy said to Reuters on Wednesday she was fired without explanation, after managers saw her Facebook account:
"We never faced any disciplinary action from the company before. How come now they just terminate me without any valid reason? By simply showing me those printouts of my own private Facebook account?"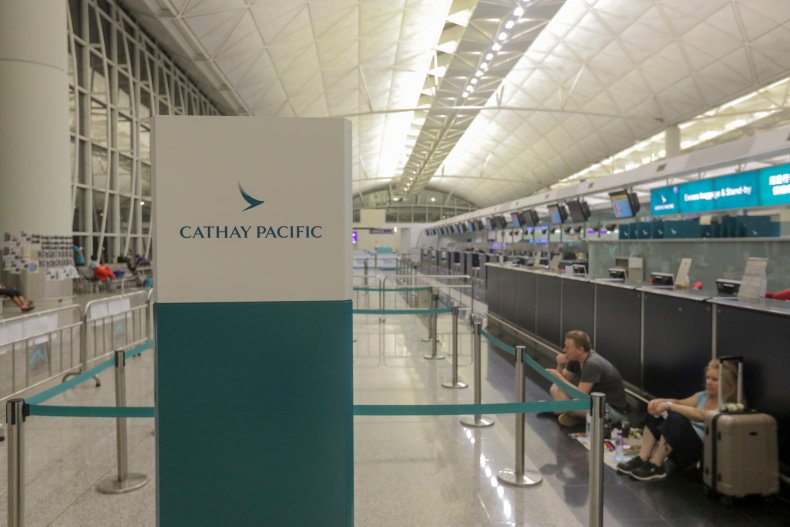 In a statement Wednesday, Cathay said it cannot comment on individual cases, but it takes into account all relevant factors when determining whether or not to dismiss an employee. The company has confirmed the dismissal of several employees in the past two weeks. It has given various reasons, such as a pilot who misused company information. Another pilot was charged with rioting during a protest.
China's civil aviation authority announced on August 9 that Cathay employees who "support or take part in illegal protests, violent actions, or overly radical behavior" were banned from staffing flights to mainland China, and that the airline must submit the identification details of crew members flying to the mainland or over mainland airspace for approval.
HKCTU switched the protest venue, originally planned to be outside the airline's airport headquarters, Cathay City, to the central financial district after police refused permission.
The Hong Kong airport was forced to close two weeks ago after protesters thronged the arrivals hall for days, grounding about 1,000 flights and occasionally clashing with police — it has since re-opened.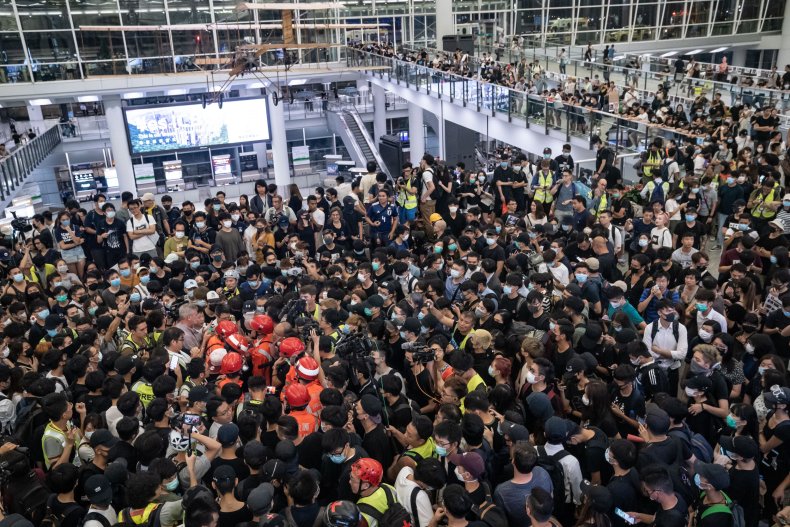 Other airlines are also being effected by the protest — Hong Kong Airlines staff could also be asked to take unpaid leave or reduce their working hours because of a cash flow "shortfall" according to the South China Morning Post. The airline blamed this on the anti-government protests, which has prompted thousands of travellers to defer or cancel trips.
In a note to staff on Tuesday, the airline blamed its worsening financial problems on the demonstrations, which have recently turned violent.
"As you are aware, hundreds of our flights in and out of Hong Kong were cancelled because of public assemblies at the airport ... which impacted on our cash flow," the note said.