Billie Eilish x Takashi Murakami Uniqlo Merch: Release Date, Sizing, Pricing and Other Details
Billie Eilish and artist Takashi Murakami have collaborated on a collection for Uniqlo, which will launch online on Monday, May 25.
Consisting of women's, men's and kids' T-shirts, the collection features Murakami's character designs, as well as imagery inspired by and photographs of Eilish. Some T-shirts feature Eilish's name, or the title of her debut album When We All Fall Asleep Where Do We Go?, as well as Blohsh, the figure used as Eilish's logo.
The imagery may feel familiar to fans of Eilish, as Murakami directed the video for "You Should See Me in a Crown," which currently has more than 69 million views on YouTube. The video sees a cartoon figure of the singer turn into a spider that destroys a city and causes Murakami's signature flowers to wilt.
The flowers can also be seen throughout the collection, as well as an original logo containing the words "Billie Eilish," designed especially.
Uniqlo describes the collaboration on its website: "UT has miraculously made a collaboration with this talented duo a reality. The sensibilities of the contemporary artist and musician, each prolific at the highest level worldwide, have been fused together through fashion, in turn providing us with new discoveries in each of their visions."
In a press release, John C. Jay, President of Global Creative for Uniqlo, said: "Billie Eilish x Takashi Murakami. Two of the most influential global creators come together as a new expression of art for all."
The collection will be available to order online on May 25, mid-morning ET, and in stores on May 29 as they reopen.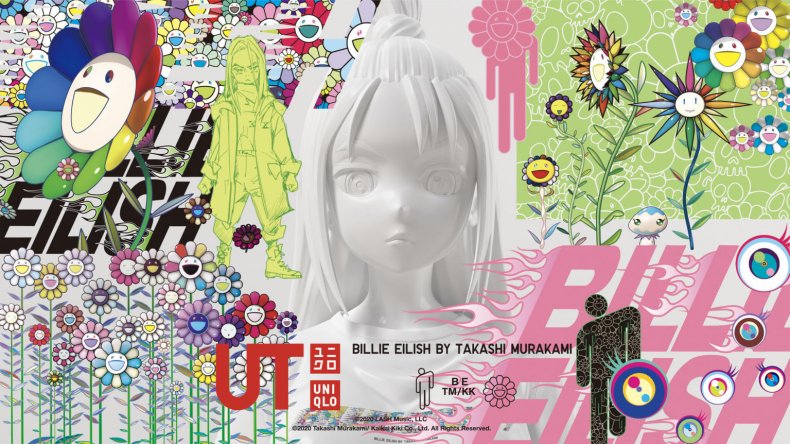 The women and men's T-shirts will cost $14.90 each and the kids' t-shirts will cost $9.90 each. The women's sizes range from XXS to XXL, men's from XS-3XL, and kids from three years to 13 years.
Eilish released her debut album in March 2019, and it debuted at number one on the Billboard 200. It reached number one in 17 other countries and was the highest-selling debut album of the year.
Murakami has held solo exhibitions at major art institutions around the world and is known for his projects with fashion brands like Louis Vuitton and VANS, and for collaborating with musicians like Kanye West and Pharrell Williams.
While Uniqlo has closed stores across the U.S. due to statewide stay-at-home orders, some stores have reopened, while others are operating with collection only. Some stores in California, Colorado, Florida, Hawaii, Illinois, New Jersey, and Washington are open, though many are only offering curbside pickup. For a full list of open Uniqlo stores, head to the retailer's website.