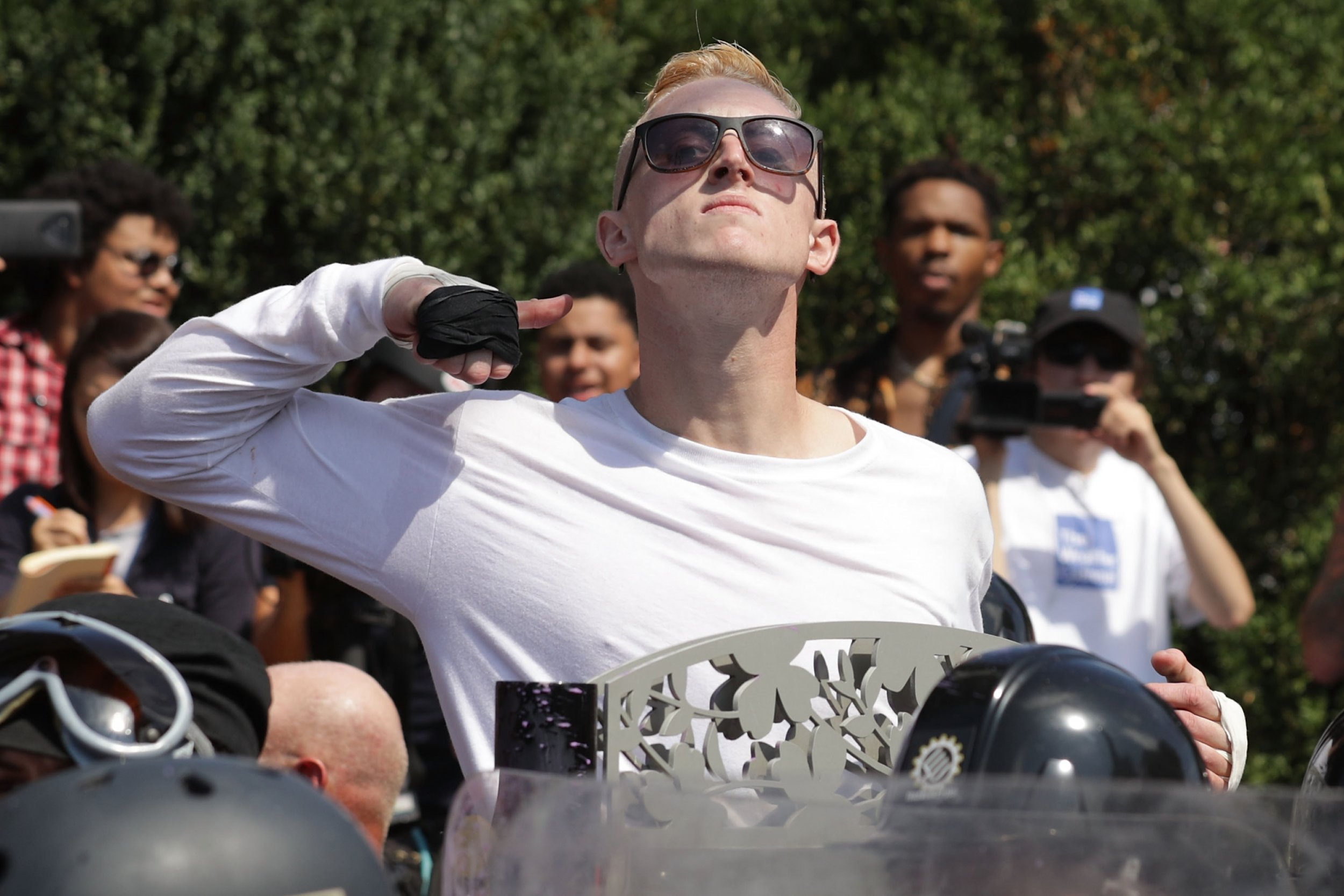 The "Unite the Right 2" rally today in Washington had a low turnout from white nationalists, some 10 to 15 as opposed to 400 once expected, causing counter-protesters to celebrate and taunt with chants of "go home."
"Unite the Right Rally members have now all left," tweeted WUSA reporter Arielle Buchmann at 5:12 p.m ET. "#ShutDownDC members continue to stand in the rain."
"LATEST -- Kessler is OUT of the White House perimeter and back in the Metro system," tweeted WUSA 9 reporter Mike Valerio at 5:20 p.m. ET.
The 'Unite the Right 2' counter-protest got underway this afternoon in Washington, D.C, hours before a white civil rights rally was scheduled for the city at 5:30 p.m. (ET) – one year after the deadly Charlottesville incident. But the white nationalist rally had little momentum, leaving before 5:30 with rain falling.
The white nationalists' protest was expected to last until 7:30 p.m. (ET) Sunday. Members have been arriving in the city later this afternoon, making their way to Lafayette Square park but the gathering is sparse -- with the AP reporting that "a contingent of about 30 white nationalists" marched down a Washington street toward the White House "surrounded by a protective bubble of police officers and vehicles" while counter-protesters taunted and shouted at them.
"It doesn't matter if we have 14 people or, or 1,400 today," white nationalist rally organizer Jason Kessler told WUSA today. "We're going to have a great rally."
Live stream information and updates are below in this story.
The Washington, D.C. protest and counter-protest also comes one day after tensions flared in Charlottesville and on the University of Virginia campus on the one year anniversary of the deadly Charlottesville protest. The Associated Press Press is reporting that the number of counter-protesters is "expected to dwarf" white nationalists protesters.
The protest was scheduled for Lafayette Square Park while the counter-protest is nearby though the counter-protestors "plan to march to Lafayette Square in front of the White House, just before the arrival of the white nationalists," according to the AP.
Police have erected a maze of barricades to keep the two sides apart, the news agency reports.
You can watch a live stream of Washington D.C.s "Unite the Right 2" protest and counter protest here, provided by Fox 5 TV station. Here is a live feed link from WUSA in Washington.
You can see updates on the latest from Washington below.
Jason Kessler is the organizer of today's Washington white nationalists protest. He was involved in last year's Charlottesville protest and got the permit approved for the Washington rally. Officials expect about as many as 400 white nationalists, but at least three times that number for the counter-protest. Also, The Associated Press reported that "Kessler's event could be lower than his estimate and likely will be dwarfed by counter-protests.
"Some leading figures in the U.S. white nationalist movement have said they won't attend or have encouraged supporters to stay away," the AP reported.
UPDATES:
*5:04 p.m. ET
WUSA reporter Andrea McCarren tweets that, "The 10-15 #UniteTheRight2 demonstrators have left Lafayette Park, under police escort. The thousands of #ShutDownDC demonstrators cheered upon their exit and are still chanting."
*4:45 p.m. ET
From the AP: "A group of about 30 white nationalists has marched to a park near the White House for what they call a rally in favor of white civil rights.
"Thousands of counterprotesters are in the area, too, and jeered and heckled the white nationalists as they made their way down the street surrounded by police."
*4:30 p.m. ET
"Far more media in Lafayette Park than #UniteTheRight2 demonstraters," tweeted Andrea McCarren, WUSA investigative reporter in Washington.
*3:45 p.m. ET
White nationalist protesters are inside Lafayette Square Park and Washington, D.C. police are blocking the entrance to the park, keeping counter-protesters at a distance, according to WUSA.
*2:30 p.m ET
More than 1,000 counter protesters have gathered near the White House, rallying against the planned white nationalist rally that's supposed to begin at 5:30 p.m. ET.