Watch: 'Unite The Right' Organizer Jason Kessler Gets Screamed at by His Dad For Recording in His Parent's Bedroom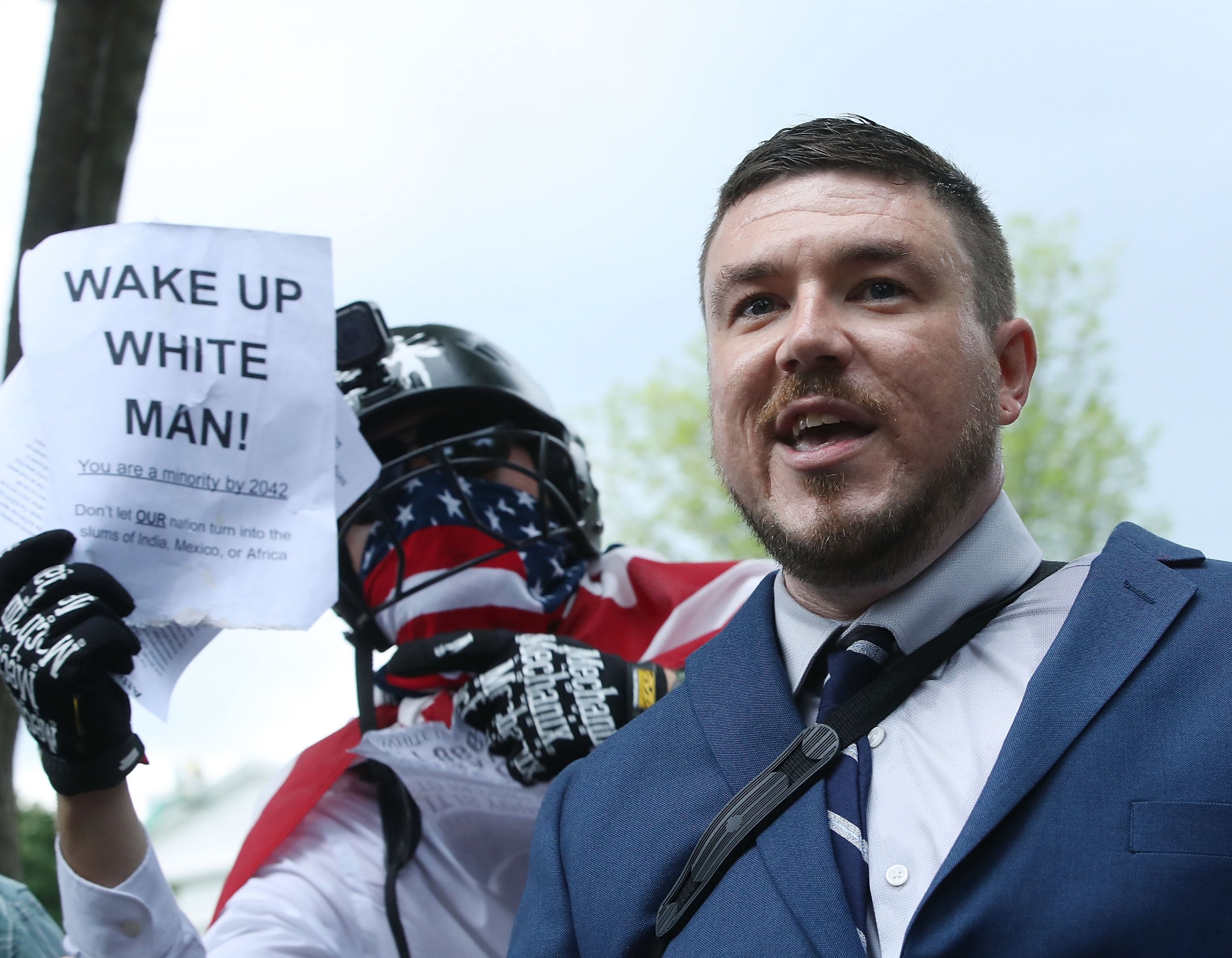 Call it schadenfreude. Charlottesville Unite the Right organizer and white nationalist Jason Kessler was recording a live stream with a neo-Nazi when he was interrupted by his father who scolded Kessler for recording in his bedroom.
Kessler, the 34-year-old behind the white nationalist rallies last year that resulted in the death of Heather Heyer, was discussing David Duke and his hatred of Israel when an off-camera voice interrupted him shouting: "Hey, you get out of my room!" Kessler, clearly flustered, apologized and said he was having an "issue."
Kessler's live stream partner, anti-Semite and unsuccessful Senate candidate Patrick Little, tried to deflect, asking Kessler if he had a drunk roommate. "Something like that," said Kessler, before explaining that he lived at home with his parents and that his father was yelling at him.
"Basically, the deal is my family watches American History Channel [sic] and its constant anti-German propaganda...I'm stuck in a situation where I have to stay with my family because I'm paying for all of these lawsuits," he explained before calling his parents, who are paying for his rent, "cucked." Meanwhile, his father continued to yell that Kessler was taping in his bedroom.
Little responded by giving a tour of his boat, and boasting about its three bedrooms. But, he admitted, he might be forced to sell the boat at a loss to "cover expenses."
Kessler's father has spoken out against his son's views before. "I support him as a son, but not politically," said Eric Kessler, 58, told The Washington Post. "The family is dismayed across the board about this situation. We've never identified with racial politics."
He added: "I consider myself a Christian person, and I think everyone is equal. I've always raised my sons that way, and anything that departs from that is something I have never done."
Prior to organizing the Charlottesville rally and last weekend's disorganized United the Right II rally in Washington, D.C., that attracted only 300 marchers, Kessler self-published poetry and a noir novel. He supported himself by working a number of jobs as a dishwasher, truck driver and handyman. His novel, Badland Blues, is about "a homeless dwarf madly in unrequited love with a local waitress."
The embarrassing interruption is another reminder that the leaders of far-right movement are failing to stay afloat as they face a number of lawsuits, fail to recruit new members and struggle to find work. Unite the Right organizers have been entangled in expensive lawsuits since the events in Charlottesville last August, and crowdfunding platforms like Patreon refuse to host their donations pages.
Richard Spencer, once seen as the leader of the alt-right movement, is currently so broke that he allegedly couldn't afford a $4.75 shot of Bulleit Bourbon at a bar this May.