United Airlines Passengers Forced to Brace for Impact After Part of Engine Flies Off Over Pacific Ocean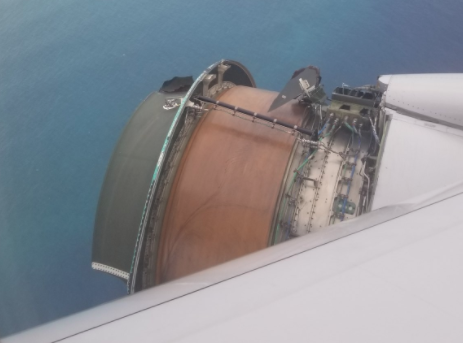 Updated | Passengers on a United Airlines plane survived a truly terrifying ordeal after they were ordered to "brace for impact" when part of one of the aircraft's engines flew off mid-flight over the Pacific Ocean.
Video and images shared by passengers on social media show one of the plane's engine's visibly damaged after the motor's cowling—or covering—reportedly flew off during the Hawaii-bound flight from San Francisco.
"Scariest flight of my life," one passenger, Maria Falaschi, wrote on Twitter. She added that the flight UA1175 crew "did a great job" in guiding passengers through the "scary" situation. "They handled it well," she said.
Falschi wrote that the incident started about 45 minutes before landing. Passengers "heard a big bang and the plane started to shake violently."
The flight crew declared an emergency, telling passengers to "brace for impact" in case of a rough landing, according to The Telegraph.
A spokesperson for United Airlines told Newsweek the airline plans to issue full refunds to all passengers on the flight.
"We are currently reaching out to all of our customers on this flight, and plan to fully refund every ticket," the spokesperson said.
They said the aircraft "landed safely after the pilots called for an emergency landing because of an issue with the #2 engine."
"Our pilots followed all necessary protocols to safely land the aircraft," they added. "The aircraft taxied to the gate and passengers deplaned normally."
The National Transportation Safety Board and Federal Aviation Administration are both investigating into the incident, the spokesperson said.
At least one passenger was able to make light of the incident once the plane had safely touched down.
Erik Haddad, a Google engineer on the flight, tweeted out video of the damaged engine, writing: "That looks bad, plane and simple."
He later shared a photo showing an emergency manual being held up in front of a passenger window showing the damaged motor, adding: "I don't see anything about this in the manual."
This story has been updated with a statement from United Airlines.