United Arab Emirates Goes From 50 Daily COVID Cases to 452 Daily Cases in a Week
The United Arab Emirates saw a surge in COVID-19 cases this week, with 452 infections and two deaths in the past day, shortly after a period of record lows.
A little over a week ago, infections were averaging about 50 per day in a country where 99% of the eligible population has received at least one vaccine dose.
However, according to two anonymous Dubai COVID doctors who spoke with the Associated Press, the highly contagious Omicron variant has helped to fuel the recent spike in cases.
They said most of the new cases were mild or moderate, and that the majority of the cases are being treated at home, leaving room in the UAE's hospitals. However, the doctors still said they were alarmed by the increase in cases.
The UAE usually accepts many tourists over the holiday season who want to celebrate somewhere warm.
Dubai always hosts massive New Year's celebrations, drawing in thousands of tourists annually. Luxury hotels have reported selling out through the end of December.
And while there are outdoor mask requirements across the country, most customers at Dubai's bars and restaurants do not wear masks indoors.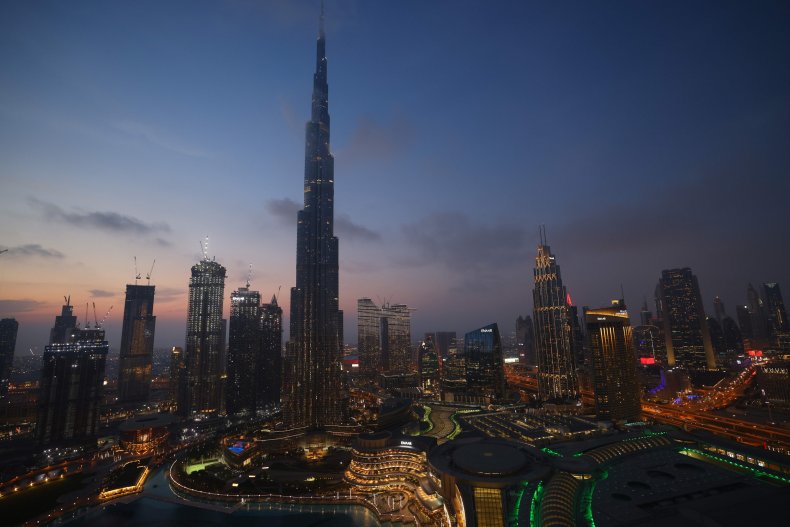 The world's fair in the desert outside Dubai has hosted sprawling concerts, parades and other festivities for millions of visitors. Expo 2020 said this week it would suspend its daily parade and other events to stem the virus's spread.
The UAE boasts one of the world's highest vaccination rates, with authorities reporting that over 99% of eligible residents have received at least one dose. The government also offers Pfizer-BioNTech booster shots to all adults.
Emirati health authorities announced they'd detected the first Omicron case in the country earlier this month. They have said nothing else about cases of the highly contagious variant in the seven emirates.
But signs of the virus's rapid spread have emerged.
Local Indian media reported that a couple traveling from the UAE had tested positive for the Omicron variant upon arrival in the Indian state of Kerala. Spanish tennis star Rafael Nadal announced on Monday that he had tested positive for the coronavirus in Spain after returning from an exhibition tournament in Abu Dhabi.
A passenger on Israeli Prime Minister Naftali Bennett's flight home from the UAE tested positive for the virus. Israel shortly afterward banned travel to the UAE due to the high risk of infection.
The more conservative capital of Abu Dhabi rolled out new border checks for commuters from Dubai and the federation's other emirates this week. Police now scan drivers for COVID-19 symptoms, referring those with high temperatures to get antigen tests before crossing.
The Associated Press contributed to this report.