After Passenger Dies on United Flight, Man Who Performed CPR on Him Has COVID Symptoms
After a passenger who may have had COVID-19 died on a United Airlines flight this week, a man who performed CPR on him says he is experiencing coronavirus symptoms.
The flight, United 591, took off Monday from Orlando for Los Angeles, but was diverted to New Orleans after a male passenger experienced a medical emergency on board. The man was taken to a local hospital where he was pronounced dead, United confirmed in a statement to Newsweek.
Tony Aldapa told CBS Los Angeles that he was on the flight and used his EMT training to try and help the man when he fell ill.
"It was all kinda just second nature to see someone in a bad place you try to bring them out of the bad place," Aldapa told the station. "There were three of us that were essentially tag-teaming doing chest compressions, probably about 45 minutes."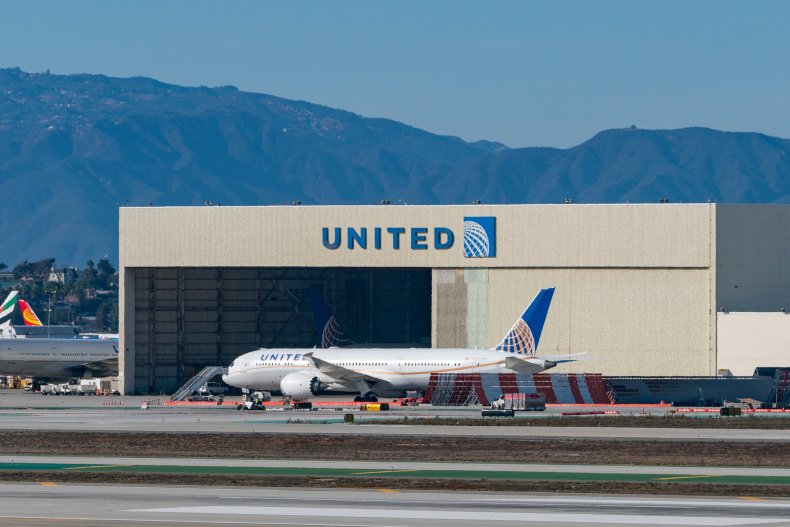 Aldapa said the man's wife told him that he had coronavirus-like symptoms and that they were planning to get tested this week.
Aldapa is now concerned he has contracted the virus, saying he feels "like I got hit by a train."
"I had a cough, my whole body still hurt, I had a headache," he added.
United said it was initially informed the man had suffered a cardiac arrest, but the airline is now working with the U.S. Centers for Disease Control and Prevention (CDC) to contact passengers on that flight who may have been exposed to the virus.
"Now that the CDC has contacted us directly, we are sharing requested information with the agency so they can work with local health officials to conduct outreach to any customer the CDC believes may be at risk for possible exposure or infection."
The airline did not specify if the CDC had specified the man's cause of death or confirmed he was infected with coronavirus.
The CDC on Friday said it was "in the process of collecting information and proceeding according to our standard operating procedures to determine if further public health action is appropriate."
Aldapa told CBS Los Angeles that he has not yet been contacted by the agency. He and the CDC have been contacted for additional comment.
United said the man's wife was overheard telling an EMT that her husband had shown symptoms of COVID-19, including loss of taste and smell, but the disease was not confirmed by medical professionals at the time.
But Taylor Garland, a spokesperson for Association of Flight Attendants, told Newsweek that all four flight attendants were quarantined for two weeks once they arrived at Los Angeles "per written guidelines."
"Our union continues to provide support to the crew," Garland said. "We urge passengers to comply with airline COVID policies and stay home if you're sick."
United said the decision to continue on with the flight was made after medics ruled the emergency as cardiac distress.
"A change in aircraft was not warranted, instead, passengers were given the option to deplane and take a later flight or continue on to Los Angeles. All passengers opted to continue," the airline said.
The airline also said the man's family confirmed he suffered from pre-existing conditions, including high-blood pressure and upper respiratory issues, and had been feeling sick in the days leading up to the flight.
He also filled out the airline's "Ready-to-Fly" checklist stating that he had not been diagnosed with COVID-19 and did not have coronavirus-related symptoms. "It is apparent the passenger wrongly acknowledged this requirement," airline officials said.
The incident sparked alarm on social media after at least two people tweeted about it Monday night.