United Nations Bans Sri Lankan Troops Over General Accused of War Crimes
Farhan Haq, the spokesperson for the United Nations Secretary-General, told Foreign Policy that the United Nations would be banning all non-essential troops from U.N. peacekeeping operations. The decision came from the U.N. Department of Peace Operations over concerns around the appointment of Lt. General Shavendra Silva as the chief of the Sri Lankan army despite his alleged war crimes.
Silva led an army division during the final phases of the Sri Lankan civil war against the militant separatist group, the Tamil Tigers (LTTE). Though successful, he was accused of committing war crimes during the campaign, which resulted in the deaths of tens of thousands of Tamil civilians. The U.N. estimates that 45,000 civilians died in the final months of the civil war in 2009, though other estimates put the number even higher.
U.N. High Commissioner for Human Rights, Michelle Bachelet, found the appointment "deeply troubling," given the "serious allegations of gross violations of international human rights and humanitarian law against him and his troops during the war."
The decision, announced Wednesday, means that no new Sri Lankan troops will be deployed and current troops will begin repatriation. "A Sri Lankan Army unit and individual officers currently serving with U.N. Peacekeeping will thus be repatriated, beginning next month, in accordance with their rotation dates and will not be replaced by Sri Lankan personnel," said Haq.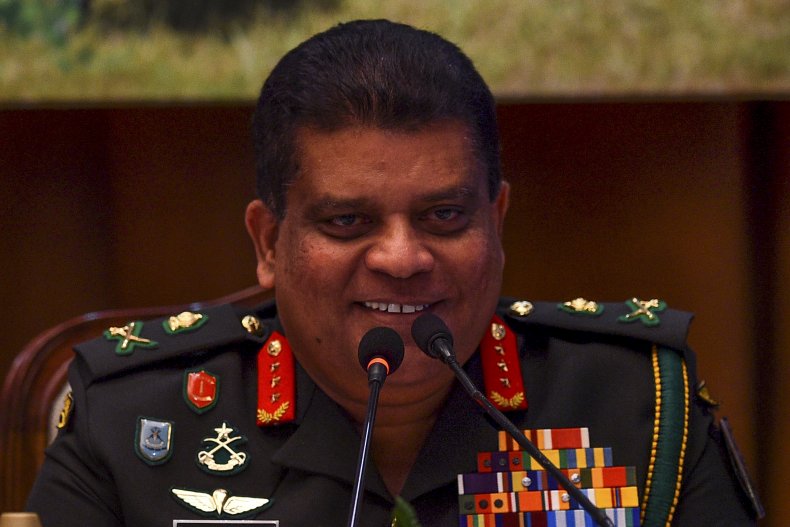 Haq did mention that exceptions will be made "where suspension would expose U.N. operations to serious operational risks."
U.N. Director at Human Rights Watch, Louis Charbonneau, applauded the decision, saying, "This is a good move by the U.N." He argued the policy sends a message that "sweeping war crimes under the rug won't go unnoticed."
Though the decision was cited as being in direct response to Silva's appointment last month, Charbonneau argued that this is not the first time that Sri Lanka has made questionable choices with regards to the military's role as a U.N. peacekeepers. He cited a lack of vetting by the Sri Lankan military for troops deployed in Lebanon and sexual abuse of children by Sri Lankan peacekeepers in Haiti that went unpunished by the government.
In the circumstances of sexual exploitation and abuse by peacekeepers, the U.N. does not have the jurisdiction to prosecute offenders, making participating countries' military oversight all the more important.
Charbonneau hopes that this decision signals a recommitment by the U.N. to human rights, especially in light of opposition to human rights in peacekeeping from certain member states such as Russia and China.
"There is no reason that troops under this kind of command should serve under the U.N. flag," Charbonneau said of Sri Lanka. "This is a stand against impunity for war crimes."