U.N. Diplomats Look to Russia to Broker Syria Peace Talks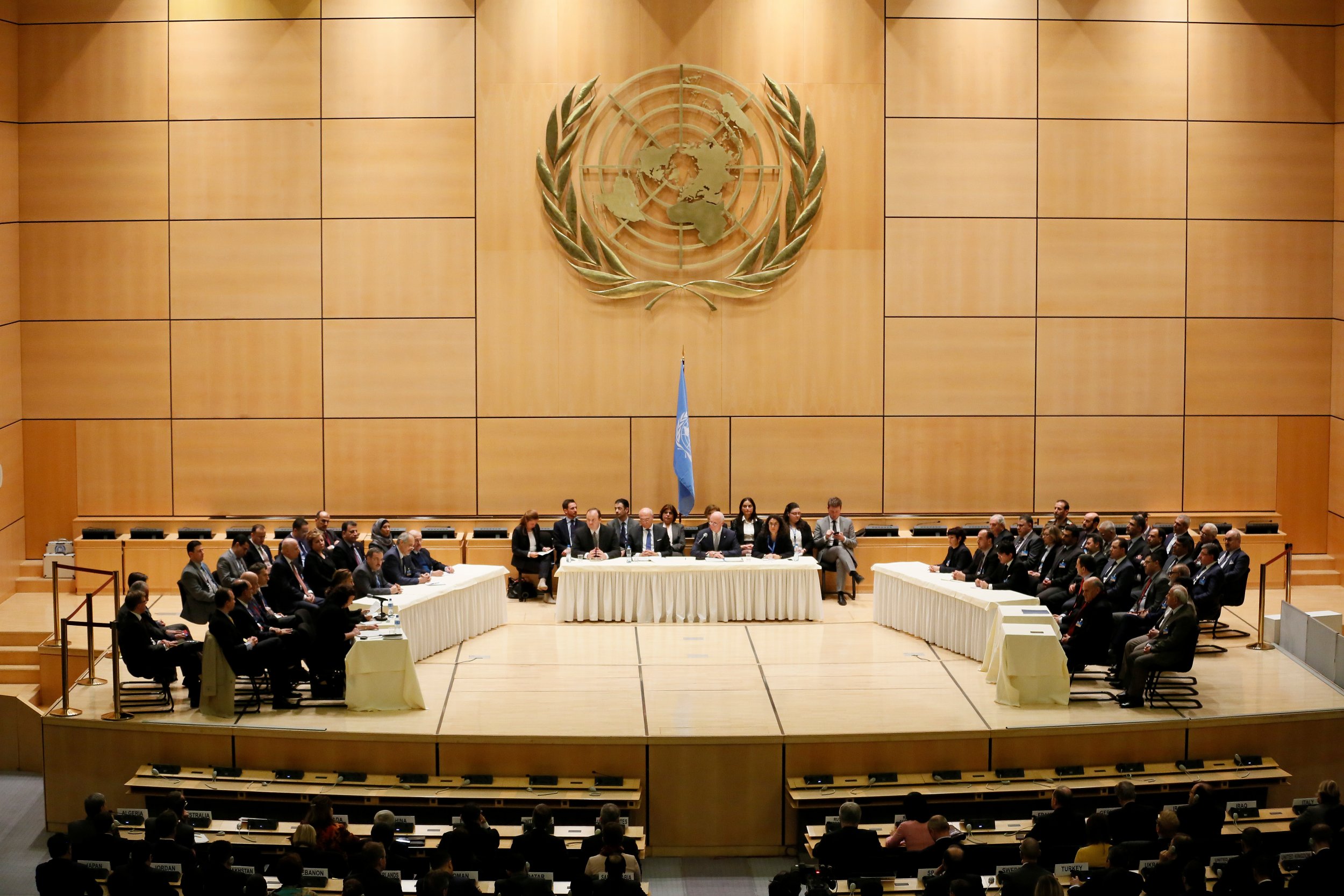 The first U.N.-led Syria peace talks in almost a year are in danger of getting lost in procedure, as officials obsess about who will meet whom, but behind the scenes diplomats say it's largely up to Russia to call the tune.
Russia and the United States were the prime movers behind the last peace talks, which halted as the war heated up.
With the United States now taking a diplomatic back seat, Russia - whose military intervention turned the tide of Syria's war and helped President Bashar al-Assad recapture Aleppo - is potentially a kingmaker.
But its endgame is unclear.
"Our task is only to stabilize the legitimate authorities and deliver a final blow against international terrorism," Russian President Vladimir Putin said on Thursday at a military ceremony as the Geneva talks began.
Moscow has sought to revive diplomacy since its air force helped the Syrian army and allied militias defeat rebels in Aleppo in December, Assad's biggest victory in six years of war.
Russia joined with Turkey and Iran to convene intra-Syrian negotiations in the Kazakh capital Astana to reinforce a shaky ceasefire and tried to expand their remit to political aspects, even making public a proposed Moscow-drafted constitution.
With Astana handling the ceasefire, Geneva is left with the political conundrum and a U.N. mandate to discuss a new constitution, U.N.-supervised elections and transparent and accountable governance.
There is leeway for different interpretations, and it is unclear to what extent Russia is willing to put pressure on the Syrian government to reach a political deal with the opposition.
Russia supports the creation of a government of national unity, which a senior European diplomat disparagingly said meant bringing in a few dissidents to run the ministry of sports and leaving Assad's power unchecked.
"If they really wanted to move things along, they could hand Assad his boarding card and pack him off to Caracas," he said.
Russian Leverage
The opposition wants Assad, who has ruled Syria for 17 years, to relinquish power. Russia's ambassador in Geneva, Alexei Borodavkin, has called such demands absurd.
European powers that back the rebels hope that Russia will be swayed by the prospect of the European Union helping with the bill for Syria's reconstruction - expected to run to tens of billions of dollars - if all sides can seal a political agreement to end the conflict.
Borodavkin dismissed the argument, saying Russia had given huge aid to Syria and that by supporting Assad's military successes, it had saved Europe from a fresh exodus of 7 millionSyrians.
Russia's military support may give it leverage over Assad, but it is not clear whether it will try to halt his military campaigns or back him to the hilt.
A ceasefire exists, at least nominally, across most of Syria, but it doesn't cover U.N.-designated terrorist groups, nor - says Russia - their affiliates. Many see that as giving Assad an open season on his opponents.
Despite Russia's call for the government to "silence the skies" ahead of the talks, the fighting has continued, with Syrian jets bombing rebel-held areas of Aleppo, Deraa and Hama provinces and insurgents firing rockets at government targets.
"We have no choice but to play Russia's games and try to resist attempts for a full-out military victory and try to bring them back to Geneva and hope something can be achieved here," said a senior Western diplomat.
"It is still an open question if and what an agreement would look like that Russia could accept."
Questions also remain over whether Russia has any influence with Assad's other ally, Iran, and the militias it backs, or whether it is merely turning a blind eye as they look to cement recent gains on the ground.
"The (Syrian) regime and Hezbollah want to clear areas around Damascus which are still a threat to the capital," said the same diplomat. "After that either they go towards Idlib or Deraa in the south."
So far, there is little evidence of Moscow pressuring the government delegation. TheRussian-drafted proposed constitution alludes to Assad continuing for several seven-year terms.
"The Russians don't have any position concerning Assad himself," said Vasily Kuznetsov, an expert at the Russian International Affairs Council.
Syria's fate was up to Syrians, he said, and the Russian government was prepared to live with the outcome of the U.N.-supervised elections.