United Nations Employees Claim They Faced Sexual Assault, Harassment Amid Culture of Silence: Report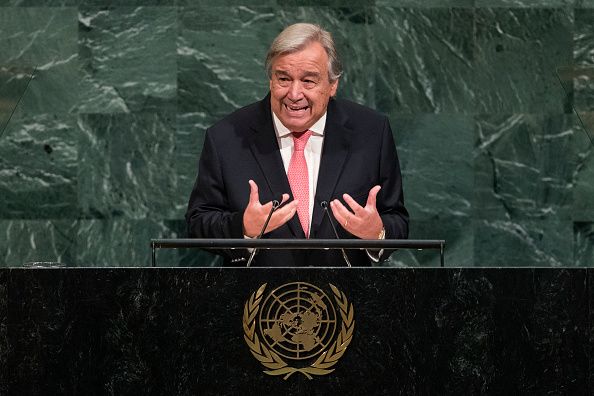 United Nations employees alleging sexual harassment and assault have encountered a culture of silence in which claims have been stalled by bureaucracy and victims have been threatened with having their jobs terminated, according to a report from The Guardian Thursday.
The investigation, which looked at offices across the world, interviewed current and former U.N. employees, with dozens revealing the full extent of the difficulty in reporting sexual misconduct within the world's humanitarian base.
Of those interviewed, 15 employees told The Guardian about alleged offenses that took place ranging from verbal harassment to rape in the last five years.
In October, U.N. Secretary-General AntonioGuterres issued a letter to staff, signed alongside staff councils and union heads, reiterating his commitment to ending sexual harassment within the world body.
"The United Nations has a clear policy on sexual harassment and a process to investigate allegations in a fair and confidential manner, with firm sanctions at the organization's disposal," the letter read.
U.N. staff regulations state that employees have the "obligation" to not engage in behavior that would "constitute prohibited conduct."
In November, the U.N. chief addressed the emergence of media reports that unearthed a culture of silence in workplaces on sexual assault, propelling the global #MeToo movement.
"I have stressed a zero-tolerance policy towards sexual harassment at the United Nations," Guterres said in remarks during November's International Day for the Elimination of Violence Against Women.
While an interagency task force was formed, examining policies and improving systematic claims arguing harassment and assault, the Secretariat—the administrative arm of the U.N.—has its own chaired taskforce looking at improving capabilities, such as ways to report sexual harassment, according to the U.N.
Yet, The Guardian report alleged that accused perpetrators have been allowed to remain in senior positions.
The investigation noted that three women who reported incidences had been forced from their posts, or even had their contracts waved at them in early termination threats. It also labeled the U.N.'s investigation team—the Office of Internal Oversight Services (OIOS)— at fault for failing to do follow-ups on alleged offenses, such as getting interviews with key witnesses.
"No one believes that the U.N. is different from any other organization, public or private, that has seen sexual harassment, where sexual harassment occurs," U.N. spokesperson Stephane Dujarric told reporters at a daily press conference on Thursday. "It would be of no surprise that the issue may very well be underreported within the U.N."
While Dujarric acknowledged it "happens, unfortunately, everywhere," he added that the world body is "not blind to the fact that this happens in the United Nations."
Addressing how it can be improved, the spokesperson said that the U.N. would be looking at ways to strengthen accountability—such as a staff survey to understand the issue better, staff fact sheets and a helpline for those seeking advice on sexual harassment.
"The message from the top is that behavior will not be tolerated, that people will be made to be held to account, and that people should not fear coming forward," Dujarric told reporters.