Putin Ally Says U.S. Will Become Strait Named After Stalin for Ukraine War
Vladimir Solovyov, a Russian state TV host and known ally of Russian President Vladimir Putin, seemingly implied during a recent broadcast that the United States should be destroyed for its support of Ukraine and in its place should be a strait named after former Soviet Union leader Joseph Stalin.
Solovyov made the comment during a program he hosts on Russia-1, a Russian state-owned television channel. After a guest spoke of the war in Ukraine being a larger battle against the United States and the West, Solovyov agreed.
"And in the 21st century the dream of the great thinker, Academician Sakharov, will come true," Solovyov said, likely referring to Andrei Sakharov, a Russian scientist who played a role in creating the first Soviet hydrogen bomb.
"Yes, and on the territory of the United States there will be a strait in the name of Comrade Stalin," Solovyov added.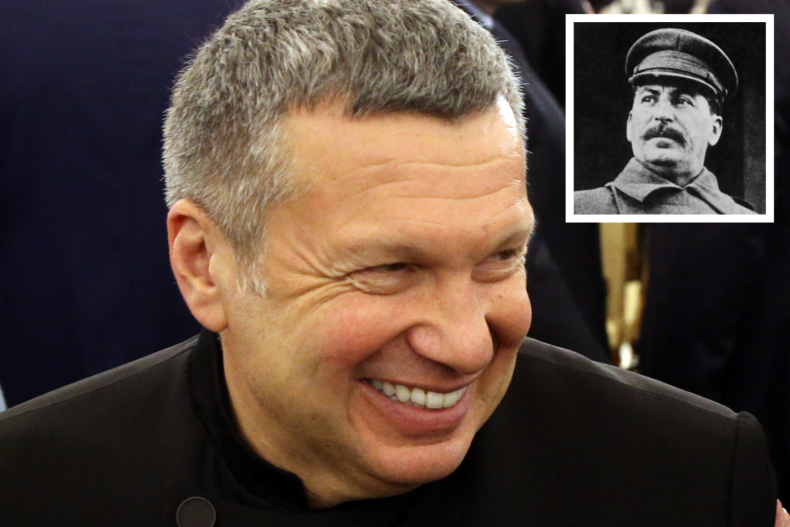 Anton Gerashchenko, an adviser to Ukraine's minister of internal affairs, posted a clip of Solovyov's comments on Twitter Wednesday.
Igor Korotchenko, the editor-in-chief of Russia's National Defense magazine, recently made a statement similar to Solovyov's remarks during an appearance on Russian state TV.
Korotchenko warned of a possible retaliatory strike against the U.S. if it attacked Russia due to the war in Ukraine. He said such an assault on the U.S. would result in the country becoming a "sea strait named after Comrade Stalin."
Solovyov has frequently voiced his criticisms of the United States on air. He's also stated Russia has just cause for attacking Western nations that supply Ukrainian President Volodymyr Zelensky with weapons.
Guests on Solovyov's show have called for direct strikes on the U.S. Last month, Andrey Gurulyov, a State Duma member in Russia and former military commander, went so far as to suggest a nuclear attack on the United States might be in order.
During a panel discussion on Solovyov's show, Gurulyov said that Americans "won't come to their senses" until they "get hit with a nuke on their skull," according to a translated clip posted on the Russian Media Monitor YouTube channel by journalist Julia Davis.
Gurulyov went on to say Russia using nuclear weapons might be the only way to achieve lasting peace.
Solovyov himself recently got into a dispute with a show guest on whether Russia should use nuclear weapons on an expected delivery of military hardware to Ukraine's forces from NATO.
Davis tweeted a clip that showed a back-and-forth between Russian State Duma member Semyon Bagdasarov and Solovyov. Bagdasarov called the prospect of using nuclear weapons "a dangerous trend" and said Russia should instead focus on supplying ground forces with "modern equipment."
Solovyov replied by saying that "not using nuclear weapons is a dangerous trend" and added Moscow should take advantage of its "superiority in tactical nuclear weapons."
Newsweek reached out to the Russian Ministry of Foreign Affairs for comment.