Will the U.S. Invade Venezuela? 1.6 Million Militia Members Ready to Defend Country from 'Invading Imperialist Force' Maduro Says
Venezuelan President Nicolás Maduro said this week that his country's civil militia has recruited 1.6 million members who are ready to fend off a foreign attack.
"We will arm the Bolivarian militia to the teeth," Maduro told the militia members at the Caracas-based Fuerte Tiuna military complex on Monday, but he didn't mention how many of the new recruits were actually armed, Reuters reported. "An invading imperialist force may enter a part of our fatherland, but the imperialists should know that they will not leave here alive."
Maduro said that he had issued a directive on April 13 to increase the size of the militia members to 1 million. The strongman added there were "nearly 400,000 members" at the time, meaning that the militia has more than tripled its size.
The announcement came less than a week after he accused the U.S. of planning to invade Venezuela, though he didn't offer any evidence, Reuters added. The National Bolivarian Militia is a force comprised of civilian volunteers and founded by late President Hugo Chávez in 2008 to support the country's armed forces.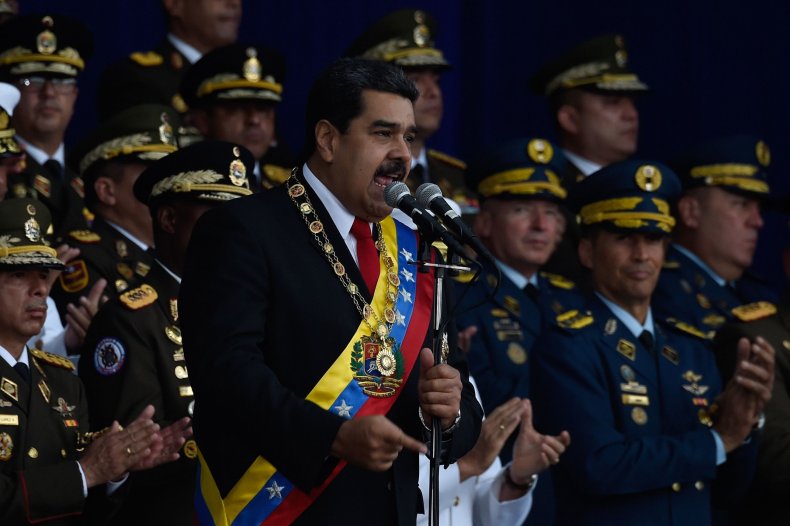 Following the announcement, Major General Carlos Leal Tellerías said the militia is "the nation's powerful force for its defense, [thanks to] prepared men and women committed heart, soul and body."
Tellerías explained that "amid attacks and threats our homeland has dealt with, they have been defeated thanks to the consciousness fostered by our commander Hugo Chávez," according to Venezuelan newspaper Correo del Orinoco. Tellerías also praised Maduro's "efforts to maintain peace among the people of Venezuela."
In September 2017, Maduro urged Venezuela's military leaders to prepare for war against the U.S. following the Trump administration's sanctions on the regime by banning loans to the government and state oil company PDVSA that same month.
"We have been shamelessly threatened by the most criminal empire that ever existed, and we have the obligation to prepare ourselves to guarantee peace," Maduro said during a military exercise involving tanks and missiles at the time. "We need to have rifles, missiles and well-oiled tanks at the ready...to defend every inch of the territory if needs be."
Maduro's address before his army top brass occurred a month after President Donald Trump said he would consider invading Venezuela in August last year. "We have many options for Venezuela, including a possible military option, if necessary," he said at the time. Trump's remarks took top officials like then-national security adviser H.R. McMaster and former Secretary of State Rex Tillerson by surprise, according to an AP report last June.
Calls to invade Venezuela have also been echoed by members of Congress. Last September, GOP Senator Marco Rubio of Florida said in an interview with Miami-based TV station Univision 23 that military action should not be ruled out.
"For months and years, I wanted the solution in Venezuela to be a non-military and peaceful solution, simply to restore democracy," Rubio said. "I believe that the Armed Forces of the United States are only used in the event of a threat to national security. I believe that there is a very strong argument that can be made at this time that Venezuela and the Maduro regime has become a threat to the region and even to the United States."
The idea of U.S. military action was not well received among some experts. "Threatening military action risks derailing diplomatic progress and spreads false hope among the extremist voices in the Venezuelan opposition that they don't have to do the hard work of building a coalition and leadership structure," Geoff Ramsey, assistant director for Advocacy for Human Rights in the Americas' Venezuela program, told Newsweek in September.
That same month, a report by The New York Times revealed that the Trump administration had secret meetings with Venezuela's rogue military officers to oust Maduro, but U.S. officials decided not to help the plotters, the publication noted.