United States Trails Behind Mexico and India When It Comes to Animal Protection Laws, Report Finds
The United States is trailing behind other countries—including Mexico and India—when it comes to animal protection laws for farmed and wild animals, a report published by non-profit World Animal Protection (WAP) has revealed.
In its latest Animal Protection Index (API)—a global ranking of animal welfare policies in 50 countries—the organization has awarded the United States a "D" grade, while the two aforementioned countries received "Cs." The U.S.'s ranking has not improved since the first edition of the API, which was published in 2014.
According to the API, animal protection laws at the state level in the country—where most originate—are inadequate, inconsistent, and sometimes contradictory. At the federal level—where only a few key laws exist—WAP found that there was a lack of accountability.
Below are the four main reasons outlined in the report which contributed to the award of the "D" grade:
"The federal government's key legislations limit which animal species and groups are covered.
Most animal protection legislation is are created at the state, not federal, level, giving rise to inconsistencies in enforcement.
The number of exemptions or exceptions allowed in both federal and state legislation means that most animals and welfare-impacting practices are not covered.
Lack of transparency regarding animal welfare enforcement reports and audits mean there is little accountability for authorities."
WAP experts say that a failure to improve standards will lead to the continued suffering of millions of animals, while also raising the risk of disease outbreaks.
"The longer poor animal welfare practices continue, the greater the risk of zoonotic disease outbreaks becoming more frequent, including but not limited to salmonella, avian influenza and most recently, the COVID-19 pandemic currently happening worldwide," Alesia Soltanpanah, Executive Director World Animal Protection, U.S., said in a statement provided to Newsweek.
"Improving conditions for farmed animals and ending the commercial trade in wild animals, will not only guarantee the welfare of billions of animals but could also help prevent the next big human health hazard.
"There is no federal legislation protecting farm animals during the rearing phase. Intensive, close confinement production systems are common, causing great suffering, causing animals to be stressed and immunosuppressed while also destroying the local environment and endangering the health of people and wildlife in the area," Soltanpanah told Newsweek.
"The U.S. also allows the continued practice of fur farming and allows animals to be used for various entertainment purposes causing great suffering."
In 2014—when the first API was published—the United States only had a few key animal laws at the state level, according to WAP. These included the Horse Protection Act of 1970, the Humane Methods of Slaughter Act of 1958, and the Animal Welfare Act (AWA)—which set general standards for certain animals bred for commercial sale, used in public exhibitions or biomedical research, or transported commercially.
Since then, several pieces of legislation have been introduced at the state and federal level, which have helped to improve animal standards, according to the report. For example:
In 2018, California passed Proposition 12, which effectively banned the most restrictive forms of confinement on farms.
In October 2019, California also banned the sale of fur from 2023—the first state to do so. Earlier that year, it also outlawed the use of wild animals in circuses.
And at the federal level, the Preventing Animal Cruelty and Torture Act (PACT) became law in November 2019, making animal cruelty a felony.
However, gains such as these were not enough the improve the U.S.' grade, given that the Trump administration has weakened several protections for animals. According to Soltanpanah these include:
"Granting permits to trophy hunters to kill endangered species and bring them back to the United States.
Lifting environmental protections on national parks and monuments which provide habitats for wildlife, and allowing mining and drilling in formerly protected lands.
Rolling back protections for species categorized as 'threatened' and allowing economic factors to influence which species are classified as 'endangered.'
Overturning a ban on the hunting of predators in Alaskan wildlife refuges and proposing to overturn a ban on extreme sport-hunting practices such as baiting grizzly bears.
Allowing poultry processing facilities to have faster line speeds, which increases risks to chickens and workers.
Rolling back environmental protection laws under the Clean Water Act which reduces environmental oversight of factory farms and threatens wildlife."
Soltanpanah notes that these efforts to weaken animal protections—in addition to the abundance of "loopholes" and exceptions for many species in U.S welfare laws—has meant that many animals are still suffering, despite several promising pieces of legislation being passed in the past few years.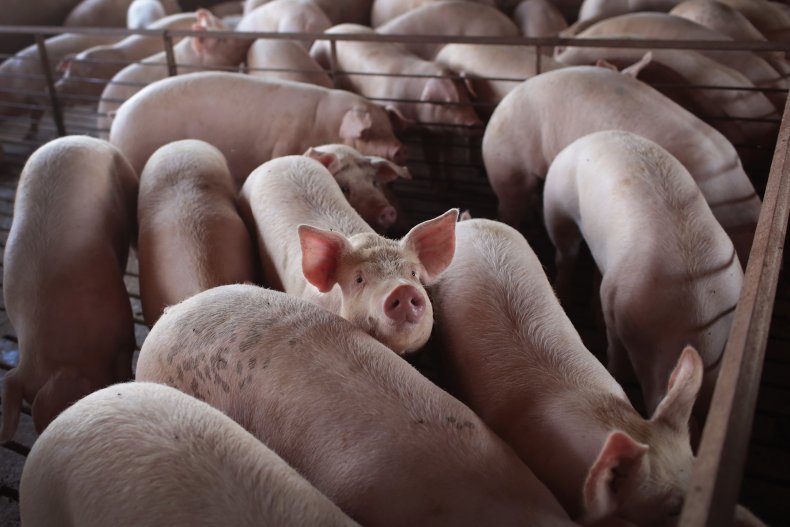 "This index should be a wake-up call for our political leaders with the message that we are failing to protect the vast majority of animals in this country," Soltanpanah said in the statement. "We are calling on the Trump administration and local governments to improve animal welfare standards and enshrine animal protection into current and critical debates on food, public health, and sustainable development."
In the API, World Animal Protection urges state and federal government to increase protections for farmed and wild animals in the United States, making a number of recommendations:
Recognizing all vertebrates, cephalopods, and decapod crustaceans as sentient, while expanding the AWA so that it applies to all sentient animals.
Removing exemptions in the PACT Act for animals killed for food or used in scientific research.
Banning the production and sale of fur products.
Outlawing forms of entertainment that cause animal suffering, such as circuses, rodeos, fights, races, rides, and the use of marine mammals in shows.
Supporting the reintroduction of the Humane Cosmetics Act to phase out cosmetic animal testing and the sale of cosmetics tested on animals.
No countries were awarded an "A" ranking in the API, however, Sweden, the United Kingdom and Austria received the highest scores—all "Bs." On the other end of the scale is Iran with a "G" rating. According to the Index, Iran lacks any policies or legislation recognizing the sentience of animals, while also falling short in other areas, such as government accountability for animal welfare.
The report singled out the United States, China, Vietnam, Egypt, Azerbaijan and Belarus, for concerning animal welfare practices related to intensive farming and/or wildlife markets—which could lead to disease outbreaks.
Newsweek has contacted the White House for comment regarding the findings of the API.