University of Alabama Emphasizes Quarantine Protocols as Over 1,000 Students Test Positive Since Classes Resumed
The University of Alabama (UA) on Friday made clear its quarantine and isolation protocols, the same day the school announced it has had more than 1,000 students test positive for coronavirus since classes resumed August 19.
UA administrators released the most recent round of coronavirus numbers Friday evening, reporting an additional 481 positive cases in students just within the past three days. From August 19 to 24, the school's COVID dashboard revealed that 562 students tested positive, bringing the updated total to 1,043 positive cases since in-person classes resumed.
According to the dashboard, 36 percent of the school's isolation space is currently in use, an uptick from the 19.8 percent that was in use as of Monday.
In its guide to quarantine and isolation protocols released Friday, UA described what would happen when a student tests positive or presents coronavirus symptoms following a suspected exposure. The student would be immediately moved to an isolation space on campus, or could choose to go home. Students living off campus should stay in their homes, the guide states.
Students must remain in isolation for at least 10 days after symptoms first appear or they test positive, and they cannot have direct contact with anyone outside of isolation. Anyone found in violation of the outlined protocols could face sanctions from the school, including suspension.
UA's quarantine procedure differs from its isolation protocol. When a student believes they have been in close contact with someone who did test positive, they are responsible for self-quarantining in place for 14 days, remaining in their home or residence hall room.
Monica Watts, a spokeswoman for UA, wrote in an email to Newsweek that the school's post on Friday "describes our protocols all along." Administrators wanted to ensure that the community clearly understood the difference between the two and how they would be implemented, she said.
In a message last weekend addressed to students, UA President Stuart Bell wrote there was "an unacceptable rise" in coronavirus cases on campus.
"Make no mistake," he wrote, "this trend is a real threat to our ability to complete the semester on campus."
The school's top priority is the safety of its students, faculty and staff, Watts said.
"As we prepared for the fall semester, we developed one of the most comprehensive testing and entry programs in the nation," she wrote. "We continue to update the plan and fine tune our strategies daily."
The school required its students to complete testing, training and reporting of their daily health conditions before they arrived to campus. When classes began last week, UA "moved quickly" to enact its notification, isolation and quarantine procedures, Watts said.
"Testing, quarantining and isolating positive cases are the best medical strategies to mitigate the spread and keep our campus safe," she wrote. "There is no evidence of transmission in our classrooms and none of our students are hospitalized. This evidence leads us to conclude our health and safety protocols are successful."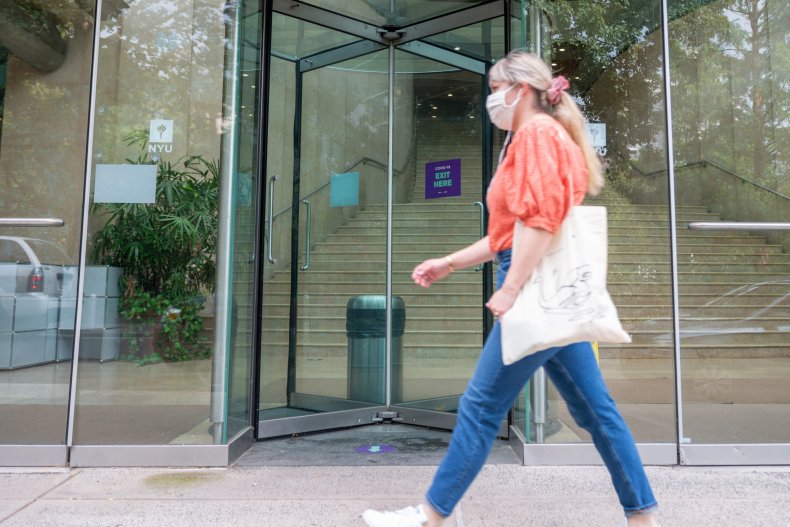 By Monday, Tuscaloosa Mayor Walt Maddox had signed an executive order closing all bars in the city (home to UA) for two weeks in an effort to help slow the spread of coronavirus. Additionally, bar service at restaurants would be suspended.
Maddox said his order resulted from conversations he had with UA officials, citing the mutually beneficial relationship between the city and the university.
"The ever-increasing number cases of coronavirus on campus will create two major disruptions for the city of Tuscaloosa if left unabated," Maddox said during a press conference Monday. "The first is to our healthcare system. From the start, the city has taken decisive action to protect DCH [Health System]. This has been our North star. The second disruption has been to our economy. UA has a $2 billion economic impact on our metro and thousands of our citizens depend on the jobs that UA provides. I know this is not easy. I know the coronavirus has taken so much but we must finish the job."
DCH in Tuscaloosa reported Friday that it had 55 inpatients being treated for coronavirus, but does not note their ages. This number is the lowest total so far in August, as the number of patients peaked August 4 with 106, according to AL.com.
Several large, public universities in North Carolina recently announced they would revert to online learning following COVID-19 outbreaks within the first weeks of attempting in-person classes.
The University of North Carolina at Chapel Hill announced August 17, just one week after students began classes, that it would send students home after its testing positivity rate rose from 2.8 percent to 13.6 percent. The university is reporting a total of 1,025 positive coronavirus cases since February 2020.
East Carolina University (ECU) abruptly switched to online learning Sunday after a "rapid acceleration" of coronavirus cases were discovered within the previous week. According to data last updated August 24, one day after administrators announced it would move online, ECU reported 392 cumulative total coronavirus cases among students and faculty members since early June.
North Carolina State University announced August 20 it would also move all its undergraduate classes online for the remainder of the fall semester, citing an alarming increase in case numbers and students placed in quarantine. As of August 26, the university reported 739 total positive cases.
Update 5:08 p.m. ET: This article has been updated to include comments from the University of Alabama.