University of Alabama Fan Back On Trial For Only Paying $5,000 of $800,000 Bill for Poisoning Auburn University's Oaks
Harvey Updyke, 71, is set to go on trial for failing to give full restitution to Alabama's Auburn University after confessing to poisoning the campus' iconic oak trees at Toomer's Corner, according to the Associated Press.
On January 27, 2011, a caller to the Birmingham-area Paul Finebaum Radio Network identifying himself as "Al from Dadeville" claimed that he'd doused the roots of the Toomer's Corner tree with a powerful herbicide containing Spike 80DF, which contains tebuthiuron, after Auburn defeated Alabama in the 2010 Iron Bowl.
Testing of the plants' soil showed a high concentration of the herbicide, and said the plants were not likely to survive. There was additional concern for the health of the area groundwater due to the strength of the chemicals used, but testing in April of that year confirmed that the groundwater was safe.
Updyke, a fan of rival Alabama State, was identified and arrested in February of 2011, then charged with criminal mischief, a class C felony in Alabama, as well as desecration of a venerated object and unlawful damage to a crop facility.
Updyke, a retired Texas State Trooper, plead guilty by reason of insanity to splashing the roots of the oak trees with the high-powered herbicide in 2013. He subsequently took a plea deal, admitting guilt to the criminal damage of an agricultural facility charge.
He was fined $1,000 and was given a three-year split sentence, serving six months in jail and five years of probation. He was then ordered to pay $800,000 to make up for the cost the university spent on trying to save the trees.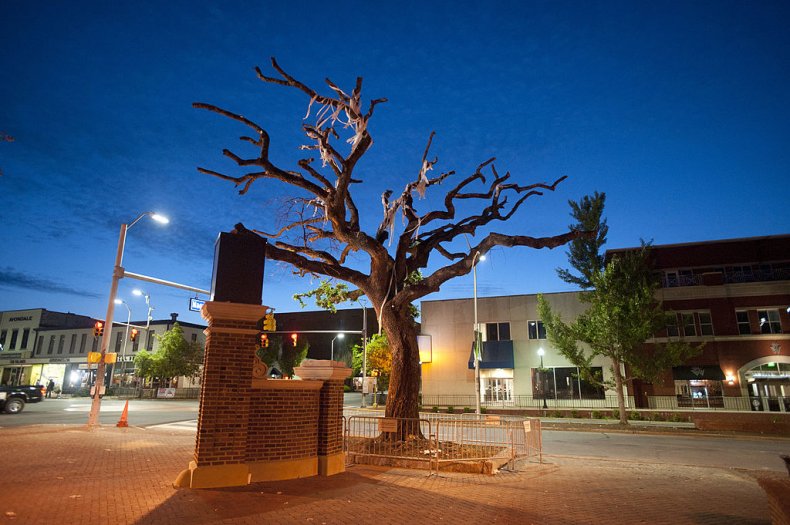 Since then, he's only paid $5,000 or less of his fine. Lee County District Attorney Brandon Hughes told the court that Updyke regularly misses payments.
A Lee County Judge set a hearing date, ordering Updyke to appear on October 30, but Updyke, via a doctor who submitted a letter to the court, says he's too ill to make the trip from Louisiana to Alabama for the mediation. Updyke has previously stated in Facebook posts that his rent has gone up by $200, making payment on the fine impossible.
The original trees were planted in 1937. After spending two years and thousands of dollars to rescue to the original trees, they were cut down by school officials after one final "rolling"—festooning the trees in toilet paper as per Auburn State tradition. Auburn State replaced the trees poisoned by Updyke in 2015, and after giving them a year to acclimate has resumed the tradition of "rolling" the trees in celebration of big football wins.
On October 30, Updyke was a no-show at his trial. Prosecutors ordered a warrant to be issued, and the judge will decide later whether or not to order his arrest.
Update: 10/30/2019 5:20 p.m.: Information added about Updyke's failed court appearance.