University of Alabama to Remove Confederate Army Plaques, Consider Renaming Campus Buildings With Names Linked to Confederacy
University of Alabama (UA) administrators announced Monday that three plaques commemorating the names of Confederate soldiers would be removed from their place on campus. Other building names at the university are also expected to be reviewed.
UA's decision came as protesters against racism chose Confederate monuments in some Southern states as targets for graffiti as part of their demonstrations. Other monuments were pulled down, causing state lawmakers to have the monuments removed.
According to a statement from the UA System Board of Trustees, UA President Stuart Bell and Chancellor Finis St. John, the plaques will be relocated from their spots at Gorgas Library on the Tuscaloosa campus and "placed at a more appropriate historical setting."
Additionally, a panel of trustees is expected to review the names of buildings on the UA campus and, after review, recommend name changes to the Board of Trustees.
Newsweek reached out to UA for further comment. This story will be updated with any response.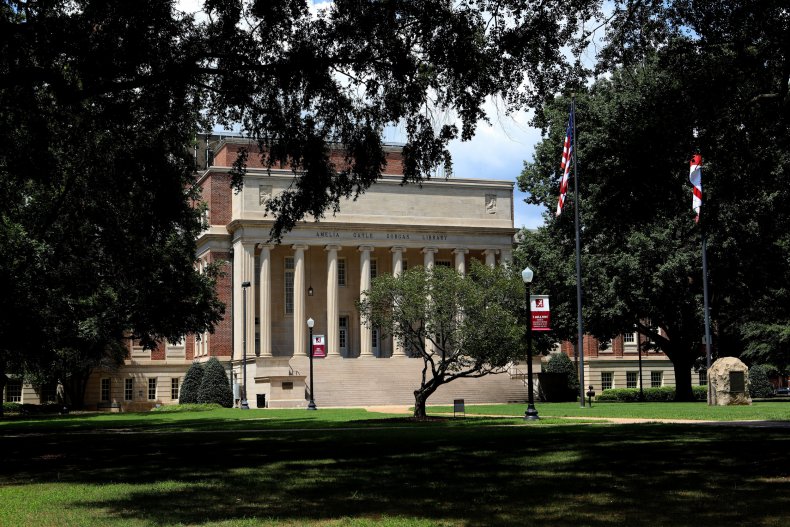 UA's Student Government Association called for the renaming of certain buildings on campus named after individuals with connections to the Confederacy during the Civil War. In a statement released Sunday, the Association also encouraged a review of the Alabama Memorial Preservation Act (AMPA), which prevents historical governments from being renamed by local governments.
According to the AMPA, memorials may not be removed from their places if they have existed on public property for over 40 years.
Other Confederate memorials in Alabama have been removed despite the AMPA. On Tuesday, Alabama Attorney General Steve Marshall invoked the act against the City of Birmingham for removing the Confederate Soldiers and Sailors Monument from Linn Park in June.
"We don't have time to worry about something that's not working for our city and relegates black people to property and slavery," Birmingham Mayor Randall Woodfin told NBC News after the statue had been taken down, "and so it's important that we take this down and move forward."
Woodfin also said that the price of removing the monument was not as great as the price of civil unrest in Birmingham. Under the AMPA, a one-time fine of $25,000 may be levied per violation."
State Attorney General Marshall filed suit against Birmingham for the full amount allowed under the AMPA on Tuesday on the grounds that the "Linn Park monument was over one hundred years old and of independent historical and cultural significance," according to the court filing.
In Mobile, Alabama, the statue of Confederate Admiral Raphael Semmes was removed from the downtown area at the behest of Mayor Sandy Stimpson. Stimpson did not specify where the memorial had been taken, but did say it had been "placed in a secure location."
"To be clear: This decision is not about Raphael Semmes," Stimpson wrote on Friday, "it is not about a monument and it is not an attempt to rewrite history. Moving this statue will not change the past. It is about removing a potential distraction so we may focus clearly on the future of our city."