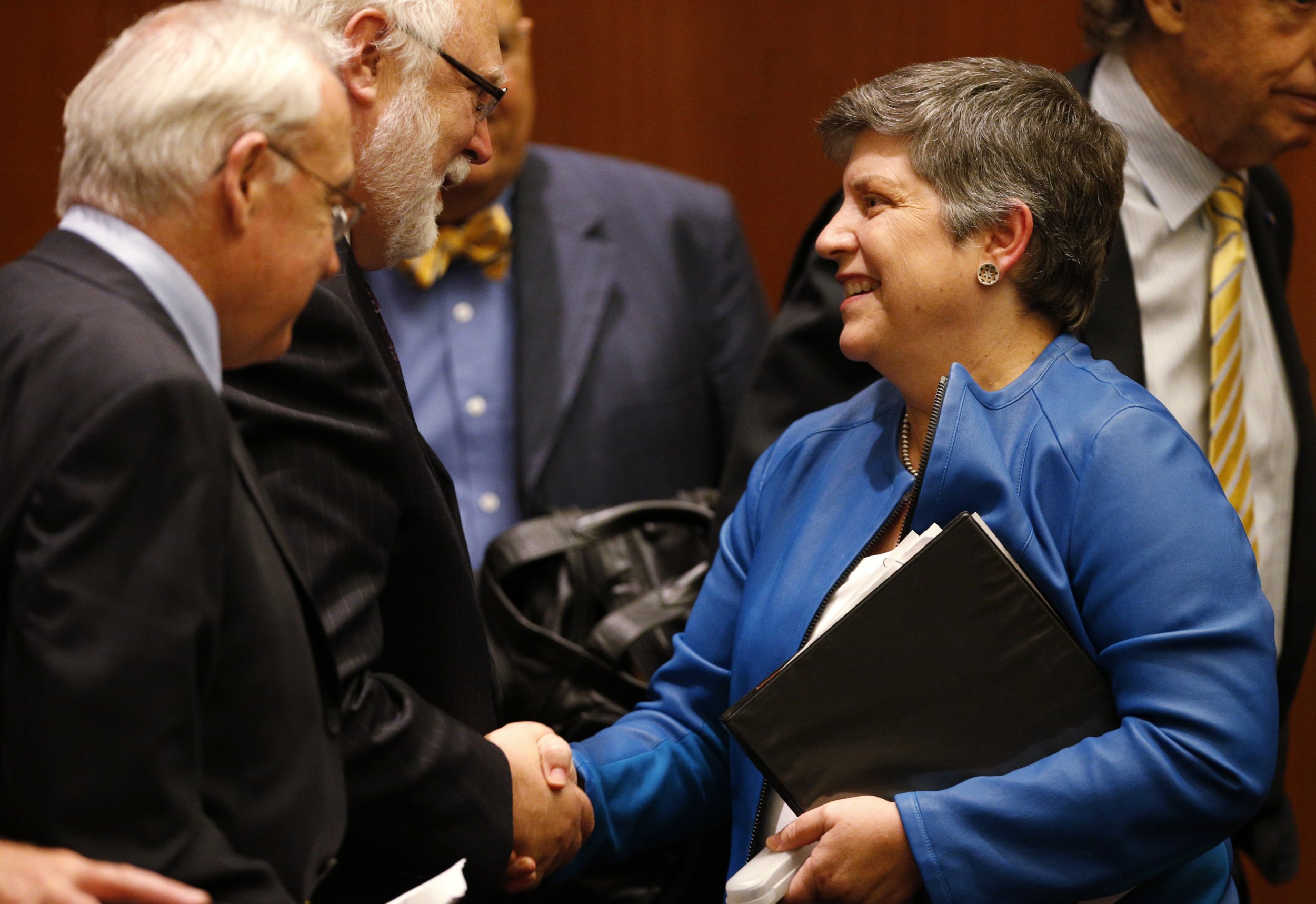 Updated | The Board of Regents of the University of California on Thursday adopted what it is calling "Principles Against Intolerance," in response to reports of anti-Semitic incidents on UC campuses. A Regents committee had unanimously approved of the principles on Wednesday and sent it to the wider Board for the final vote.
The principles state that in certain circumstances anti-Israel sentiment constitutes anti-Semitism, a point that critics of Israel challenge and some people fear will chill free speech.
"Anti-Semitism, anti-Semitic forms of anti-Zionism and other forms of discrimination have no place at the University of California," the working group said in a statement accompanying the principles. "Members of the UC community have come forward with concerns that anti-Semitic stereotypes and tropes of Jewish people appear coded as political discourse about Israel and its policies." It added that anti-Muslim sentiment in the wake of global attacks by "self-identified religious fundamentalists" is just as problematic.
Still, the working group emphasized that the First Amendment and academic freedom are crucial in guiding UC as it responds to bias, prejudice and intolerance. It said it aims to keep an equal campus learning environment for all.
"The Regents call on University leaders actively to challenge anti-Semitism and other forms of discrimination when and wherever they emerge within the University community," the principles state. They condemn actions that "interfere with the ability of an individual group to assemble" and "harassment, threats, assaults, vandalism and destruction of property."
The principles go on to state that members of the university must consider their responsibilities, "regardless of whether one has a legal right to speak in a manner that reflects bias, stereotypes, prejudice and intolerance."
The adoption of the principles follows what Jewish students and groups say is an uptick in anti-Semitic incidents at colleges and universities. A 2015 study from Trinity College and the Louis D. Brandeis Center for Human Rights Under Law found that 54 percent of Jewish college students surveyed said they had witnessed or experienced anti-Semitism on campus during the first half of the 2013-2014 school year.
Another 2015 study, from Brandeis University, found that almost three-quarters of Jewish college students surveyed said they had "been exposed at one time during the past year to at least one of six anti-Semitic statements" provided.
In the 2014-2015 school year, the number of anti-Israel and anti-Semitic incidents on college campuses increased 38 percent from the previous year, according to the Anti-Defamation League.
UC's vote also comes after the AMCHA Initiative, a pro-Israel organization, released a study last week of anti-Semitism at colleges that named four UC schools among the five colleges or universities with the "highest overall anti-Semitic activity." (The study looked at 113 colleges and universities in the U.S. with the largest Jewish student populations.) Following Northwestern University, the study lists UC Santa Cruz, UC Berkeley, UC Davis and UCLA, respectively.
Among the incidents at UC: A fellow student asked a Jewish candidate running for a student council position, "Given that you are a Jewish student and very active in the Jewish community…how do you see yourself as being able to maintain an unbiased view?" Anti-Semitic graffiti reportedly appeared at UC Berkeley, and swastikas reportedly appeared on the UC Davis chapter house of Alpha Epsilon Pi, a traditionally Jewish fraternity.
AMCHA says its study found a correlation between anti-Israel sentiment on college campuses and anti-Semitic incidents. Speaking with Newsweek, Tammi Rossman-Benjamin, director of AMCHA and a UC Santa Cruz lecturer, notes that the UC Davis swastikas appeared shortly after the student government voiced support for the Boycott, Divestment and Sanctions movement; the Alpha Epsilon Pi fraternity had opposed BDS. "It doesn't take a rocket scientist to see that these things are connected," she says.
The BDS movement seeks to put political and economic pressure on Israel to return to its pre-1967 borders, allow Palestinian refugees the right to return and recognize the rights of its Arab-Palestinian citizens.
AMCHA says of the 113 colleges and universities studied, 56 percent with BDS activity had at least one incident "that targeted Jewish students for harm." For schools with no BDS activity, 23 percent had such incidents. At schools with "anti-Zionist student groups," 57 percent had "one or more incidents that targeted Jewish students for harm." At schools without such groups, 8 percent had such incidents.
The study defines "the targeting of Jewish students for harm" as "direct threats to the safety and well-being of Jewish students or violations of their civil rights," including "physical assault, harassment, destruction of property, discrimination and suppression of speech."
Spokespeople for four of the schools named in the AMCHA study addressed the anti-Semitism claims while speaking with Newsweek. A spokesperson for UC Santa Cruz did not respond to requests for comment.
Dan Mogulof, a spokesman for UC Berkeley, says the school's most recent campus climate survey, from 2014 or 2015, found that 75 percent of Jewish students reported feeling "very comfortable" or "comfortable" at the school, a figure consistent with the campus average. He also says the school has "repeatedly and publicly condemned anti-Semitism or any acts of anti-Semitism."
Andy Fell, a UC Davis spokesman, says by email, "UC Davis is a diverse community that welcomes individuals of many backgrounds, identities and experiences. We promote free expression within the bounds of courtesy, sensitivity and respect."
Ricardo Vázquez, a UCLA spokesman, says a campus climate survey there showed that 85 percent of Jewish undergraduates and 90 percent of Jewish graduate or professional students reported feeling "comfortable" or "very comfortable." Jewish undergraduates were "more likely than students from all other religious groups to report" feeling that way, he says.
Bob Rowley, a spokesman for Northwestern, also said the school "strongly disagree[s] with that assessment.... Northwestern's leadership is deeply committed to the well-being of all our students, including our Jewish students."
Groups such as Jewish Voice for Peace and Students for Justice in Palestine, which support BDS, challenge the assertion made by AMCHA and now UC that anti-Zionism or anti-Israel sentiment is often anti-Semitic.
"To support a free Palestine necessarily means opposing all other forms of bigotry, oppression and discrimination, and this naturally includes anti-Semitism, which we condemned when it occurred at UCLA," Omar Zahzah, a graduate student at UCLA and a member of the Students for Justice in Palestine chapter there, tells Newsweek.
According to the U.S. State Department, to "demonize" or "delegitimize" Israel is anti-Semitic, but "criticism of Israel similar to that leveled against any other country cannot be regarded as anti-Semitic."
Last week, billionaire and influential Republican donor Sheldon Adelson spoke at a private event about the Maccabee Task Force, his initiative to fight BDS on college campuses. The initiative currently operates as a pilot program at eight colleges.
Democratic presidential candidate Hillary Clinton also spoke about BDS in her speech on Monday to the American Israel Public Affairs Committee, a pro-Israel lobbying group. "We have to be united in fighting back against BDS," she said to the group. "To all the college students who may have encountered this on campus, I hope you stay strong."
Pro-Israel organizations, including StandWithUs, have voiced support for UC's principles, while other individuals and organizations have criticized them. During Wednesday's meeting, members of the public who were carrying protest signs briefly delayed remarks by UC President Janet Napolitano. One of the people voiced concern that "only two black people" had an opportunity to speak earlier in the meeting, when other members of the public were able to speak. After a representative for the Board of Regents repeatedly told the speaker that it was too late for public comments, several attendees began chanting "black lives matter."
Will Creeley, vice president of legal and public advocacy at the Foundation for Individual Rights in Education, said last year that the principles might become "a first step toward a slippery slope of punishment for speech that institutions don't like."
And in an editorial last week, the Los Angeles Times editorial board said the UC proposal "includes some loose language that could undermine the university's commitment to a free exchange of ideas and its obligation to respect the First Amendment."
Following the committee's initial approval of the principles on Wednesday, Jewish Voice for Peace said in a statement, "In focusing primarily on anti-Semitism, this policy fails to address the urgent needs of UC students who are facing a heightened climate of Islamophobia and racism." It also said the Board of Regents did not address its free speech concerns.
The general counsel for UC addressed those concerns during Wednesday's meeting. "The principles," he said, "do not impose a ban on speech or any behavior, but rather call on administrators to contest or challenge discriminatory conduct or speech.... All of the university's policies are to be applied in a manner that is consistent with the First Amendment."
As racial and social justice movements increase at American colleges and universities, the line between free speech and hateful speech has sometimes proved tenuous, and free speech advocates have criticized groups that seem to be contradictory in their picking and choosing of which speech to ban and which to defend as "free."
A recent study of college freshmen found that though 80.6 percent of respondents voiced support for "tolerance of others with different beliefs" and more than 63.7 percent said they were open "to having my own views challenged," 43.2 percent said colleges should ban "extreme speakers," and 70.9 percent said "colleges should prohibit racist/sexist speech."
Earlier this week, students at Emory University complained that someone had written "Trump 2016" in chalk on campus. Protests prompted the university president to respond.
"Yesterday I received a visit from 40 to 50 student protesters upset by the unexpected chalkings on campus sidewalks and some buildings yesterday morning, in this case referencing Donald Trump," University President James Wagner said in the statement. He added that the university would respond by "taking a number of significant steps."
Correction: This article previously stated that the Board of Regents voted to adopt the "Principles Against Intolerance"​ on Wednesday. A Regents committee voted to adopt the principles on Wednesday; the final Board of Regents vote was on Thursday.