'I Guess I Just Really Wanted to Have Sex': UCF Student Charged With Sexual Battery Allegedly Apologized to Victim
A University of Central Florida student charged with sexual battery allegedly apologized to the victim and admitted to hearing the victim say, "no."
The University of Central Florida Police Department arrested Jaime Polanco, 21, on July 11, about a month after the alleged assault took place, according to the Orlando Sentinel. The student's arrest came after the victim, whose gender was redacted from the arrest affidavit, reported being raped to the police.
On the night of the alleged assault, Polanco and the victim were watching a basketball game in Polanco's apartment at Knights Circle, a student apartment complex, located about a mile from Orlando, Florida, campus. The victim didn't plan on having sex with Polanco, according to Click Orlando, but the 21-year-old allegedly forced himself on the victim, who attempted to fight back by kicking Polanco.
After that night, the victim didn't speak to Polanco, the Orlando Sentinel reported, but contacted the University of Central Florida Police Department on Thursday after the 21-year-old came to the victim's apartment. The victim told the dispatcher they saw Polanco through the peephole in the door, but when they looked a second time, the peephole was blocked with a sticky-note.
By the time officers arrived and the victim reported the rape, Polanco left the apartment complex. Before he was arrested, officers recorded a phone call between Polanco and the victim.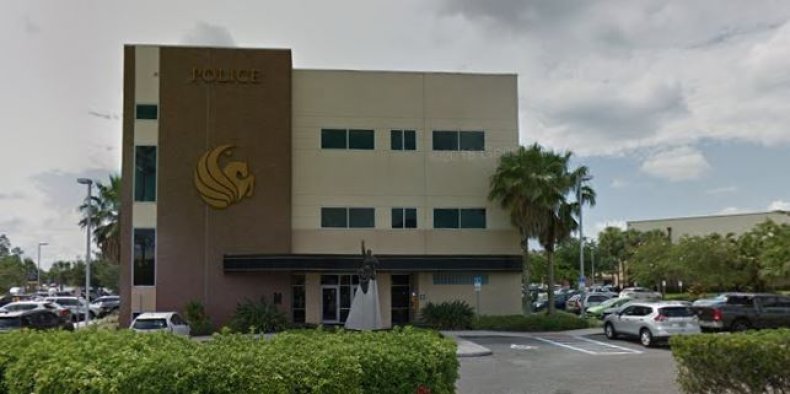 During the call, the Orlando Sentinel reported Polanco told the victim, "I guess I just really wanted to have sex." He allegedly said the alcohol he drank wasn't to blame and that he remembered having sex. Polanco also reportedly admitted to remembering the victim saying "no."
"Yeah, I am so sorry. I don't know what was going through my head," Polanco allegedly said, according to Click Orlando. "I can't justify it at all. What I did was terrible."
The student was arrested later on a $10,000 bond and is not allowed to contact the victim. Polanco was not listed in the Orange County Jail inmate database when this article was published.
Sexual battery is a first-degree felony in the state of Florida and can carry a punishment of 30 years in prison. It's unclear if the student will face any consequences with the university. Newsweek reached out to the University of Central Florida but did not receive a response in time for publication.
Along with encouraging students to report sexual assault to the police, students have the option to file a complaint with the University of Central Florida, as well. While the police handle criminal investigations, the Office of Institutional Equity is responsible for investigating policy and conduct code violations. There is no time limit for initiating a case that's reported to the university.