University of Chicago Alumni Join Protest Against Steve Bannon Debate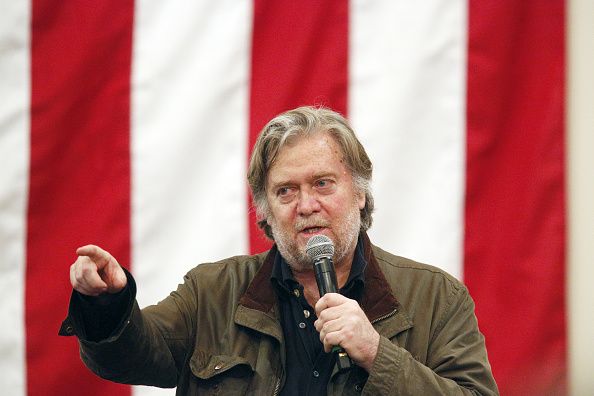 University of Chicago alumni have joined a community-wide effort urging administrators to keep Steve Bannon off the campus.
Bannon, formerly President Donald Trump's White House chief strategist and Breitbart News' executive chairman, accepted an invitation last week from Booth School of Business professor Luigi Zingales to debate "the economic benefits of globalization and immigration," according to university officials.
Over a thousand alumni, spanning more than four decades of graduates, have signed a letter to university President Robert Zimmer and provost Daniel Diermeier in response, pressing them to rescind Bannon's invitation.
Bannon has adopted hard stances on trade and immigration—for example, purporting in September that the Catholic Church's leadership, which opposed Trump's call to end the Deferred Action for Childhood Arrivals program, had an economic interest in immigration because they "need illegal aliens to fill the churches." He's also made numerous sexist, homophobic and xenophobic remarks.
While the letter calls the university's commitment to free speech "a value with which we certainly agree," it noted that those who espouse hate speech isolate community members and damage the college's reputation. The letter requested an itemized list of the funds that would be spent on his visit as well.
"We do not question Bannon's right to speak," the letter read. "We gravely question the University's decision to give him a platform to do so."
A group of alumni attempted to deliver the letter to the president's office on Tuesday, but were barred from entering the building. An administrator delivered the letter on the group's behalf.
University spokesman Jeremy Manier relayed a written statement to Newsweek that administrators had received the letter, and that "the engagement of alumni strengthens the University community. ...We encourage them to share their views with the University concerning this and other topics."
Manier also confirmed that a date for the debate had not been set as of Wednesday, though he did not respond as to whether the university intended to comply with the letter's request for an itemized breakdown of costs.
Bannon, who left the White House in August, would be the third former Trump official to speak at the University of Chicago since the 2016 presidential election. Zimmer told the Wall Street Journal last February following former campaign manager Corey Lewandowski's controversial visit that all speakers invited to college campuses should be able to speak.
For Zingales, "the current problems in America cannot be solved by demonizing (those) who think differently, but by addressing the causes of their dissatisfaction," according to a post on his Facebook page. "Hate cannot be defeated by hate, but only by reason."
The letter is the latest development in a string of community-based activism to block Bannon's visit. A similar faculty letter—now more than 100 signatures strong—has circulated as well, maintaining that Bannon's invitation "stands in fundamental opposition to the diverse and inclusive community the University professes to want to build."
"The issue isn't free speech, but the privilege of having one's rants sponsored, authorized, legitimated by a prestigious university, which ought to know better than to lend its good name to a demagogic provocateur like Bannon," professor Bruce Lincoln told Newsweek last week. Bannon's representatives had not responded to requests for comment.
Dozens of students, faculty and community members also held a rally Thursday morning to protest. Students staged a sit-in in Zingales's classroom as well on Tuesday. And a senior editor of the business school's ProMarket publication resigned from the editorial board, The Chicago Maroon reported.
"The students' protest was very civilized," Zingales said in a written statement provided to Newsweek. "I had the opportunity to chat with some of them after class. I hope that our disagreement could be an opportunity for further civilized discussions and mutual learning."
There has been backlash on other college campuses that have tried hosting controversial personalities. The University of California, Berkeley, for example, had to cancel a speech from ring-wing extremist and former Breitbart News senior editor Milo Yiannopoulos last February after thousands of students protested, some tossing rocks and fireworks.
Newsweek reached out to alumni Wednesday morning asking why they signed the petition. This story will be updated if there are responses.