University Fires Back at Striking Students by Charging Them Tuition
Student workers at Temple University are calling foul after university officials eliminated their tuition assistance over their participation in an ongoing campus labor strike.
On Wednesday, Madison Ingram—a Temple University Ph.D. candidate and member of the Temple University Graduate Students' Association (TUGSA)—posted an email she received requiring her to pay the total balance of her tuition over her participation in the strike or face a $100 late fee, as well as a hold on any of her future classes at the school.
Another member of the union said his AmeriCorps grant had been inexplicably put on hold since January 24 and, as of Wednesday morning, saw all of his money taken from the grant to cover tuition.
The move was quickly decried by labor activists, who declared the move a "scorched earth" effort by university leaders to break the strike, and earned the university a rebuke from some tenured members of the faculty who saw the move as retribution for seeking a fair deal.
"I call on Temple University to end this punitive approach and reach a settlement with graduate students by making a fair offer without penalty," BET News host and Temple University Marc Lamont Hill tweeted.
Since formally organizing, TUGSA says it been working without a contract since February 2022 while university administration has been "unreasonably stubborn and opaque in our negotiations, refusing to discuss the majority of our proposals, including those that cost the University nothing to provide."
These demands, according to a list on TUGSA's strike fund, include additional parental leave, cheaper healthcare benefits, and substantially higher wages, which under the current 3 percent rate being pushed by the university would reach an average of just $22,500 by 2026.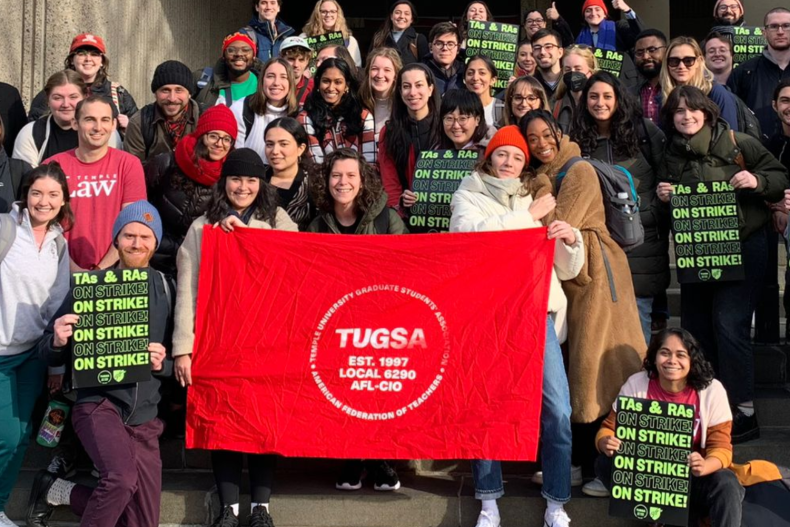 Temple officials, however, have argued TUGSA members' average salary of $25 an hour for a 20-hour workweek is more than sufficient in addition to free health care and tuition they say is valued at approximately $20,000.
In a statement, a university spokesperson told Newsweek that negotiations with members of the union are ongoing, and that more than 80 percent of TUGSA's members currently remain on the job. Those who don't, they say, are not meeting the demands of their contract.
"As the university has advised the Temple University Graduate Students' Association and its members on multiple occasions, graduate students who choose to participate in the strike and not perform the work for which the university employs them will no longer receive compensation and their work-related benefits while they are on strike," Steve Orbanek, a university spokesman, told Newsweek in a statement.