University of Georgia Student Ran $1M Ponzi Scheme From Frat House, Spending Funds on Alcohol, Strippers and Lavish Las Vegas Trips
An undergraduate student at the University of Georgia ran a million-dollar Ponzi scheme from his frat house—duping fellow students into investing thousands of dollars while he used the funds on alcohol, strip clubs and lavish gambling trips to Las Vegas.
Syed Arham Arbab, a 22-year-old from Augusta, admitted to defrauding 117 investors in U.S. District Court in the Middle District of Georgia on Friday and faces up to five years in prison, in addition to a $10,000 fine.
The former cellular biology and genetics student admitted to lying to dozens of investors between May 2018 to his graduation in May 2019, promising them grand returns if their money was invested in his two entities—Artis Proficio Capital Management and Artis Proficio Capital Investments.
"The defendant engaged in a pattern of deceit to gain the trust of unwitting investors who gave him their hard-earned money for what they believed was a sound investment," Charlie Peeler, the U.S. Attorney for the Middle District of Georgia, said in a statement.
"Instead of investing the victims' money, the defendant funded a lavish lifestyle."
In addition to the booze, strip clubs and three trips to Las Vegas, Arbab also spent the funds on clothes, shoes and fine dining.
Alongside fabricating account statements and making a number of misrepresentations in order to persuade individuals to invest—such as the fund's returns, the number of investors, and the total amount invested—Arbab also told students and their family members that other investors included a famous University of Georgia alumni and NFL Player.
The unnamed football player had not been an investor with Arbab, the statement said.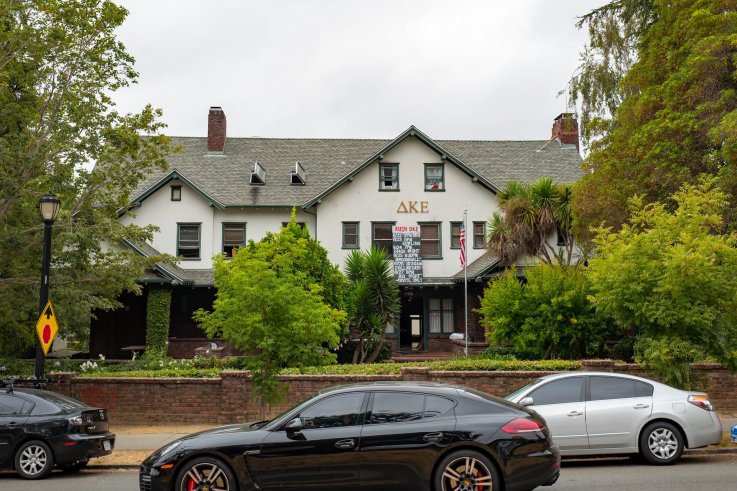 File photo of a fraternity house in Berkeley. Syed Arham Arbab, 22, admitted to running a million-dollar Ponzi scheme from his University of Georgia frat house.
Getty
Investors were also promised returns as high as 56 percent at one stage, in addition to a "risk-free guarantee" on the first $15,000 invested.
Arbab admitted in court that he knew he did not have the money to make good on these guarantees when he made them, but he did not disclose this to his investors, the statement added.
"Unfortunately this case is a stark reminder to investors to be very careful where they entrust their hard earned money, and always be skeptical of offers that sound too good to be true," said Chris Hacker, Special Agent in Charge of FBI Atlanta.
"The victims of this scheme, many of them students, will never recover their losses, but can rest assured that Arbab's greed will not go unpunished."
Arbab will be sentenced in January 2020.