New University of Hawaii ROTC Program Gives Students Opportunity to Earn $120K Degree Tuition-Free
Years of advocacy finally paid off and the University of Hawaii at Manoa will be getting a new Naval Reserve Officer Training Corps Program (ROTC), opening students up to additional scholarship opportunities.
On Wednesday, Senators Mazie K. Hirono and Brian Schatz announced Secretary of the Navy Richard Spencer approved the creation of the program on the Hawaii campus. The news came four years after Hirono first raised the possibility of implementing the opportunity at the University of Hawaii.
"The long-awaited establishment of a Naval ROTC program at UH Manoa underscores the Navy's commitment to the Indo-Pacific region and represents a tangible step toward increasing the diversity of its officer corps," Hirono said in a statement.
Over the past three decades, the cost of obtaining a college degree has doubled or tripled in some cases and student loan debt reached an estimated $1.6 trillion. As presidential candidates and lawmakers search for the answer to the rising cost of higher education, Hawaii's new ROTC program could be a way for students to lower costs.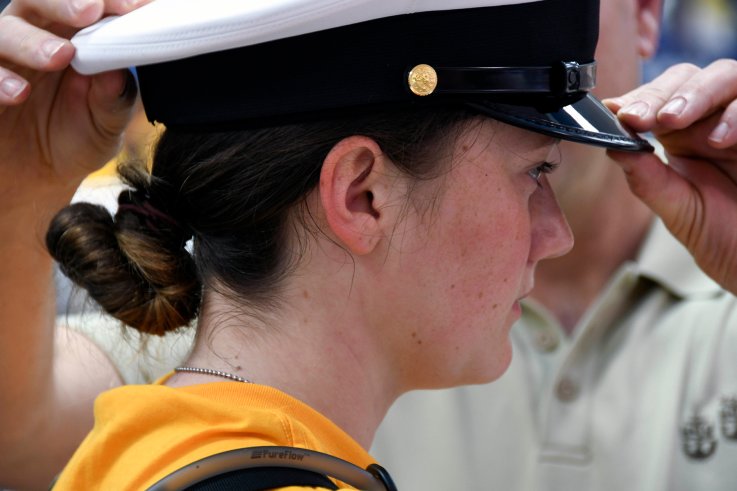 Along with preparing college students to be commissioned officers in the Navy, Navy Nurse Corps or Marine Corps, some ROTC participants can be awarded scholarships. A highly competitive opportunity, the scholarship program covers a student's tuition and education fees, provides a stipend for books and has other financial benefits.
For students attending the University of Hawaii at Manoa as non-residents, the scholarship program could be worth more than $120,000.
"We are already the home of exceptionally successful Army and Air Force ROTC units, and the establishment of a Navy ROTC unit will provide scholarship opportunities that enable more Hawaii students to attend college affordably and serve their country," University of Hawaii President David Lassner said in a statement.
The University of Hawaii at Manoa Vice Chancellor for Undergraduate Education Ronald Cambra told Newsweek it will still be a few years before the program is available for students. To prepare it for applicants, they'll have to prepare the facilities and work the Navy's curriculum into the University of Hawaii's.
To join the program, applicants must meet a number of academic and physical requirements. Once accepted, Navy ROTC members, known as midshipmen, complete the normal course load required by the college or university to graduate, as well as, several naval science courses, according to the Navy.
In addition to their academic work, midshipmen participate in the Navy ROTC unit for drill, physical training and other activities aimed at teaching leadership principles. During the summer, participants take part in training activities to gain an understanding of the career options available to them and become familiar with military life.
After graduation, midshipmen are commissioned as ensigns in the Navy or second lieutenants in the Marine Corps. In exchange for the scholarship, participants serve in the military for a number of years. Those who selected the Navy option serve at least five years of active duty and those in the Marine or Navy Nurse Corps option serve at least four years.
Naval ROTC participants who don't have scholarships must serve at least three years on active duty.
"This new ROTC program at UH will give more Hawaii students a chance at earning scholarships and gaining an education while helping the Navy strengthen its diversity to make sure its sailors and Marines better reflect the American public and our values in Hawaii," Schatz said in a statement.
New University of Hawaii ROTC Program Gives Students Opportunity to Earn $120K Degree Tuition-Free | U.S.