University of Kentucky offering $1 lunches after students go on hunger strike for basic needs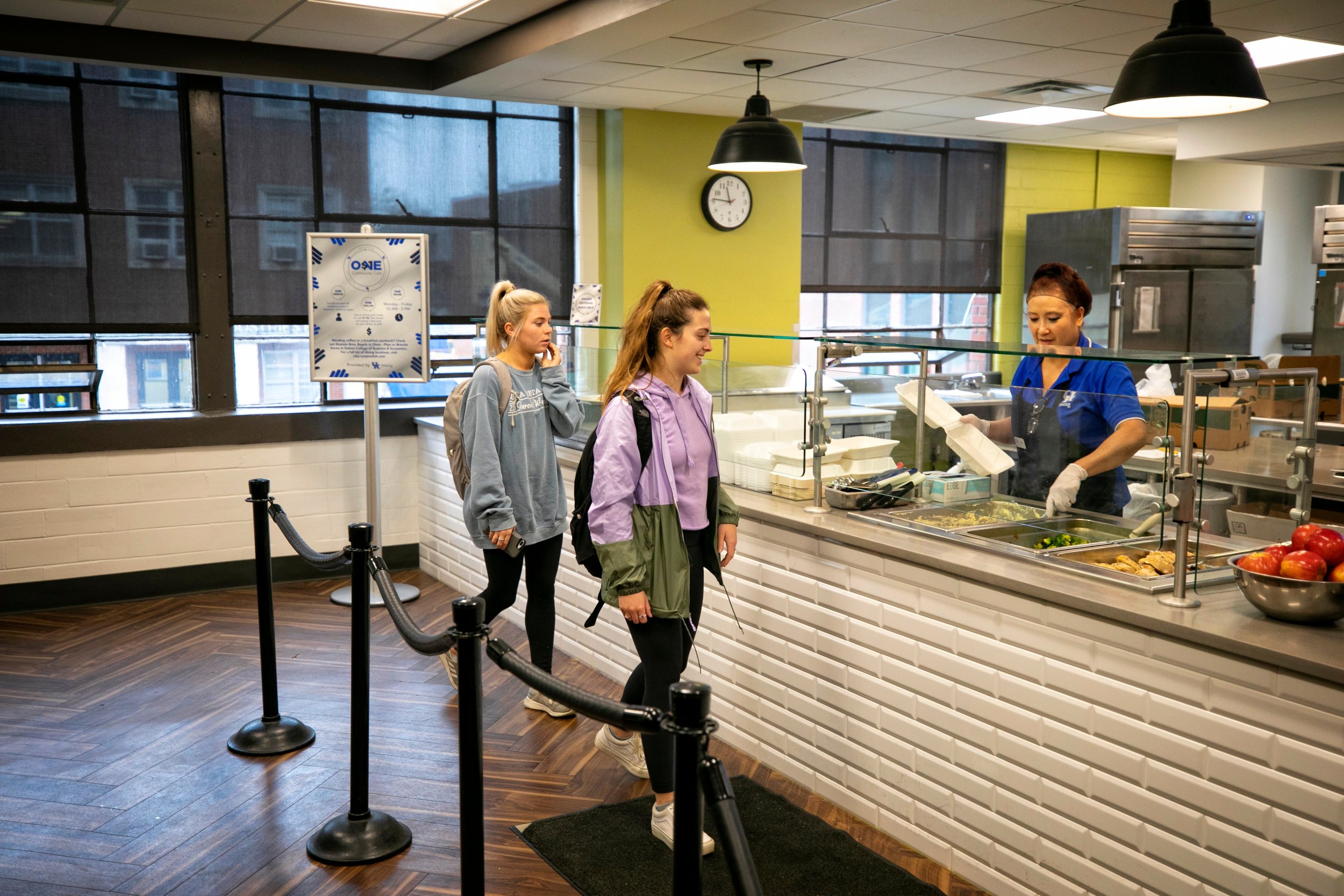 An offer made famous by McDonald's has been implemented on the University of Kentucky's campus, where students can purchase lunch for only one dollar.
ONE, a dining location found on the second floor of Erikson Hall, opened its doors for the first time on Monday. Any student, regardless of their financial situation, is welcome to purchase a dollar meal.
"Even at one dollar, we cannot have boring meals," Pulkit Vigg, resident district manager for UK Dining, told Newsweek. "We still have to be creative with what we serve. It has to be on par with what we're doing other places."
The new dining option's opening day came after students advocated for a variety of changes, including affordable housing and food, by embarking on a multi-day hunger strike and occupying the Main Building. However, Vigg said it's been a topic of discussion on campus for about four months.
"Hunger striking and occupying the Main Building showed the university that hundreds of students, as well as the public, care about this and need to see change," Beau Revlett, a student at the university and member of the Basic Needs Campaign told Newsweek.
The Basic Needs Campaign had a list of eight demands from the administration, seven of which have been met, according to the group. Lidya Azad, who participated in the hunger strike, credited the successful push for affordable campus eateries to "student power," and the group's partnership with the Black Student Advisory Council.
"Our hunger strike shook the administration," Azad said. "[The Basic Needs Campaign and Black Student Advisory Council's] joint occupation took escalation to a whole new level."
While the dollar lunches weren't on the list of demands, both Azad and Revlett welcomed its implementation. Several members of their campaign, including Azad and Revlett, attended the opening day.
The USDA's Thrifty Meal Plan, the basis for Supplemental Nutrition Assistance Program (SNAP) allotments, uses about two dollars for an affordable, well-balanced meal from a grocery store. But Revlett noted college students cannot always prepare meals from a grocery store because of kitchen limitations and class schedules. Instead, schools like the University of Kentucky are designed for students to eat in dining halls.
"College students don't have a lot of money to throw around. We pinch pennies," Revlett said. "For us to be able to afford food, it needs to be more, not less affordable than it is at grocery stores. This one dollar café honors that. I hope it sticks around."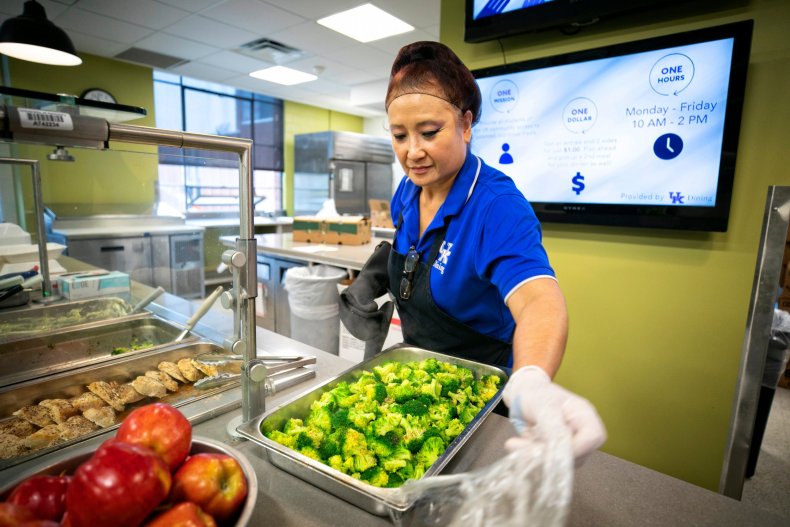 Before becoming ONE, the restaurant was called Fusion Café. Penny Cox, the associate vice president of administration, told Newsweek that part of the feasibility of implementing the low-cost meals was that the establishment was already built. Transforming a café that was already on campus also meant its familiar location was easily accessible to students.
"It's a combination of convenience, one dollar and maybe you don't have enough time to go to the main hub," Vigg said. "If you were going to go to the old restaurant, you'll go to the new restaurant."
Numerous educational institutions have plans in place to help students with the financial burden of meals. In 2002, the University of Kentucky established the Big Blue Pantry, which gives students non-perishable food items free of charge. However, a long-standing problem of food services is the stigma that surrounds asking for help, and Azad said since the Big Blue Pantry began, it's been working to address that issue.
This issue isn't one Revlett foresees with ONE, though, because it's a similar model to the Farm to Fork program, which offers a free meal to students every Wednesday.
"[It] turns out that about two-thirds of the students who come to Farm to Fork are food insecure. But you can't tell by looking who is food insecure and who is not," Revlett said. "You don't have to 'out' yourself to get help. People feel more comfortable that way. So, a space that's open to anyone does a good job reducing stigma."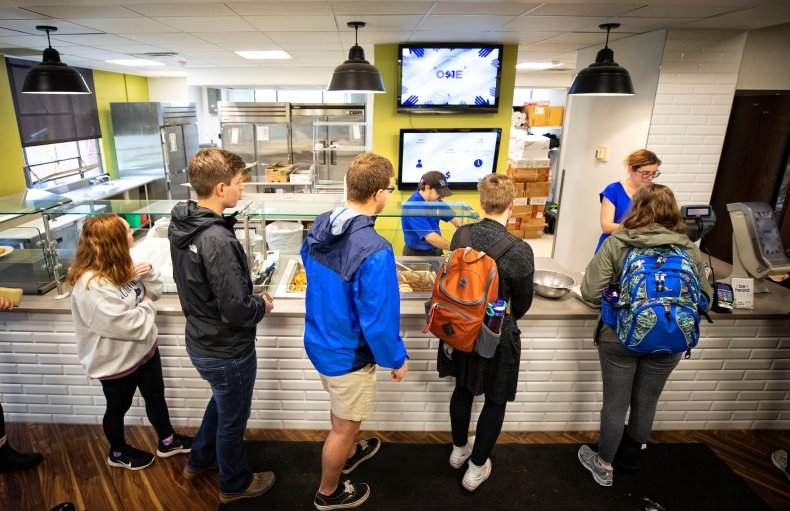 The one dollar lunch café is being funded by both the university and Aramark, a food service provider, and the spring semester is serving as the pilot program to what will hopefully become a permanent fixture of the university. On its opening day, Vigg said twice as many students visited the restaurant than the previous Monday and he floated the possibility of student volunteers and partnering with local farmers and restaurants to keep the program going.
Since the university announced the one dollar meals, Vigg received an "extreme amount of emails" from people interested in how the university pulled it off. Given that food insecurity is a nationwide issue, Vigg predicted other places will also implement the program, but he added that the University of Kentucky will "always be the first."
As for the students who had their voices heard, Azad said it "feels rewarding" to see the university taking steps in the right direction and moving forward, they'll keep the pressure up to ensure other programs are enacted.