Decisions After Student's Death Put University of Maryland Accreditation in Jeopardy, What Does It Mean for Students?
The University of Maryland has received a warning that its accreditation could be in jeopardy if changes aren't implemented. If it's revoked, students would be unable to use their federal student aid.
A school losing its accreditation is extremely rare and it's unlikely that the situation at the University of Maryland will get to that point. The public College Park, Maryland, university wasn't the only institution to receive a warning, either.
The Middle States Commission on Higher Education's (MSCHE) June 27 meeting also resulted in warnings being issued to Arcadia University in Pennsylvania and Rowan College at Burlington Count in New Jersey. Farther north, Hampshire College, a liberal arts college in Massachusetts, is fighting to keep its accreditation, as well.
Maryland's accreditation was called into question after the death of Jordan McNair, a football player who suffered heatstroke and exhaustion during a workout in May 2018 and died about two weeks later.
Following McNair's death, the MSCHE's review committee focused on several specific events, outlined in an April report as:
The decision by the Board of Regents to assume authority over the review of the school's athletics protocols and procedures
The Board of Regents' recommendation that the school retain Head Football Coach D.J. Durkin
President Wallace Dzu Loh's announcement that he would retire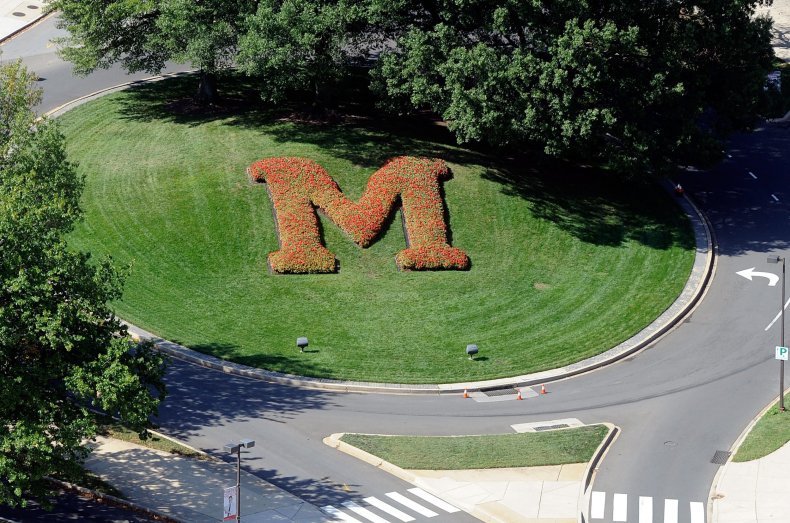 These contradictory actions, as well as interviews conducted by the review team, the MSCHE said, showed the school was not in compliance with Standard VII. MSCHE requested monitoring report due on March 1, 2020, showing a "clearly articulated and transparent governance structure that outlines roles, responsibilities and accountability for decision making," as well as, a "periodic assessment of the effectiveness of governance, leadership and administration."
In a joint statement, the University System of Maryland (USM) Board of Regents Chair Linda Gooden, USM Chancellor Robert Caret and Loh said they were committed to working together to ensure the school is in compliance with Standard VII. Progress towards full compliance, according to the statement, is already underway and will be completed by March 1, 2020.
"Under the new Board chair, the university is encouraged by USM changes and increased collaboration," a University of Maryland spokesperson told Newsweek. "The renewed commitment to openness and communication will ensure that the necessary actions are taken to secure autonomy and full compliance."
Presently, the University of Maryland retains its accredited status and a school being placed on warning is the least severe compliance action. Before losing its accreditation, a higher education institution would likely be placed on probation, according to MSCHE.
Although rare, only six schools in the MSCHE system have had their accreditation withdrawn, but a school being stripped of its credentials has serious implications for students. If a school is no longer accredited, students may not be eligible for federal financial aid.
Federal aid, whether in the form of student loans or grants, must be used at an accredited school, according to the Department of Education. Students who want to continue using federal loans or grants after a school loses its accreditation would have to transfer.
An estimated 70 percent of undergraduates at the University of Maryland are offered financial aid, according to College Board. The average first-year financial aid package was $12,528.
For those who have already graduated, they can keep their diploma or certificate even if their alma mater loses its accreditation status.
This article has been updated to include the response from the University of Maryland.
Correction: The headline of this story has been changed to more clearly articulate the accrediting body's review pertains to decisions that were made after the student's death.