University of Miami Blames Dorm Parties for COVID Outbreak After Video Shows Crowds of Students Partying
After nearly 100 people tested positive for the new coronavirus during University of Miami's first week of classes, students involved in residence hall parties that took place against campus health protocols now face disciplinary action.
"Those whose behavior indicates that they are not honoring their commitment to the community have begun meeting with the consequences of their poor choices," said Julio Frenk, the university's president and Mexico's former health minister, in a video message shared online Monday.
Videos of students attending crowded dorm parties on University of Miami's campus began to circulate during the school's orientation week. The videos showed numerous students gathered in close quarters, with only a few wearing face masks despite the university's mandatory health orders.
"We have already had to take the unfortunate measures of asking students who are not following public health directives to leave our residence halls, and initiating suspensions when appropriate," Frenk continued. "We will not hesitate to enforce disciplinary procedures when measures aimed at protecting our students, faculty and staff are flouted."
University of Miami implemented a face covering mandate that requires everyone on its campus to wear a mask in both indoor and outdoor public spaces. Students received additional guidelines from the administration prohibiting large social gatherings ahead of the fall semester, reported The Miami Hurricane, the school's student newspaper.
Guidance urged students to refrain from participating in "events like house parties, large dinners at restaurants and other similar events" as means to reduce COVID-19 transmission risks. According to the newspaper, it warned that violations could result in students' removal from campus, or suspension from the university.
University of Miami initially reported four students, all of whom lived in the same residence hall, tested positive for COVID-19 last Friday. The administration issued a statement confirming those students, and others who exhibited virus symptoms, were transferred from their residence floors and placed in isolation elsewhere.
By Monday, 69 students were placed in isolation at the university after receiving positive COVID-19 test results, according to data included in the school's newly released virus dashboard. Another 94 students quarantined as a result of potential exposure.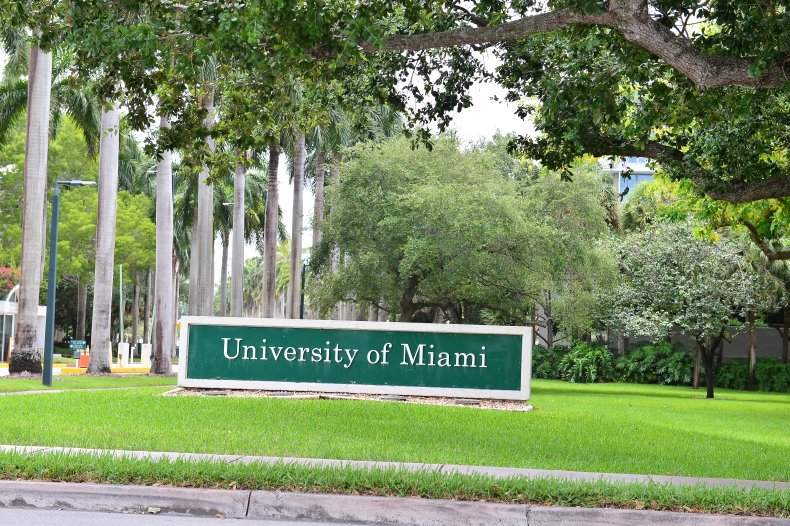 "Students quarantined are practicing an abundance of caution," reads a message alongside the dashboard's statistics. The university said it administered more than 1,800 diagnostic tests between August 17 and August 23. Of those tests administered, 96 returned with positive results. Faculty and staff accounted for just six of those cases.
During his public address on Monday, Frenk noted that all individuals who tested positive were "doing well." The university's virus dashboard indicated one faculty or staff member was hospitalized after contracting the respiratory illness on Monday.
Newsweek reached out to University of Miami for additional comments but did not receive a reply in time for publication.