University of Mississippi Removes State Flag From Campus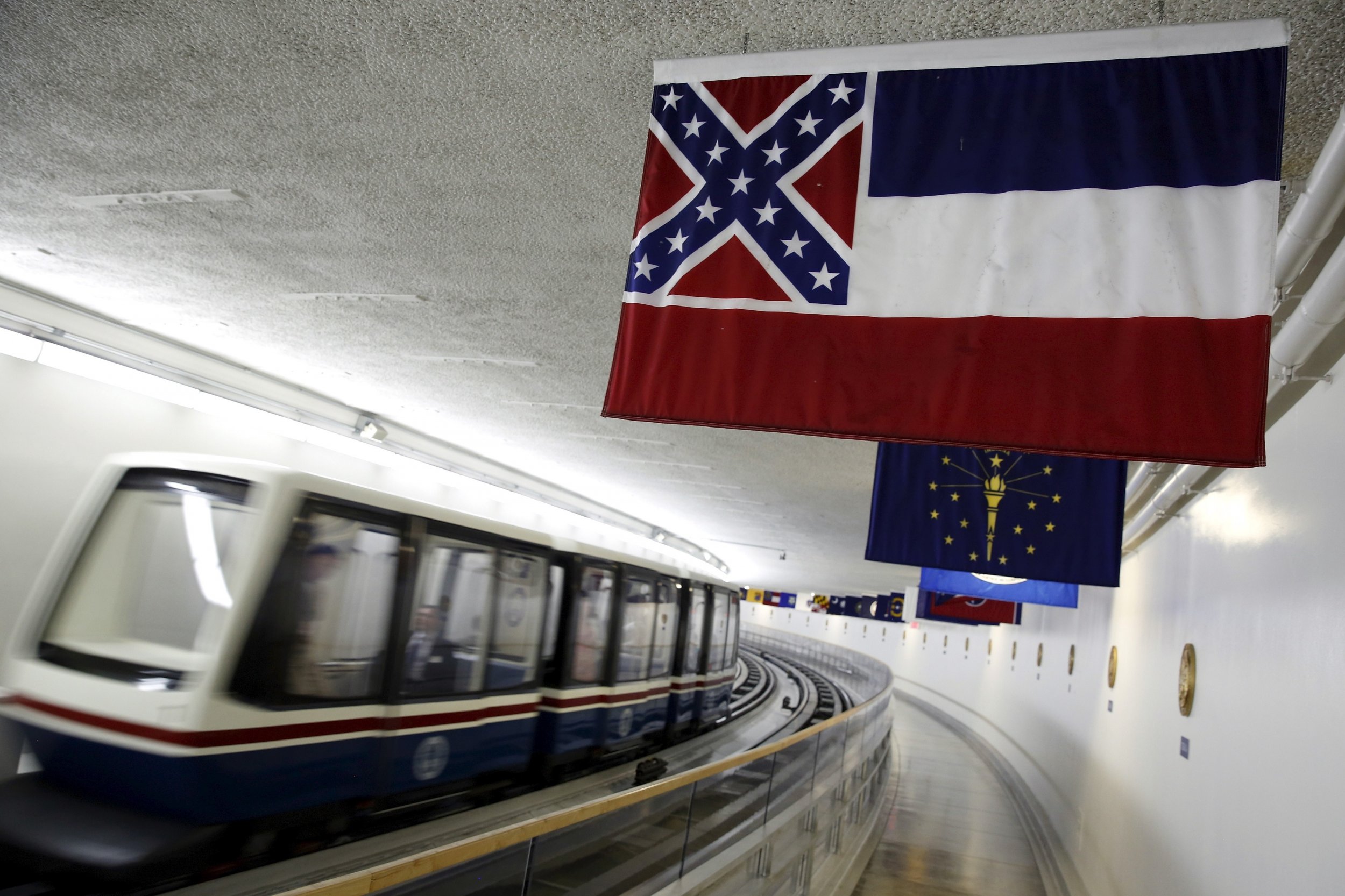 As University of Mississippi students returned to class on Monday, police at the college had removed the Mississippi state flag—which incorporates the Confederate battle emblem—from campus grounds.
After a three-hour debate, the student senate last week voted 33 to 15 to request that administrators remove the flag, according to the university. One person abstained from the vote. Two days later, the faculty senate, Graduate Student Council and Staff Council joined the student government in asking for the flag to be taken down.
"As Mississippi's flagship university, we have a deep love and respect for our state," Interim Chancellor Morris Stocks said Monday in a statement. "I understand the flag represents tradition and honor to some. But to others, the flag means that some members of the Ole Miss family are not welcomed or valued."
Demands to remove flags with the Confederate emblem surfaced nationwide in the wake of the deadly June shooting in Charleston, South Carolina, when nine worshippers were fatally shot during Bible study at a church. The alleged shooter, Dylann Roof, reportedly told authorities he wanted to start a "race war." Photos of Roof donning the Confederate emblem soon surfaced and were widely circulated online.
In June, Stocks joined other state and university leaders in calling for a change to the state flag. But more recently, the conversation shifted from whether the state should alter its flag to whether the flag should fly on the campus in Oxford, Mississippi.
The university's decision follows steps taken previously by some states and businesses. Shortly after the fatal shooting in June, South Carolina legislators voted to remove the flag from its long-standing spot on the grounds of the statehouse in Columbia. The flag was taken down in July. In Virginia, Governor Terry McAuliffe ordered that the Confederate flag be removed from license plates. And at least five retailers banned items with the Confederate emblem from store shelves.
The state flag will be preserved in the university archives, along with students' and faculty members' resolutions asking for it to be removed.
"Mississippi and its people are known far and wide for hospitality and a warm and welcoming culture. But our state flag does not communicate those values," Stocks said. "Our state needs a flag that speaks to who we are. It should represent the wonderful attributes about our state that unite us, not those that still divide us."