University of Missouri Fires Campus Police Officer After Blackface Photo Surfaces on Social Media
The University of Missouri announced that a campus police officer was terminated from his job after a photo of him in blackface surfaced.
MU Police Officer Marcus Collins was fired "immediately" after university officials confirmed that Collins was in the photo wearing blackface, according to a statement from the university.
Stephen Graves, director of undergraduate studies in the MU Black Studies Department, told Newsweek that he believes the university is trying to do its best job for its students but believed the firing of officer Collins was too quick. Graves believes there should have been a conversation with the community about the firing.
"The community deserves an explanation," Graves said. "There have been so many instances where people are fired and are never to be seen or heard from again, but their actions are not exposed. It doesn't give the public or community enough time to assess the incident."
Graves said Collins should have been given a chance to explain himself to the University of Missouri community so others could understand why he was terminated.
"People care about this most about their reputation," Graves told Newsweek. "Whether they are ethically or morally wrong, that person needs to answer questions and explain themselves to those he offended publically."
The officer confirmed with university officials that he was the man in the photo and claimed it was taken before he was employed with the campus police department. University officials learned about the photo on Tuesday after it had circulated on social media, the Kansas City Star reported.
"This type of behavior is not tolerated at Mizzou, and we understand how this impacts our entire community profoundly," MU Chancellor Alexander Cartwright said in a statement. "Racism, hate and insensitive behavior have no place on our campus. We are committed to our values of respect, responsibility, discovery and excellence, and to making our campus a place where everyone feels welcome and protected."
The photo, which was obtained by the Columbia Daily Tribune, shows Collins in blackface in what appears to be a costume of rapper Flava Flav.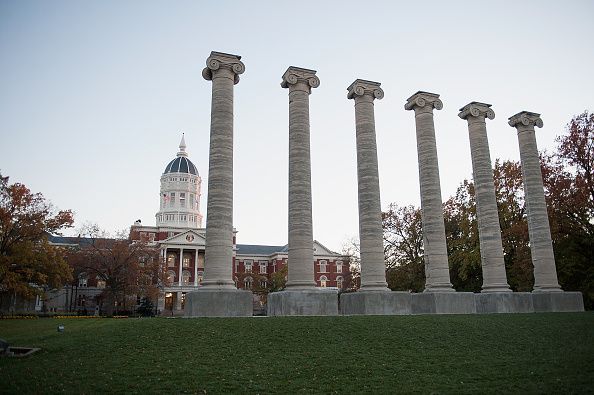 In 2015, former University of Missouri President Tim Wolfe and former university Chancellor R. Bowen Loftin resigned following protests due to the increase of racial slurs and incidents on campus.
A similar incident occurred in October after a nurse from a hospital in Kansas City, Missouri, was fired from her job after a photo of her dressed in blackface as Beyoncé for Halloween circulated on social media. Shelbi Elliot-Heenan posted the photo of herself in blackface next to a man in a white T-shirt, black vest and jeans with the caption "Jay Z & Beyonce," with a microphone emoji, the Kansas City Star previously reported.
The photo drew comments about how Elliot-Heenan should be fired for her costume, with many comments claiming the costume was racist. The photo was taken down from the social media website.
University of Missouri Fires Campus Police Officer After Blackface Photo Surfaces on Social Media | U.S.