University of Missouri President Tim Wolfe Resigns Amid Protests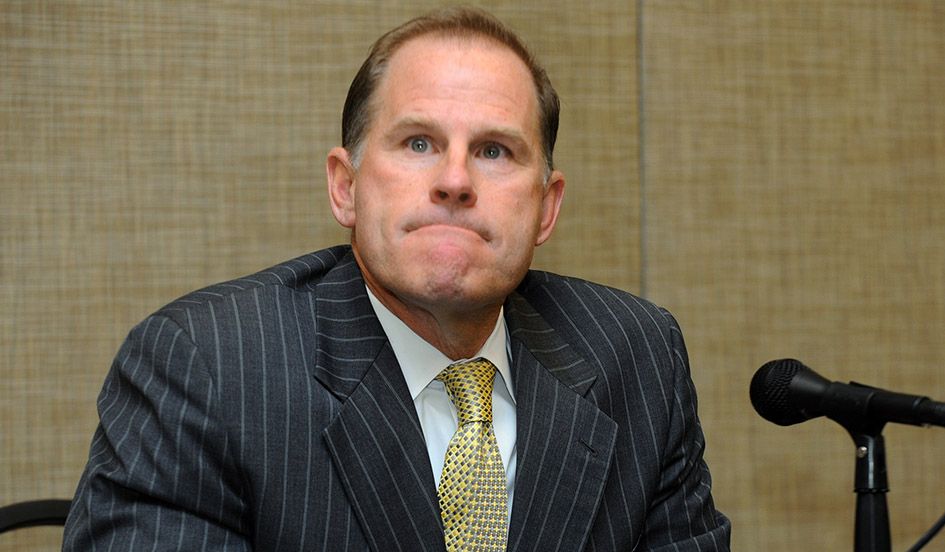 Updated | Amid mounting student protests over racial tensions on campus, University of Missouri President Tim Wolfe resigned Monday morning during a special meeting of the Board of Curators.
"I take full responsibility for the actions that have occurred. I have asked everybody to use my resignation to heal. Let's focus on changing what we can change today and in the future, not what we can't change in the past," Wolfe said at the meeting, according to ESPN. Wolfe took office in 2012 and served as the university's 23rd president.
On Monday afternoon, university Chancellor R. Bowen Loftin announced he would also resign and will take on a new role at the school starting next year. The title for his new role was not made public. According to the St. Louis Post-Dispatch, Loftin described it as a "new role where I will work with many people across the university and with the system to advance our mission."
Nine university deans had called for Loftin to resign.
Racial slurs and incidents on campus have brought protests over the past months at the predominantly white campus. In September, unidentified students shouted racial slurs at a black student government leader on campus. A similar incident happened in October when a reportedly drunken white student shouted obscenities at a group of black students.
On October 10, students mobbed Wolfe's car during a homecoming parade. He declined to speak with them, and the students were taken away by authorities.
A petition on Change.org calling for Wolfe's removal gained over 7,000 signatures ahead of his announcement.
Jonathan Butler, a graduate student at the university, went on a hunger strike to protest Wolfe and the school's handling of racial incidents. After Wolfe resigned, Butler tweeted that his hunger strike was over. "This is only the first step! More change is to come," he said on social media.
The protest sparked by Butler's hunger strike gained momentum over the weekend when at least 30 black players on the school's football team said they would not practice or play until Wolfe was removed or resigned. On Twitter, football coach Gary Pinkel made it clear the decision not to practice or play was supported by the entire team, not just the black players.
The Missouri Tigers are 4-5 this year, and the team's next game is scheduled for Saturday against Brigham Young University. Had Missouri declined to play in the game, it would have had to pay $1 million.
The school's department of athletics said in a statement on Monday afternoon that football activities will resume on Tuesday in preparation for Saturday's game with Brigham Young. Practice will be held on Tuesday.
"It wasn't about any one person resigning. It was what can we do to make sure Jonathan Butler eats," athletic director Mack Rhoades said during a press conference on Monday afternoon.
"It was about helping my player and supporting my players when they needed me," coach Pinkel said of the football team's protest. "I did the right thing and I would do it again."
Students continued demonstrating on campus following the news of Wolfe's resignation. Protesters formed a human shield to prevent members of the media from speaking with those demonstrating:
"If you're here to support the students then help keep the press out," an unidentified protester told Benjamin Hochman, a columnist with the St. Louis Post-Dispatch.
Concerned Student 1950, the university organization which helped to organize the protest, celebrated Wolfe's resignation. "Brothers and Sisters, this is a momentus occassion [sic] but do not be moved! Our Brother can eat, but we are still owed demands! Stay strong!," the group tweeted, referring to a list of demands they made public earlier this month.
Those demands include an apology from Wolfe, a meeting between the school and Legion of Black Collegians, a comprehensive racial awareness and inclusion curriculum, an increase in black faculty, an increase in funding to the school's counseling center and an increase in funding for the school's social justice centers.
The university has not commented on group's demands.
This story has been updated to include new information from a press conference.