University of Missouri Protester Arrested for Spraying White Liquid on Conservative Commentator During Speech
Opposition to conservative political commentator Michael Knowles on the University of Missouri-Kansas City campus required the intervention of law enforcement after a protester attempted to squirt Knowles with an unidentified white substance.
The Young Americans Foundation invited Knowles to the Kansas City campus on Thursday, where he delivered a lecture titled "Men are Not Women." However, the university posted on Twitter that while Knowles was speaking, protesters disrupted the event.
Despite several warnings, the university said the disruptive protest continued and ultimately resulted in the arrest of a protester. Video obtained by the student newspaper showed two police officers holding a protester on the ground as others in the room chanted, "Hands up, don't shoot."
After the incident, Knowles posted on Twitter that the protester got him "a bit in the face and on the side" and said, at first, he thought the substance was paint because of how it smelled. Initially, he assumed it was bleach, but after speaking with the police officers, he posted on Twitter that it was an "unknown odorous liquid."
"These are the people conservatives on campus are up against," Knowles posted on Twitter.
Knowles wrote on the social media site that he would continue to provide information as it came in, but as of Thursday night, he said he was unsure what the substance was.
"It's still not clear what exactly substance was, but now seems apparent this thug only wanted to give the impression of a chemical attack without actually getting charged with a felony," Knowles said.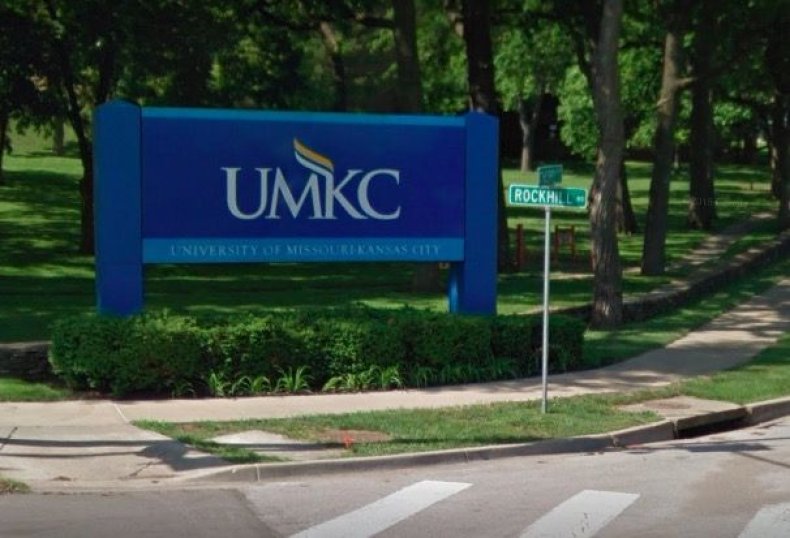 In light of the incident, the University of Missouri-Kansas City posted on Twitter that the school had a responsibility to allow free speech, while asserting it would not allow peaceful activities to be physically disrupted. Newsweek reached out to the University of Missouri-Kansas City but did not receive a response in time for publication.
"We believe free speech can be exercised constructively in a way that doesn't put people at risk. We are gathering facts and will review campus policies & procedures," the school said.
During his speech, Knowles argued that the statement, "Men are not women," should not be considered controversial. This prompted an audience member to interject with "Trans men are men and trans women are women." Knowles' speech centered on the position that there are differences between men and women and gender identity is fixed from birth.
Critics argued that his speech touted transphobic ideology. Prior to the disruptive incident, protestors in the auditorium walked out, escorted by officers through a side door near the stage. After the incident, Knowles said he didn't think he was "this intimidating" and resumed the lecture.