University of Notre Dame Opts Out of Holding First Presidential Debate
Citing public health concerns, the University of Notre Dame announced Monday it would not hold the first presidential debate of 2020 as originally scheduled.
Expected to occur in September, the debate would have been the first one held at Notre Dame, located in South Bend, Indiana. Case Western Reserve University and Cleveland Clinic in Ohio is now slated to host the event. In June, Cleveland Clinic was tapped as the Health Security Adviser to the Commission on Presidential Debates for the four scheduled debates before the general election in November.
In a Monday statement, Notre Dame President Reverend John I. Jenkins, C.S.C. said "the necessary health precautions would have greatly diminished the educational value of hosting the debate on our campus."
"I am grateful to the many members of the University community who have devoted countless hours planning this event, and to the Commission on Presidential Debates leadership for their professionalism and understanding," Jenkins said in a Monday statement. "But in the end, the constraints the coronavirus pandemic put on the event—as understandable and necessary as they are—have led us to withdraw."
Jenkins said the coronavirus mitigation protocols needed to host the debate would reduce the number of students who would be able to attend and volunteer during the event.
Newsweek reached out to the campaign of presumptive Democratic presidential nominee Joe Biden for comment.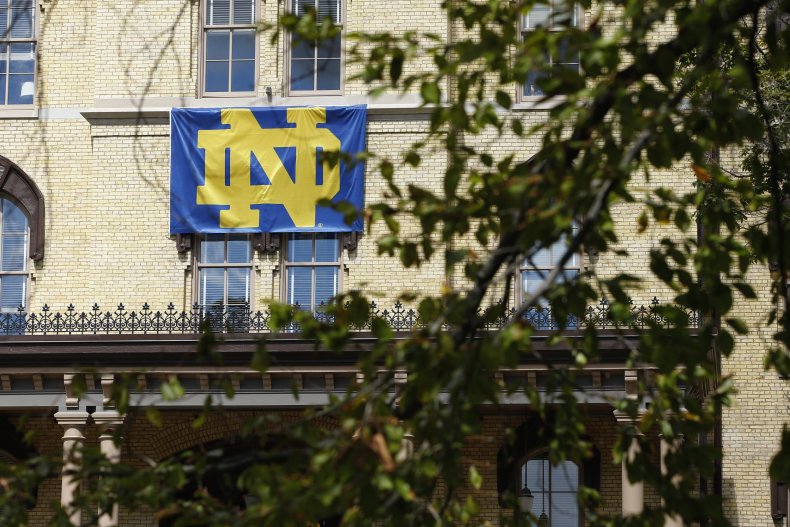 In a statement sent to Newsweek on Monday, Trump campaign Communications Director Tim Murtaugh said, "President Trump looks forward to debating Joe Biden in more events and as early as possible to account for people voting early. We hope Biden isn't looking for excuses to duck debates the same way he ducks the media."
Worries over the spread of coronavirus caused the University of Michigan to pull out of hosting a presidential debate scheduled for October. That debate is now expected to be held at the Adrienne Arsht Center for the Performing Arts in Miami, Florida.
Biden has stated his eagerness to debate with Trump. "I can hardly wait to deal with what he refers himself as a 'stable genius,'" Biden told reporters in July. "I can hardly wait to debate him."
Trump has alleged that Biden is not in full control of his mental faculties, making him unqualified to be president.
"I'm against somebody that can't answer simple questions," Trump said during a May interview. "I've never seen anything like it, but here's what I am against. I'm against a very powerful party, the Democrats, and they can take this glass of water and say that's your candidate."
Trump's campaign also asked the Commission on Presidential Debates in June to add a fourth meeting between Trump and Biden. Brad Parscale, Trump's campaign manager at the time, said he did not want the debates to compete for viewers with televised football games. "As many Americans as possible need to see the stark differences between the accomplishments and leadership of President Trump and the failed record and sleepiness of Joe Biden," Parscale wrote.
In response, Biden's campaign said they would abide by the rules set by the commission and asked that Trump's campaign "not intimidate the commission into changes from past practices."
Updated 10:50 p.m. EST 07/27/2020: This story has been updated with a statement from President Donald Trump's reelection campaign.
University of Notre Dame Opts Out of Holding First Presidential Debate | U.S.