University Police Searching for Teens Who Damaged Bus After Being Denied Entry for Not Having Masks
University of Maryland's campus police are working to identify the group of teenagers who allegedly damaged a school-operated shuttle bus last week, according to a recent report by WUSA9, a news station licensed to Washington, D.C.
The outlet's report included a letter from the shuttle bus driver to University of Maryland's administration, which WUSA9 obtained through the American Federation of State, County and Municipal Employees (AFSCME) Local 1072 union. In it, the driver, whose name was redacted, said three teenagers broke one of the shuttle's windows after attempting to enter without face masks.
When the driver told the individuals they needed to wear masks in order to ride the bus, "they proceeded to pull their shirts and jackets up over their faces," the letter stated.
University of Maryland's coronavirus safety protocols ask students and faculty to wear face masks in all indoor and outdoor public spaces on campus, a widely advised practice to curb the new coronavirus' spread.
In his letter to the administration, the shuttle bus driver noted that employees are not instructed to enforce mask use, despite the campus-wide recommendation.
The driver recalled all three teens disembarking the shuttle after he told them using clothes as face coverings was insufficient. He said they waited at the bus stop until his vehicle's designated exit time, but when the bus began to drive away, he suddenly heard "a loud crash."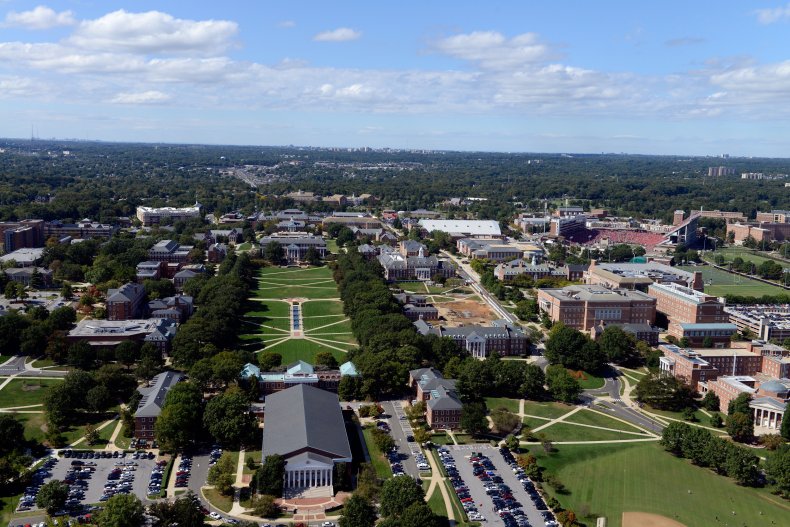 "I then pulled the bus over and looked in my mirrors," where he saw the group of teenagers "running away," his letter continued. The driver expressed concern for his own health and those of other passengers, given that mask use is not an enforceable mandate.
University of Maryland's COVID-19 dashboard recorded 158 new virus cases between August 30 and September 5, accounting for individuals who tested positive after having been present on the campus during the previous two weeks. The university resumed fall semester classes on August 31, but students will not return to classrooms for in-person instruction until September 14.
AFSCME Local 1072 condemned the policy on Twitter Saturday, calling the university's approach to worker protection "unacceptable" and suggesting the absence of enforcement is unlawful, given Maryland Governor Larry Hogan's statewide mask mandate.
University of Maryland responded to the driver's letter in a statement sent to WUSA9. It said shuttles are permitted to "forgo a stop if they see any threat to safety," including circumstances where riders are not wearing face masks.
"This is a very unfortunate incident, and we fully support our employee who put first the health and safety of everyone on the bus," the university's statement read, according to WUSA9.
"We have put several measures in place to support our drivers during the COVID-19 pandemic, including that bus drivers have the authority to not stop and pick up passengers if they feel there are already too many people on the bus," it continued. "We are beginning the process to communicate to drivers the authority they have to forgo a stop if they see any threat to safety, which includes situations at the bus where people are not wearing masks."
Todd Holden, the president at AFSCME Local 1702, and Stuart Katzenberg, collective bargaining director at AFSCME Maryland Council 3, told Newsweek the university's approach to COVID-19 management threatens worker safety. The union represents more than 3,400 University of Maryland employees, and both the local chapter and council are involved in an unfair labor practice complaint against the school, filed at the beginning of July.
The administration's reluctance to enforce mask use in public areas sidesteps the governor's order, Holden and Katzenberg noted. Moreover, internal emails sent to shuttle bus drivers from university transportation officials on Friday contradict the administration's statement to WUSA9. An email dated September 4 reminds drivers they are not permitted to refuse service to passengers who are not wearing face masks.
Holden said the university's lack of willingness to involve campus employees in conversations about COVID-19 management has caused problems for months, as several workers represented by AFSCME Local 1702 tested positive over the summer. Some were hospitalized as a result.
"Collective bargaining at some point has to involve bargaining, yet the university has done pretty much everything that it possibly can to avoid sitting down at the table and coming to enforceable agreements with the union over these matters," Holden said. The absence of communication disempowers workers, and ultimately asks them to risk their health in order to fulfill job responsibilities, he added.
This story was updated at 6:02 p.m. ET to include Holden and Katzenberg's comments.