University Requests Student Remove 'F*** Nazis' Poster to Encourage 'Inclusion'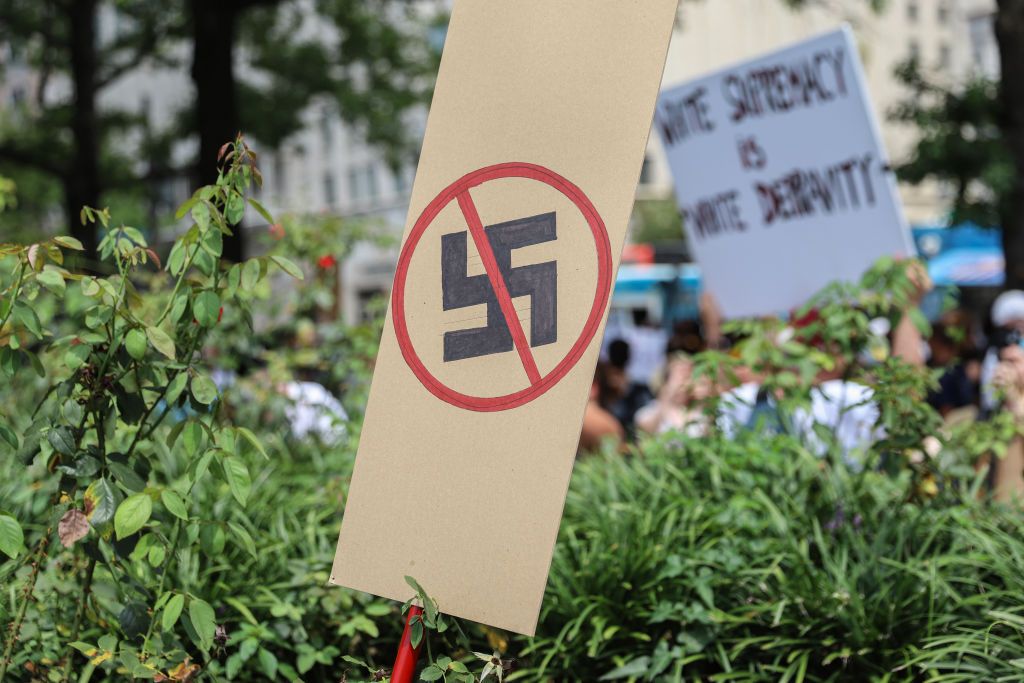 Administrators at the University of Massachusetts in Amherst asked a student to remove a poster saying "Fuck Nazis" over "issues of inclusion."
Student Nicole Parsons told BuzzFeed News that she put the sign up in her dorm room window after "Happy Hanukkah" signs in campus were defaced with swastikas in a series of hate crime incidents earlier in the year.
Related: Far-right Proud Boys part of mob confronting Nancy Pelosi, drawing Republican condemnation
"Fuck Nazis," the sign read. "You are not welcome here."
In an email to Parsons, the school's resident director said the poster had stirred "mixed emotions in the community on how to proceed, issues of inclusion, and the ability to be active members of their community."
In the email, the director said Parsons would not be ordered to remove the poster because of First Amendment laws. "I am asking that you or your roommate take the sign down so that all students can be part of an inclusive residential experience," the email says.
Parsons told BuzzFeed the school had placed the feelings of racists over her right to condemn their bigotry. "This email tells me the university cares more about the feelings of Nazis than the safety of their students," she said.
She said she removed the sign after her roommate expressed concerns over the attention it was receiving.
In recent months, hate crimes have surged on the campus, with 19 incidents recorded since mid-September, according to the university. The college recently launched its "Hate Has No Home at UMass" campaign, aimed at fighting racism and hatred.
The incidents included the distribution of racist flyers and stickers, the defaced Hanukkah sign and homophobic graffiti carved into a men's bathroom stall.
"Right now, the climate is just very contentious," Heather Thein, a doctoral student studying English at UMass and an employee of the university's writing program, told Boston.com. "We have a lot of students who don't feel comfortable on campus."
In a statement on its Facebook page, the school admitted the email to Parsons was poorly worded and also condemned hate groups.
"A poorly worded email from Residence Life staff asking students to take down the sign does not reflect the values of the campus, and it should not have been sent," the statement says. "UMass Amherst emphatically rejects Nazis, and any other hate group, a view expressed in the students' sign.
"However, we are sensitive to the use of profanity, which some could find inappropriate," the statement adds. "The university respects the students' right to display the sign and it may remain up."