University Scolds Students Who Said They Would Party on Instagram Poll
Northeastern University sent a warning letter Friday to 115 first-year students and their parents, after the students said they planned to go to parties on an Instagram poll.
An Instagram account named @NorthEasternClassOf24 held a poll, "WHO'S PLANNING ON GOING/HAVING PARTIES," followed by two "thinking" emojis and one "neutral face" emoji. The options were "Hell Yeah," which received 12 percent of the vote, and "Nah," which got 88 percent of responses, according to The Huntington News.
Though the poll added the legend "(anonymous ofc)," the voting record was not actually anonymous. When the poll completed, the owner of the Instagram account sent the list of "Hell Yeah" responders to the Northeastern University administration. The owner of the account declined to comment on the decision to give the respondent list to the administration, telling The Huntington News only they didn't "want this to drag on longer."
The administration followed up with a letter to the 115 students who responded positively as well as their parents. The letter said that unless the students provided a written response promising to follow the university's code of student conduct, the university would rescind its offer of admission.
"Being a member of the Northeastern community is a privilege. It comes with an understanding that your conduct reflects upon the Northeastern community's respect for and adherence to standards for the common good. Instead you have displayed a disregard for health and safety measures, jeopardized our chances to keep our community safe, and increased the possibility that you and others—including your classmates—might not be able to complete the semester," Madeleine Estabrook, Senior Vice Chancellor for Student Affairs, wrote.
"Even if this gesture on social media was made in jest, your willingness to mock the well-being of our community, and the efforts made to protect it, demonstrates a degree of carelessness that does not meet the values and principles we uphold," she added.
Northeastern University has also said it will be starting a confidential tip line for students to report off-campus parties and other behaviors that don't follow health and safety guidelines, according to The Boston Globe.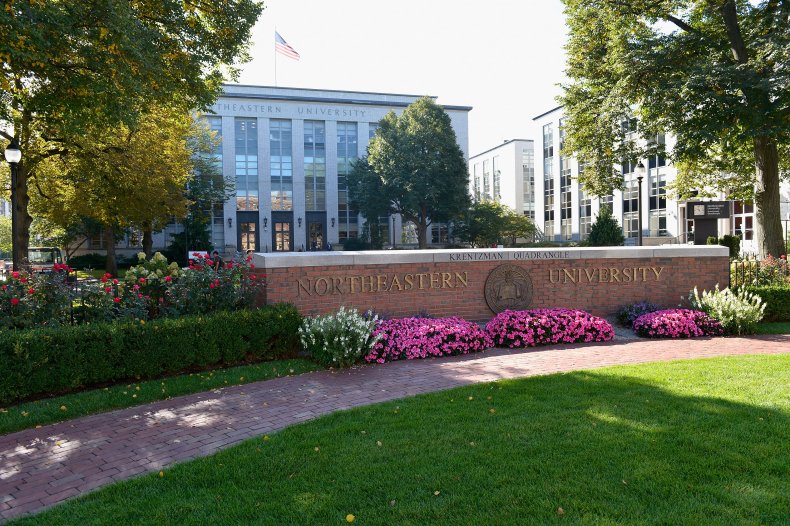 There have been a number of new coronavirus cases linked to parties. Earlier this month, three Vancouver, Canada police officers tested positive for COVID-19 after breaking up a party with over 100 attendees. In another case, a Dallas man died of COVID-19 after he was visited by his granddaughter after she went to a party.
So-called "COVID-19 parties," where people gather either to intentionally spread the virus or because they think coronavirus is a hoax, have also led to deaths. A 30-year-old in south Texas attended one of these parties died of the disease, according to Jane Appleby, the chief medical officer for Methodist Healthcare in San Antonio.
A number of YouTube, TikTok and Instagram influencers have also come under fire for hosting parties during the pandemic. Beauty influencer Nikita Dragun was criticized for throwing a party in Los Angeles last month. Influencer Hunter Ecimovic shared video earlier this month of him sharing a drink at a crowded party with Canadian comedy team The Nelk Boys. That video also appears to show other partygoers touching each others' faces.
Los Angeles Mayor Eric Garcetti has ordered police to cut off water and power to houses that continue to host large parties. This week, he ordered the water and power cut to the "Sway House," the home to a number of TikTok influencers including Bryce Hall, according to The Los Angeles Times.