University of South Carolina President Bob Caslen linked criticism of his significant military resume to a misunderstanding and applauded the young veterans running for president with helping to reshape civilians' idea of the military.
Caslen was voted in as president in July despite student protests and calls from local lawmakers to restart the process with a new group of candidates. Students largely opposed him because of comments he made about sexual assault during an April forum, because he was not a diverse candidate and because he does not hold doctorate.
Some students, although not the majority, objected to his past involvement in the military, including serving in the Iraq and Afghanistan wars, a critique the lieutenant general said he would not defend himself against.
"I cannot apologize for serving my country for 43 years," Caslen wrote in a letter to former University President Harris Pastides. "I cannot apologize for serving in Iraq and Afghanistan against our nation's enemies as I have been accused of doing."
Caslen told Newsweek there was a growing divide between those who have served in the military and those who have not, which contributed to students' military criticism.
Caslen painted the social divide as bridgeable, though, pointing to how important the multiple post-9/11 veterans running for president are to that effort. Regardless of their party or politics, their being in the spotlight could contribute to changing the image of the military in the public's mind.
"I may not agree with all of their political positions, but they are people of honor and I think they can help reshape what people think of the military," he said.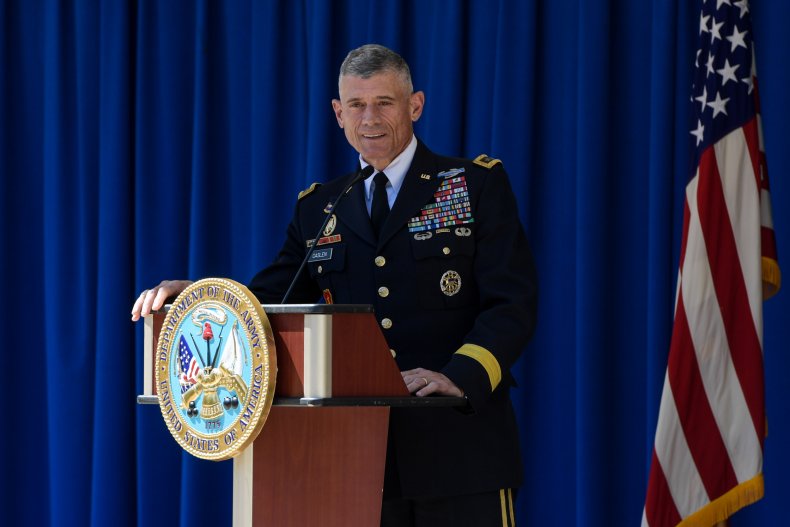 As a lieutenant in the Navy Reserve, South Bend, Indiana, Mayor Pete Buttigieg deployed to Afghanistan and earned the Joint Service Commendation Medal. Although Buttigieg will be the only post-9/11 veteran on the debate stage, he's not the only one running for president.
Representative Tulsi Gabbard enlisted in the Army National Guard after the attacks on September 11, 2001, and voluntarily deployed to Iraq. She served a second tour in the Middle East and rose to the rank of major.
The field used to include a third post-9/11 veteran, Representative Seth Moulton, who recently ended his campaign. As a Marine, Moulton served four tours in Iraq, led an infantry platoon and received two medals of valor before retiring as a captain.
"A lot of it comes from giving people a chance to tell their story, to show what they are made of, treating them as individuals and have conversations where we truly listen to one another," Caslen said of bridging the military-civilian divide.
The divide, at times referred to as the "civ-mil gap," can cause misunderstandings about the military and veterans that Caslen called not "entirely accurate." Among those assumptions identified by the new president was uniform-clad individuals being "tight-lipped automatons" that prefer command and control management styles and are oblivious to race and gender social dynamics. Some people also see military experience as irrelevant to civilian careers.
"College campuses are somewhat of a microcosm of America. As a percentage of the overall population, fewer people have actually served in the military than when I was coming along," Caslen said. "With fewer people having that shared experience, it is easier for misconceptions to take root."
Before coming to South Carolina, Caslen served as superintendent of the United States Military Academy, also known as West Point. Although an impressive position to hold, since West Point is regarded as one of the most prestigious higher education institutions in the country, students noted that it wasn't a research institution like The University of South Carolina is.
Yes, West Point is an institution where students commit to serving their country, but Caslen said it's still a university that he was responsible for running. While not a research institution, West Point trained cadets who were not all that different from the students he would lead in South Carolina, Caslen said.
"Young adults come to learn, enjoy college life and prepare themselves for the future," Caslen explained. "They have the same hopes, dreams and anxieties of many attending the University of South Carolina—some went to the same high schools."
Regardless of the concerns raised during the selection process, including South Carolina Governor Henry McMaster's alleged involvement, now that Calsen is in the position, he's looking towards a future filled with academic and research excellence, as well as, diversity and inclusion. He took the position because of the students, not despite them, and said he was "inspired" by the next generation.
"They are committed to more than attending college. They want to make their communities and the world a better place. How could someone, like me, not love that?" Caslen said. "Fundamentally, I am driven by service. I love seeing that in young men and women today."