Students Walk Out on Lecture After Professor 'Mocked Pupil With Anxiety'
A professor at a Canadian university has been put on leave as the school investigates claims he mocked a student with anxiety during a lecture, causing most of the class to walk out.
Students said anthropology professor Edward Hedican, who was substitute teaching a first-year class at the University of Guelph in Ontario, "verbally attacked" a peer diagnosed with clinical anxiety, causing the student to leave the room in tears with his educational assistant.
They said the professor called the student "annoying" after he raised his hand and asked a question about the instructor's travels. They also said the professor referred to the pupil's assistant, who was there to provide support, as a "handler" who "needed to control" the student.
"The class started off by him, for roughly 30 minutes, speaking of his book and how he's written books that are used in other universities. It was very narcissistic," one student, Carson MacRae, told Newsweek. "He went on to mention how he lived up in Thunder Bay for a bit and saw indigenous cultures of people up there."
MacRae said his classmate, who "the whole class of 600 students is aware has a disability, as well as anxiety issues," asked questions about which cultures live in Thunder Bay, "as he was quite curious."
"Hedican's response was to shut this boy down for asking and make sure he felt bad about interrupting the class, even though it was a fair question," MacRae continued.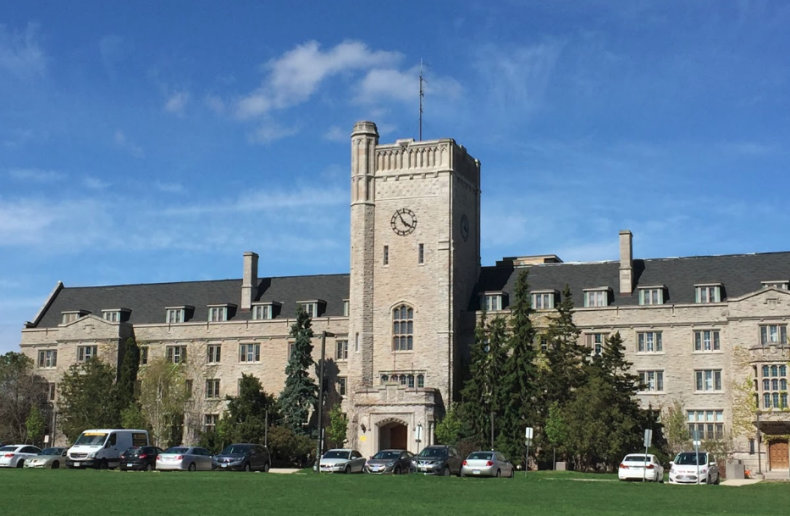 "The boy apologized and said he didn't mean to interrupt the class but stated he was just curious and said he was sorry," MacRae said. "Hedican again shut him down and ridiculed him."
MacRae said the professor later yelled at the student, "What is your problem?" when he started fidgeting with a gum wrapper, later calling the pupil "annoying."
The educational assistant tried to let the professor know he was "misjudging" the situation, and that when the student gets anxious, he fiddles with things, MacRae alleged. The professor responded, according to MacRae, by saying, "Are you even in enrolled in this class? Like, who's this person, your handler?"
After that, MacRae said, the student, who was "clearly hurt and embarrassed," put on his hat and left with his educational assistant.
Video shared by another student, Kiara Butler, appears to show what happened next. One of the pupils in the class can be seen standing up and chastising the professor over the incident.
"I don't like to stay in classes where people who pay just as much in tuition as I do get treated like that and words like 'handler' and 'make him stop' are said to someone who clearly is not as typically developing," the student identified by a number of classmates as Courtney Orser said before being cut off by sounds of applause from the rest of the lecture hall.
"Because someone didn't have the same opinion as something you were talking about, you pinpointed that person out, and after they said they were doing something because they were anxious about it, you continued to shut them down," she added.
In another video shared by MacRae, the professor can be heard asking: "Is the class over?" as students appear to get up from their desks. Orser responded: "It is for me," receiving applause from the rest of the lecture hall.
University of Guelph spokesperson Lori Bona Hunt told Newsweek the university had learned about the incident Tuesday morning via social media and a handful of emails sent to university administrators.
"I cannot tell you what happened during the class because I don't know; like others, what I know is based on social media and news reports," she said.
Read more: Wisconsin University officials approve punishing students for protesting campus speakers
Hunt said the professor was giving a guest lecture in an anthropology course because the regular professor was out of town.
She said the identity of the instructor could not be confirmed by the school, as an investigation headed by the college dean and assistant vice president for faculty and academic staff relations is underway.
"An investigation has been launched and the professor has been placed on leave while the university looks into the situation and takes the appropriate actions," Hunt said.
University of Guelph Provost and Vice President Charlotte Yates called the situation "troubling" in a statement.
She said she had found out about the incident "involving a professor making inappropriate comments to a student and an educational assistant during a night class" on Monday.
"The University of Guelph is committed to ensuring a positive learning environment for our students; therefore, I am taking the matter seriously," she continued. "We are an open and inclusive university that respects and welcomes all members of its community, especially our students."
Yates said she believes this was an "isolated incident" but said the university would "remain vigilant to ensure openness, respect and inclusion."
Hedican did not immediately respond to a request for comment from Newsweek.