Monmouth University Suspends all Fraternities, Sororities: 'Hazing, Alcohol, and Drug Use' Among Problems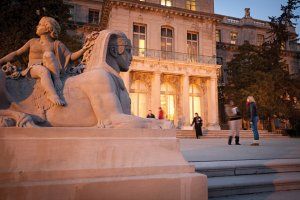 A private university in New Jersey has suspended all fraternities and sororities indefinitely, citing "serious conduct violations" from Greek organizations including hazing, alcohol and drug use and a lack of academic focus.
Monmouth University has seven fraternities and nine sororities. All activities and events, including pledging, recruitment parties, and community service have been suspended, according to reports.
Monmouth University President Grey J. Dimenna sent a letter to students and employees on Thursday, referencing specific issues within the fraternity system and within Monmouth's Greek system at large, according to media obtaining copies.
Monmouth, located on New Jersey's northern coastline, doesn't have fraternity or sorority houses on campus, but it has some 750 students involved. Greek organizations are called to provide "a place to call your home away from home" and "friendships that will last a lifetime," according to the university's fraternity and sorority life office.
Monmouth's total enrollment is 6,340, with a 13-to-1 student-to-faculty ratio. Its athletic teams compete in division 1. The Asbury Park Press obtained a copy of the letter sent by Monmouth's President on Thursday, reporting the serious issues involved.
"Dimenna noted that he and Vice President Mary Anne Nagy met in May with leaders of the Greek Senate, which is comprised of current Monmouth students who are members of fraternities or sororities. They met with the students to discuss 'serious conduct violations that have occurred within the community including hazing, alcohol and drug use, and lack of academic focus.'
"We discussed the need for the Greeks to hold each other accountable for the negative culture that is casting a long shadow over Greek life at Monmouth, and potentially endangering our students," Dimenna wrote, according to the newspaper.
Monmouth's President had asked the university's Greek Senate to draft a plan for reform, delivered by mid-August in preliminary form, but he told the newspaper that until students deliver "a concrete plan that sets forth policies and practices that change the current culture, this suspension will remain in effect."
"Over the course of the past several years, Greek communities across the country have faced challenges that have often resulted in tragic situations," Dimenna wrote in the letter, according to nj.com, which also obtained a copy. "I feel it is essential for us to be proactive in this area to avoid circumstances such as we have seen at other institutions."
A movement is underway among many colleges and universities to clean up Greek life after hazing deaths at Penn State and LSU last year. Earlier this week, a group representing fraternities said that "All international and national fraternities of the North-American Interfraternity Conference have a year to prohibit drinks with an alcohol content of 15 percent or more from fraternity chapters and events, unless it is served by licensed third-party vendors."