University of Tampa Students Petition for In-Person Graduation After Virtual Ceremony Announced
College students in Florida frustrated with administrative decisions are petitioning for an in-person graduation ceremony this year after the announcement of virtual commencement.
A petition started by students at the University of Tampa has garnered more than 3,500 signatures as of Thursday morning.
"While safety and health is important, it is the decision of the individual to walk across a stage and receive their diploma. The university requires us to be in-person when scheduled for courses and cannot operate virtually, unless we receive accommodations, yet we can't have an in-person graduation," the petition read. "With so many in projects in place to improve the university's amenities and appearance, why can't they host a graduation for their seniors?"
The petition, led by senior Jacie Steele, is calling on the school, university president Ronald Vaughn, Florida Governor Ron DeSantis and Senator Rick Scott to grant students an in-person ceremony come May.
Students noted that the City of Tampa has continued to host a number of large in-person gatherings, including this year's Super Bowl that was attended by an estimated 25,000 people.
"Many precautions were taken to ensure safety, why can't the same be done for a socially distanced and outdoor graduation?" the petition asked.
"We want the opportunity to walk across a stage and receive our diploma. Let the Class of 2021 walk. We lost our entire senior year of amazing moments we looked forward to, let us at least walk across the stage."
Students across the country have been frustrated that commencement ceremonies have moved online amid the coronavirus pandemic, especially as restrictions on in-person events continue to loosen.
Similar petitions have been started at St. John's University, SUNY Cortland, the University of Nevada Reno, Rutgers University, the University of Maine, and the University of Michigan.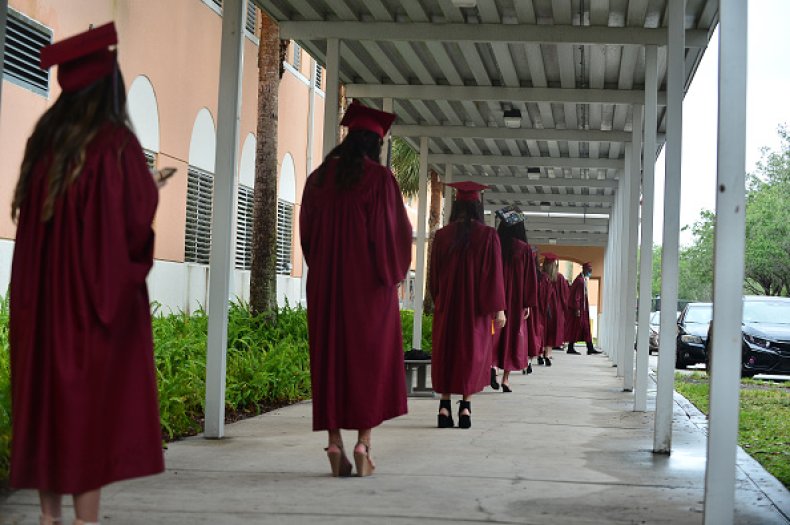 Last month, school officials at the University of Tampa sent an announcement about the decision to hold a virtual commencement, citing advice from public health officials and the "uncertainty" of COVID-19.
"The university could not realistically host a safe — yet meaningful — academic celebration in person," school administrators said.
The online event is scheduled to be held May 8 at 11 a.m.
The City of Tampa currently requires those in any indoor location, other than their home, to wear a face covering when not maintaining social distancing from other people.
The city is in Phase 3 of its reopening, which allows restaurants to operate at full capacity with limited social distancing protocols. Retail businesses, gyms, personal care services, beaches and schools have also all reopened.
Last summer, the University of Tampa reopened with mostly in-person classes. Students are required to wear masks on campus and are expected to monitor daily for COVID-19 symptoms.
On March 5, the college reported that 21 students and one employee had tested positive for the virus that week. The school website states that 92 students and 14 school employees have recovered from COVID-19.
Newsweek reached out to the University of Tampa for comment, but did not hear back before publication.