University of Texas Student: Jeff Goldblum 'Jurassic Park' Character Deserves Building Name, Not 'Racist' Professor
When a student at the University of Texas learned about alarming statements made by a prominent mathematician, he proposed rededicating the building that carries his name after someone he said better embodied the school's values: a fictional character.
Constructed in 1972, Robert Lee Moore Hall (RLM) is home to the mathematics, physics and astronomy departments. Its namesake, Robert Lee Moore, was a mathematician "known for his groundbreaking teaching methods and his work in general topology," according to the school's website.
Along with his great mathematical mind, Scott Williams, a mathematics professor at University at Buffalo, said Moore was known for his degrading views of his African American students. Williams highlighted several encounters students had with Moore, including one who said the professor told him he was welcome to take his class, but he would start at a C and only go down from there.
"With the construction of RLM, we honored a man whose contributions to society and the university were certainly worth honoring," University of Texas at Austin student Vikram Sundaram wrote on Facebook. "A man who had dedicated his life to the advancement of mathematics. A man who was also, plainly put, a racist and a bigot."
Sundaram told Newsweek that he doesn't like pushing the narrative that people from pre-Civil War generations were racist. However, with evidence this damning, he said, "it's hard to deny that Dr. Moore was a racist and a bigot, albeit an accomplished mathematician.
Sundaram called for the building to be renamed and said he found a suitable honoree while reading the book Jurassic Park. Dr. Ian Malcolm, the fictional character portrayed by actor Jeff Goldblum in the film version, was also a math professor at the Texas university.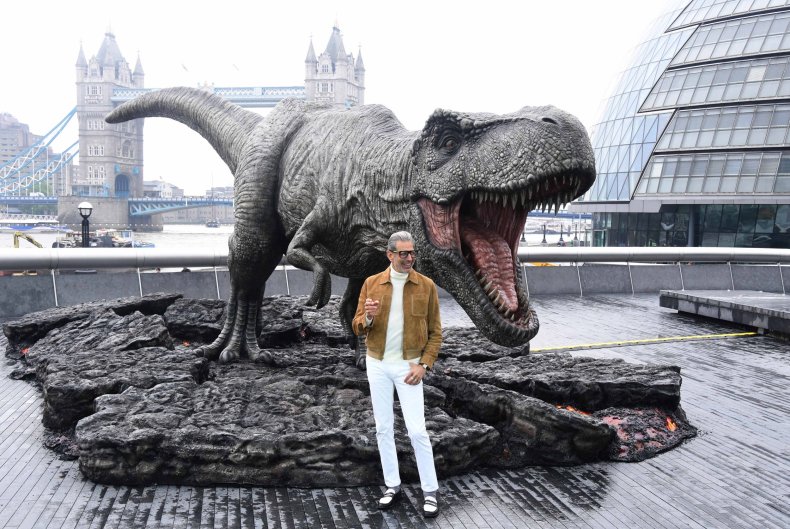 In the novel, Sundaram said Malcolm stood for "caution and discipline." In the big-screen adaptation of the story, his role is to warn people as to why power and knowledge shouldn't be wielded carelessly.
"What does it say about the University of Texas when Dr. Malcolm, a fictional math professor, carries with him more virtue than the professor we chose to name the building after?" Sundaram wrote.
Aside from Malcolm being representative of the school's values, Sundaram explained to Newsweek that Goldblum's portrayal of him was iconic and pioneered the portrayal of STEM characters.
"People were crazy about him when the film came out. Very rarely in media, has someone in STEM been portrayed in that capacity," Sundaram said. "He was like Tony Stark prior to Robert Downey Jr. making him what he is today. So put simply, you have a character who symbolizes great things, portrayed by a beloved actor, from one of the greatest science-fiction novels of all time. What's not to like?"
University of Texas at Austin Director of Media Relations & Issues Management, J.B. Bird, told Newsweek that Sundaram's proposal was an "interesting idea" and joked that the school owes Malcolm for revoking his tenure in the sequel The Lost World.
"We can't rectify that mistake today, but we can still take pride in the legacy of a Texas mathematician, albeit a fictional one, who encouraged scientists to remember their moral responsibilities," Bird said.
On a more serious note, Bird said the university appreciates the "spirit" of Sundaram's suggestion and the "real concerns that underlie it." While there aren't any plans to rename the building, Bird explained university leaders continually look for ways to "represent and acknowledge the history of the campus, not to ignore it, no matter how painful some chapters may be."
Sundaram told Newsweek he hasn't spoken with the school directly and called their response a "cop out" and noted that the school removed statues of Confederate leaders.
"Saying you want to preserve history is one thing, but this is them saying the want to have the horrific past hang over the heads of students and faculty," Sundaram said.
On the Malcolm Over Moore campaign website, creators acknowledged the outrageousness of the proposal and pointed out that the point wasn't to rename the building after Malcolm, but to rename it after someone who reflects the school's values.
"We want to show the Board of Regents that, as a student body, we want this building renamed so badly that we would choose a fictional character to rally behind if it means making change happen," the campaign website stated.
This isn't the first time the issue of renaming the building has come up. In February 2018, Suzanne Jacobs, then a physics Ph.D. student, and Elizabeth Gutierrez Mata, then an astronomy senior, penned an op-ed in the school's newspaper, The Daily Texan. They encouraged people to research Moore themselves and called on the Board of Regents to change the building's name.
"Continuing to honor this man sends, at best, a message that we value his accomplishments as a mathematician and teacher more than we value equity and inclusivity, and at worst, it sends a message that we agree with his prejudices," Jacobs and Gutierrez Mata wrote. "This is unacceptable."
Sundaram told Newsweek that he's received suggestions of more serious characters to replace Moore, including retired Professor Dr. Karen Uhlenbeck, the first woman to win the Abel Prize for mathematics.
This article has been updated to include the response from Vikram Sundaram.