University of Virginia Students Mourned by Thousands at Memorial
Thousands of people joined the University of Virginia's football team to honor three players who were shot dead last weekend.
Nine thousand students, teachers and others attended a memorial service at the John Paul Jones Arena in Charlottesville to remember Devin Chandler, Lavel Davis Jr. and D'Sean Perry, the university said.
They were killed on a bus that had returned from a field trip to Washington, D.C. on November 13. The shooting set off a manhunt and a 12-hour campus lockdown before the suspect was taken into custody.
The former Virginia football player charged in the killings—Christopher Darnell Jones Jr.—was not mentioned during Saturday's service.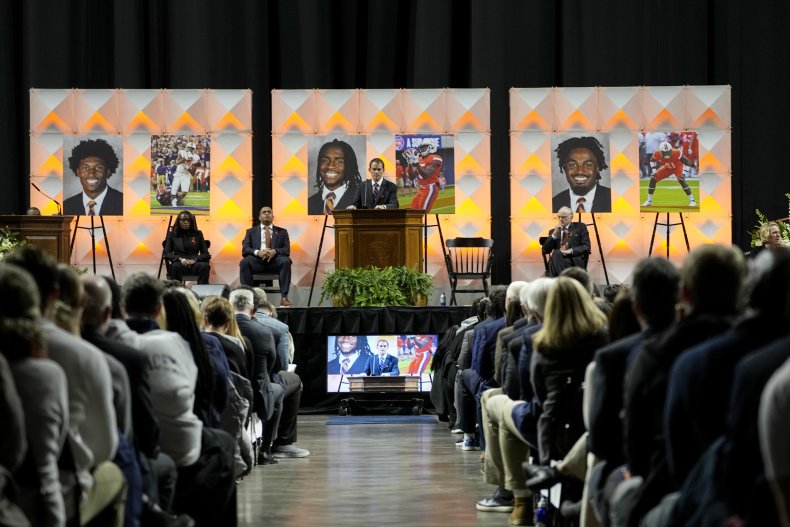 It came on a day that UVA's football team had been scheduled to play Coastal Carolina University. The game was canceled after the shooting and the team gathered instead to honor their fallen teammates as well as injured football player Mike Hollins and Marlee Morgan, another student who was shot.
At the service, more than a dozen of their teammates offered eulogies for the men they considered their brothers.
"D'Sean accepted me with open arms and treated me like family," second-year linebacker Josh McCarron said. "D'Sean was the brother I never knew I needed... Rest in power, brother."
Of Davis, Jared Ronan said: "Lavel, you were the best teammate and friend any of us could ever ask for. I hope everyone here today has someone in their life that impacts their life as much as you impacted mine."
Chandler was the newest member of the Cavaliers, but his teammates said he immediately forged strong bonds. "I loved him like a brother," Lorenz Terry said. "I will always keep him close to me."
The arena's doors opened at around 2 p.m., loading mourners in to watch a slideshow of Chandler, Davis and Perry over the years.
There were musical performances from school choral groups and the MLK Community Choir as well as gospel singer CeCe Winans.
During the service, first-year head coach Tony Elliott described Chandler, Davis and Perry as stars who would guide the team forward.
"To my three young kings, I am eternally grateful for you," Elliott said. "Thank you for being a light for the world. You all continue to shine your bright light before us."
University president Jim Ryan described the three players as kind, funny and full of energy.
"They were serious students. They were sons and grandsons. They were brothers. They were hard workers."
Their killing had "pierced the peace and innocence that graced our Grounds" and "changed our world," Ryan said.
UVA's athletic director Carla Williams also shared stories she heard this week from the player's family members.
"As a mother, and as the director of athletics, this tragedy has pushed me to my limits, but my faith sustains me as I know it does many of you," Williams said.
"We are better and will do better because of Devin, Lavel and D'Sean," she said. "To the families, we love your sons. And we will make sure their memories never fade at the University of Virginia."