Why a Group of University of Virginia Activists Want Spike Lee to Donate $200,000 From his New Movie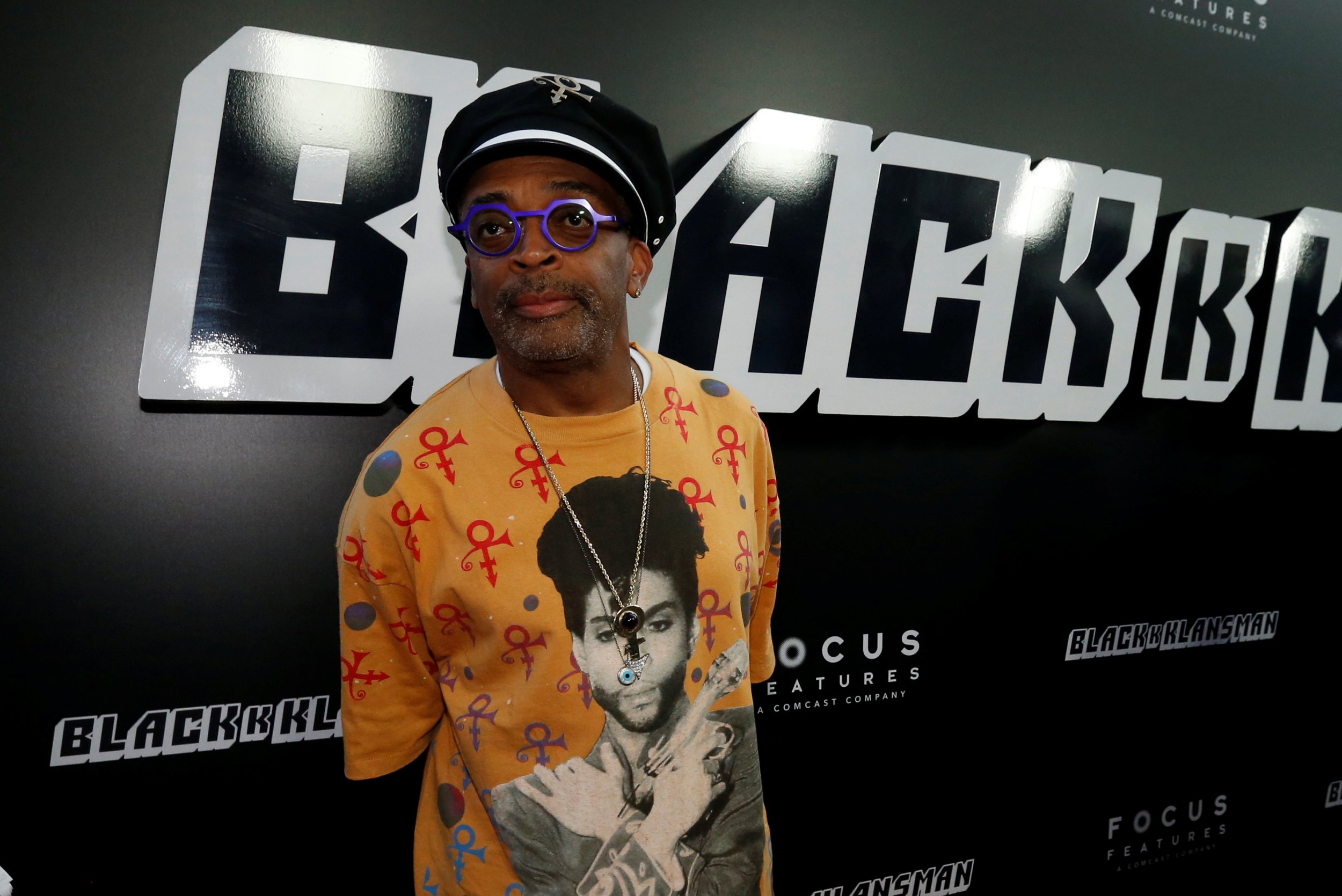 When Timothy Hayes and Kendall King, both recent graduates of the University of Virginia and members of student activist groups, saw video from their town featured in Spike Lee's new film BlacKkKlansmen, it left them stunned and puzzled. Footage rolled across the screen of Charlottesville's deadly 2017 Unite the Right rally, showing the horrors of what a modern-day white supremacy rally looked like.
The film's narrative is based on the true story of Ron Stallworth, the first black police detective in the Colorado Springs Police Department who went undercover to infiltrate the Ku Klux Klan, investigating Grand Wizard David Duke and white supremacy leaders for months. The film, set in the late 1970s, highlights the vile racism and hatred the KKK had toward people of other races and nationalities.
At the end of the movie the screen suddenly morphs into the real-life, violent images from last year's Charlottesville rally: White men carrying burning torches screaming "blood and soil!"; video of James Alex Fields allegedly plowing his car into protesters, killing one and injuring more than a dozen others; and sounds of the injured, crying and screaming, all intermingled with clips of President Donald Trump's press conference where he stated there was "blame on both sides" and that there "were very fine people on both sides."
With the film having debuted August 10 of this year, exactly one day shy of the anniversary of the Charlottesville rally, the movie pivots from a historical narrative to a modern-day horror film, reminding viewers there are still those who hate someone just for the color of their skin.
"David Duke, the neo-Nazis, the alt-right and the KKK gave me the ending for the film," Lee said in an interview after the movie's release. "It's just serious now. This is no joke. It's serious."
But Hayes and King tell Newsweek that they, along with organizations under the Virginia Student Power Network at UVA, strongly disagree with Lee's choice to feature the graphic Charlottesville images. They also challenge the historical accuracy of the film. Feeling so strongly about it, they've created a Gofundme page with the heading "An Open Letter to Spike Lee From The Young People Of the Charlottesville Attack."
They're requesting Lee donate $219,113 of his movie's profits to help pay for physical and psychological problems still facing some within their UVA student activist groups. As of Friday morning, only a little more than $700 was raised.
"We're asking that Spike Lee not just try to raise some awareness about the issues in Charlottesville by showing that footage, but to support the efforts and day-to-day activity of organizing by donating some of the profits of the film to people who are still healing from those attacks, to people who are still trying to figure out how to create a safer, freer Charlottesville," King said.
The group came up with the dollar amount based on a contract between the New York City Police Department and Lee's advertising firm to create an ad campaign that would help the police department improve relationships with minority communities. Lee's consultant work was for 2016, but the $219,113 payment was discovered last week by the New York City Police Foundation's 2016-17 tax filings.
Both Hayes and King said they grew up on Lee's movies and still support much of the work he's done in the past, emphasizing that it's about more than just money.
"We have respect for Spike Lee and recognize Spike Lee is somebody who has power and an ability to reach a lot of people," King said. "For us, it's not just about the money. It's about the exchange of ideas and the exchange of the impact of this narrative. It matters that the BlacKkKlansman is not just consumed by people, but that the reality is understood as well."
King, Hayes and the students they represent have two major problems with the film: they believe the Charlottesville clips were shown out of context and the story of Ron Stallworth portrayed in the film is not entirely accurate.
"This story and this narrative, paired with those clips of our reality in Charlottesville, are not congruent," King said. "They don't flow together. There's a history and reality behind the footage Spike Lee uses that does not match up with what we think the story he's depicting and telling in BlacKkKlansman says, which is that cops are with us in this fight against white supremacy."
Hayes and King pointed out that while it's true Stallworth began his undercover missions infiltrating a black radical organization led by the Black Panther leader Stokely Carmichael, it was for much longer than is portrayed in the film. As is shown in the movie, Carmichael was keen to advocate for violence, at one point advising Stallworth to "arm yourself and get ready because the revolution is coming." Hayes and King said what the overall movie showed, in their opinion, was a film that depicted a law enforcement community on the side of black Americans. They said they don't view it that way.
"When in reality, cops–and this is not ideological, this is based on our experience in day-to-day organizing–have been one of the major obstructions in our fight against racism and are an institution that is racist," Hayes said. "[Police] have played an exclusive role in allowing the Ku Klux Klan to demonstrate and to bolster their racist message and acts in Charlottesville."
The same arguments are sometimes raised regarding the disproportionate number of black people who are arrested or killed by police officers compared to white people. Black people are three times more likely to be killed by police than white people. This year alone, police have already shot and killed 12 unarmed black men. Police killed 1,147 people in the U.S. last year with nearly a quarter of them being black, despite making up just 13 percent of the population.
Such disparities, along with high-profile, controversial police killings like that of Michael Brown in Ferguson, Missouri; Eric Garner in New York City; Tamir Rice in Cleveland; and Freddie Gray in Baltimore, have given way to the Black Lives Matter movement.
Although Lee personally worked with Stallworth to ensure much of the film's storyline was accurately portrayed, King and Hayes are not alone in their beliefs.
Well-known producer and director Boots Riley, whose real name is Raymond Lawrence Riley, penned a three-page Twitter rebuttal to Lee's film, explaining similar concerns about Lee's depiction of officers toward black people
"[T]o the extent that people of color deal with actual physical attacks and terrorizing due to racism and racist doctrines—we deal with it mostly from the police on a day to day basis," Riley wrote. "And not just from White cops. From Black cops too. So for Spike to come out with a movie where a story points are fabricated in order make black cop and his counterparts look like allies in the fight against racism is really disappointing, to put it very mildly."
In interviews, Stallworth weighed in on the relationship between black people and white police officers, calling current racial disparities "nothing new."
"Today, it's ridiculous. Almost every week you hear about something happening, police abusing their authority, shooting and attacking minorities, for no justifiable reason," Stallworth told Time earlier this month. "The black community has always complained about abuse from cops. It's nothing new. But now more people are seeing visual examples of what they've been complaining about. That's one thing that has changed over time."